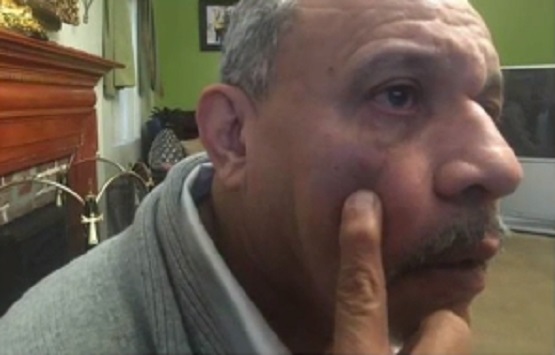 A fight over a cab fare ended with a taxi driver getting violently beaten in Harlem late last week. That cab driver talked with CBS2's Ali Bauman Sunday about the couple he claimed left him unconscious.
The cab driver said he dropped off the couple around 7 p.m. Friday near 154th Street and Frederick Douglass Boulevard, and when he asked for the $18 fare, they punched him in the face and ran into a nearby apartment building.
Surveillance video from the New Elegante Car Service showed driver Humberto Taveras as he said a man and a woman in the Bronx walked in asking for a cab ride to Harlem. The couple in the video have not been positively identified as the suspects.
Taveras said he drove the couple to 153rd Street and Frederick Douglass Boulevard, at which point the he said the female passenger ran out of the car and left the door open. The mayor passenger was still getting out at the time, and the driver said he got out to close the woman's door and ask for the fare.
Taveras said the male passenger cursed and punched him in the head repeatedly, leaving him unconscious in the street with two black eyes.
"I moved over there. The lady opened the door. The guy opened the door very slow. I told the guy, 'Give $18.' He said, 'I don't have the money.' I told the guy. "Why you take the car if you don't have money,'" Taveras said. "I said, 'No, OK, I call the police.' and he hit me in the eye."
"The guy said F you and just started beating on him," said Fernando Mateo of the New York State Federation of Taxi Drivers. "There was a group of people on the corner watching this happen and they did absolutely nothing."
The driver is 65 years old and the sole breadwinner for five children. He said he believes to have driven the female passenger at least once before but does not know her name.
Soon after being knocked unconscious, the driver says he woke up and called 911. Police are looking for a male and female suspect, but have not released pictures or video of their own.
Related Articles
---