---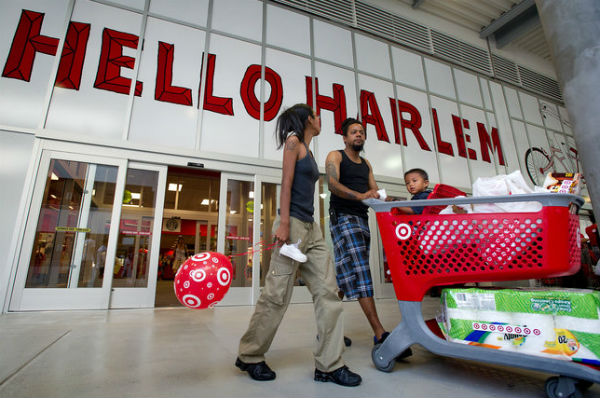 With a Target store in East Harlem, Target will finally bring its small-format urban stores to Manhattan when it opens a 48,000-square-foot location in New York's Tribeca neighborhood later this year. And the Minneapolis-based retailer is bringing a tried-and-true partner with it to the Big Apple: Chobani.
In addition to selling its products CPG-style in the store's food section, the Greek yogurt leader will be opening its second Chobani Cafe in the upcoming Target Tribeca, extending a standalone brand experience and food service play that's an important part of the brand's identity as it searches for ways to extend the Chobani magic beyond the yogurt section of supermarkets.
When Target's smaller stores began opening in 2012, they were known as City Targets; then they became Target Express locations. Now they're just… Target. And like many regular Target stores, the one in Tribeca (likely open in October) will include a CVS Pharmacy in addition to the Chobani Cafe. Target is securing other partnerships including one with popular California-based skin-care brand Beautycounter.
While Walmart has been scaling back its urban small-store play, Target is expanding its footprint to 18 small Target stores in US city centers, including two other locations in New York City (in Forest Hills, Queens, and another Brooklyn store), and plans eight more this year and three more in 2017. Comp-store sales (comparable same-store sales) growth at these smaller urban locations has been much stronger than at regular Target stores.
Target opened its first Manhattan store, in East Harlem's 117th St., in 2010, but its Tribeca store will open in its densest, priciest and pickiest NYC market to date.
Target opened its first Manhattan store, in East Harlem's 117th St., in 2010, but its Tribeca store will open in its densest, priciest and pickiest NYC market to date. "We're thrilled to finally make it there," Anne Stanchfield, Target's vice president of flexible formats and localization,told Fortune. "This is the site we're most excited about in terms of having a great neighborhood and a mix of tourists, office workers and young families."
Chobani executives feel similarly. "As we look to expand our cafes in more locations, the partnership with Target Tribeca was a great way to do that in downtown New York City," Chobani CMO Peter McGuinness said in a press release. "It's a perfect location in a great format that gives us a new opportunity to be innovative while providing a unique guest experience."
Food service has been a great laboratory for Chobani innovations that have turned up in new CPG products as well as a new platform for the brand on its own, involving experimentation at a pop-up cafe at the Sundance Film Festival as well as the opening of the first permanent cafe, Chobani SoHo, at the corner of Prince Street and West Broadway in New York City in 2012.
That location's menu offers both sweet and savory yogurt creations as well as sandwiches, soups, coffee (from Chobani's La Colombe brand) and desserts made with natural ingredients.
"For us, it's a sort of a test kitchen for what you'll see us doing down the road, and for our fans, it's come to represent an incubation and inspiration destination," McGuinness stated about the Soho location. Now it's about to see if it can spread the love further south in Tribeca.
Located near Wall Street, the new Target Tribeca store will join Barnes & Noble, Bed Bath & Beyond and Whole Foods Market at the foot of Greenwich Street, with the nearby World Trade Center PATH Station and a plethora of offices, schools and high-end residences making a ready market for customers.
It's a well-timed, strategic location. As the New York Times wrote in 2012, "Greenwich Street is going to be a major artery for downtown, and we are considering it a whole new world with our building right in the middle of it all," said developer Jonathan Resnick of the outlook for Target's new address, 255 Greenwich Street, in New York.
Via Brandchannel
---