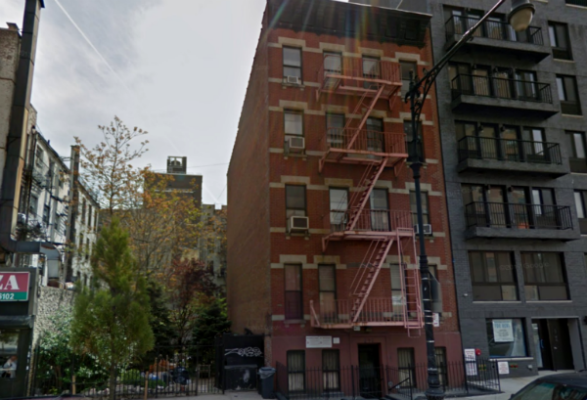 City Limits reports that there's this building in East Harlem—242 East 106th Street. It's four-stories, has seven apartments, is rent-stabilized. It's owned by Lott Community Development Corporation, a non-profit affordable housing developer that recently closed on a financing package with the city and, as part of that deal, committed to maintain the building as permanent affordable housing. To put it simply, if you happen to live at 242 East 106th Street, you probably don't have to worry too much about the gentrification engulfing the rest of the neighborhood.
Now consider the East Harlem rezoning just passed by the City Planning Commission and making its way to City Council for an ultimate vote. According to the Environmental Impact Statement (EIS) for the city's rezoning proposal, which is supposed to assess the potential effects of the rezoning on the neighborhood, 242 East 106th Street is one of the top 68 sites in the neighborhood most likely to be redeveloped in the next 10 years with a rezoning.
Most interestingly, it's also one of the few sites where the EIS predicts residents could be directly displaced due to redevelopment triggered by the rezoning. While the EIS predicts that about 160 residents could be displaced from those 68 sites without a rezoning, it estimates that another 11 households would be directly displaced only with the rezoning. Of those eleven, seven households live at 242 East 106th Street.
Skeptics of the city's rezoning proposal—and there are many, from allies of Speaker Melissa Mark-Viverito who want to see a more modest rezoning to groups like El Barrio Unite who think no rezoning is warranted—believe those number dramatically understate the risks of displacement if the rezoning occurs. As have stakeholders in other neighborhoods, they've questioned the merits of an environmental impact review that seems to downplay the very dangers it is supposed to identify and address.
But the inclusion of 242 East 106th Street raises a different, simpler question: Why predict the development of a site whose owners insist will not be developed?
---
Become a Harlem insider - Sign-Up for our Newsletter!
---
Christopher Cirillo, the executive director of Lott Community Development Corporation, has reached out to the city multiple times to express his concerns about the inclusion of this building in the displacement calculation. It's not that Cirillo thinks the city is over-estimating the amount of displacement that could occur because of the plan overall—to the contrary, he previously expressed concerns that the city had overlooked other areas where there could be redevelopment. It's just that he doesn't think 242 East 106th Street will be redeveloped because, well, it's his lot.
Compounding the confusion is the fact that in most cases the city's environmental impact statements do not consider rent-stabilized buildings—like 242 East 206th—to be potential development sites because of the supposed difficulty of relocating this protected class of tenants. Many advocates and planners have objected to this exclusion, pointing to a slew of rent-stabilized buildings owned by private, for-profit owners that were demolished following the rezoning of 4th Avenue in Park Slope.
So the double quandary is this: why does DCP exclude most rent-stabilized buildings owned by for-profit landlords from the developable-buildings calculation, but include a rent-stabilized building owned by a trusted non-profit developer?
DCP maintains that the EIS, even if it doesn't offer an entirely accurate depiction of reality, is not in error because it abides by the rules of the City Environmental Quality Review (CEQR) Technical Manual for analyzing potential development sites.
"The building is located on a larger site with additional development potential even if the building in question remains. This makes the site "soft" by the definition of a soft site in our [Reasonable Worse Case Development] Analysis Framework. This is yet another example of how we conservatively apply the CEQR Technical manual standards in our analysis," wrote Rachaele Raynoff, a spokesperson for the Department of City Planning, in an e-mail to City Limits.
Indeed, 242 East 106th doesn't take up its entire lot—a Google Maps images reveals some sort of green-looking space hugging its side.
The manual includes a variety of rules to determine what sites are likely to be developable—the full application of which is a complex matter. It says, for instance, that one criterion for a development site is that the lot is "constructed to less than or equal to half of the maximum allowable [Floor Area Ratio] under the proposed zoning." Yet it goes on to say that sites that meet the developable criteria are typically excluded if they are multifamily buildings built before 1974, contain houses of worship, et cetera. The city is also supposed to take into account factors like "government policies or plans, such as a building on site being identified for a landmark designation, that may affect the development potential of a site or sites" and "site specific conditions that make development difficult."
From these and other rules, the city's consultants reached the determination that 242 East 106th Street should be considered a developable site regardless of the current owner's intentions.
George Janes, a land use consultant for the East Harlem community board, says the problem is the manual itself.
"I would say it's hard to read the CEQR [Reasonable Worse Case Development Scenario] criteria with a straight-face in 2017.  Houses of worship excluded?  They seem to be the hottest properties around … Assuming prewar buildings with six units are rent stabilized and therefore protected is, as we all know, is not true, especially in Manhattan, as we've had close to 20 years of luxury decontrol to chip away at those protections.  We could actually find out which of these buildings actually have rent stabilization protection, but we don't," he says. He added that the city ought to conduct an analysis of development that resulted from a prior rezoning to determine the problems with the city's manual.
The Municipal Art Society (MAS) did its own analysis of East Harlem and concluded that the city's analysis excludes 66 percent of the neighborhood's underbuilt residential buildings, a good number of which MAS believes could be vulnerable to redevelopment.
At the end of the day, it doesn't really matter if 242 East 106th Street is listed as a potential site for displacement in the EIS, so long as its tenants understand the protections they have. The bigger issue is the bad taste that shall be left in the mouth of many a neighborhood advocate: that the city went into the rezoning process without a full picture of what might happen, and without caring to put locals' more intimate understanding of the landscape to use. The fact that the de Blasio might have done so in faithful obedience of the rulebook perhaps suggests that the fault is not in themselves, but in their standards.
Related Articles
---
VIDEO
---
"Dr. Harry Delany is a renowned Harlem born and raised surgeon, the son of the great jurist and civil rights leader, Hubert Delany...." This monthly post is made in partnership with Harlem Cultural Archives.