---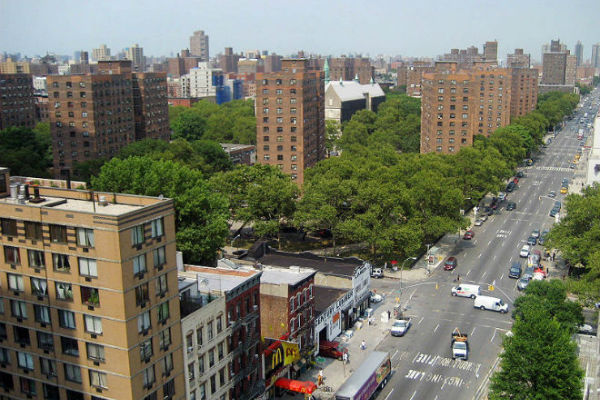 Mayor Bill de Blasio, the New York City Department of Housing Preservation and Development (HPD), New York City Housing Development Corporation (HDC), the U.S. Department of Housing and Urban Development (HUD), today join Tahl Propp Equities (TPE), Bellwether Enterprise Real Estate Capital LLC (Bellwether Enterprise) and Enterprise Community Investment Inc. (Enterprise), both subsidiaries of Enterprise Community Partners, Inc., to announce the closing of a deal to finance the acquisition and renovation of five affordable housing properties with a combined total of 18 buildings containing a total of 549 apartments in Harlem. The deal allows for the rehabilitation of all buildings, and means all apartments will remain affordable to low-income tenants for the next 40 years. In addition, all buildings have federal project-based Section 8 contracts, further preserving affordability through rental subsidies for the property owners.
"Preserving affordable housing is an impactful way for us to make our city more affordable and keep New Yorkers thriving. This vast preservation project will help keep more than 500 families in their homes, and is representative of the day-in-and-day-out work we do to make New York stronger," Mayor de Blasio said.
 U.S. Congressman Charles B. Rangel said, "I'm proud of the work Mayor de Blasio, along with strong public and private partners, has done to keep families together in their homes. These apartments provide hard-working residents with affordable housing options that will allow them to stay in our beloved community. This deal wouldn't have been possible without the hard work of so many people, and I am confident it will provide a blueprint for the kind of public-private cooperation that our constituents expect and depend on to live in the best city of the world."
"I am thrilled that buildings in our community will be receiving much needed improvement," said Council Member Mark Levine, Co-Chair of the Affordable Housing Preservation Task Force. "This agreement demonstrates our resolve to preserving affordable housing in communities for decades to come. With quality affordable housing far too much of a rarity in our city, it is imperative that we continue to work together to protect every single unit. Through the partnership of the Mayor, the department of Housing Preservation and Development (HPD) and private investment, we see clearly that affordable housing and quality housing are not mutually exclusive. The fact that affordability can be preserved while quality of life is improved for the over 500 Harlem families is a tremendous achievement and a positive indicator for the direction of housing in our city."
Assembly Member Robert J. Rodriguez said, "Great things happen when the public and private sectors collaborate to improve our neighborhoods. The success of these affordable housing properties is a perfect example. This deal will improve the quality of life for hundreds of families who will now have updated furnishings and appliances. Additionally, the long-term commitment to affordability for over 500 units is an incredibly powerful tool to maintain families in their homes and protect the fabric of our community. Congratulations to all partners involved."
The five properties are Gladys Hampton Houses (2411 Frederick Douglas Blvd and 400 St. Nicholas Avenue), New West I and II (8-56 West 111th St), and Riverside I and II (602-622 West 135th St). This deal will finance extensive building-wide renovations including roof replacements, new windows and boilers, updates to common areas, and updates to apartment interiors with new kitchen cabinets, appliances, flooring, and bathroom fixtures.
"It had been more than 10 years since my apartment had any significant improvements", said Barbara Johnson, a grandmother of three who has resided in one of the buildings for 29 years.  "Under this new partnership with Tahl Propp, my entire kitchen and bathroom have been redone, and soon, work will start on brand-new floors.  With rent prices escalating in this neighborhood so fast, it is important that the private sector and government work together to ensure that people can afford to live here, and there's decent and quality affordable housing for every income".
Carlos Navarro, a 34-year-old a father of two, said, "Our building was deteriorating, but things are now turning around very fast. The improvements are fantastic, and the response to tenants' needs and concerns by Tahl-Propp is great. This program is helping improve our quality of life for all of us, keeping our housing up-to-date and keeping rents affordable for a long time".
The properties will remain at full occupancy and continue to receive rental revenue from the project-based Section 8 contracts, as they undergo construction, which will allow, for a more efficient renovation. A portion of the units, upon vacancy, will be set aside for homeless individuals and families.
The preservation of this much-needed affordable housing in Harlem and all neighborhoods across New York City is a core mission of Mayor Bill de Blasio's 
Housing New York: A Five-Borough, 10-Year Housing Plan
to finance the creation and preservation of 200,000 affordable units to house New Yorkers with a range of incomes, from the very lowest to those in the middle class. The plan seeks to use affordable housing as an anchor to foster diverse, livable neighborhoods.
"Preserving affordable homes is a core HPD mission, and the deals extending the affordability of these 18 buildings in Harlem means over 500 New York families will have affordable homes for another 40 years. That is key to the stability of our families, or neighborhoods — and indeed our city as a whole," HPD Commissioner Vicki Been said.  "I want to thank our partners at Tahl Propp, Bellwether, Enterprise, and HDC for their commitment to making New York City a more affordable city."
"Investing in the revitalization of our communities' affordable housing stock is an effective way to mitigate the City's housing crisis. Through thoughtful investments, we are preserving affordability and creating opportunities across our city for so many New Yorkers in need," said HDC President Gary Rodney. "I want to commend HPD, HUD, Bellwether Enterprise, Fannie Mae, Tahl Propp, and Enterprise Community Partners for devoting their talents, skills, and capital towards ensuring New York City is a city for all."
"HUD's long-term Section 8 contracts not only preserve desperately needed affordable housing units, but also ensure that our neighborhoods remain economically diverse," said Holly Leicht HUD Regional Administrator for New York and New Jersey. "These buildings, which will be significantly renovated, will provide quality housing at a reasonable cost for hundreds of longtime Harlem residents, so they can continue to share in the benefits of the neighborhood revitalization they helped catalyze."
"Over the past decade, rents in Harlem have increased dramatically, pushing out hardworking families who struggle to make ends meet," said Phil Melton, executive vice president of Bellwether Enterprise. "Protecting affordable housing is crucial to helping families get ahead and ensuring the continued vitality of historic neighborhoods around the country."
"New York City loses thousands of affordable apartments each year despite the ever-increasing need, which is why the city's effort to preserve affordable homes in a variety of neighborhoods is absolutely critical," said Judi Kende, vice president and New York market leader, Enterprise Community Partners. "We're proud to work with Bellwether Enterprise, Tahl Propp and our city partners on such a large-scale initiative to keep Harlem families in their neighborhood for the long term."
"The City's affordable housing shortage, especially in vulnerable, historic neighborhoods like Harlem, calls for bold and innovative solutions, rooted in strong partnerships, vision and responsiveness to the community. Since launching our affordable housing preservation initiative in 2013, we have achieved the long-term preservation of some 1,500 units of affordable housing in both East and West Harlem, all of which are specifically set aside for low-income residents. We are also working with the City on the construction of over 1,000 units of new affordable housing in Harlem, for total preservation and new production of 2,500 affordable units. We are proud to work with dedicated and talented affordable housing professionals at HPD, HDC, HUD, Bellwether Enterprise and Enterprise on this important effort to provide and preserve quality affordable housing for our families in Harlem who need it the most", said Joseph A. Tahl, president and co-founder of Tahl Propp Equities.
The total development costs of the portfolio, including the cost of acquisition and rehabilitation, total nearly $135,133,374. HPD provided a loan in the amount of approximately $15.2 million. HPD also provided Low-Income Housing Tax Credits to the project which resulted in $35.9 million in equity. HDC provided Tax Exempt Bonds which resulted in $62,345,000 in construction financing from Bellwether Enterprise. Enterprise syndicated the tax credit equity to finance the deal.
To finance the loan, Bellwether Enterprise arranged a Fannie Mae credit enhancement for two series of bonds issued by the New York City Housing Development Corporation (HDC). Fannie Mae's Reduced Occupancy and Rehabilitation (ROAR) program underwrote the property's credit enhancement.
More information on available apartments and instructions on how to apply are available in Arabic, Simplified Chinese, Haitian Creole, Korean, Russian, and Spanish on the NYC Housing Connect website via this link: NYC Housing Connect. To learn more about the affordable housing lottery process and other available housing lotteries, visit HPD's website at nyc.gov/hpd/renters/find-housing.page. Applicants may submit either a paper or an electronic application. Duplicate applications will be disqualified.
---