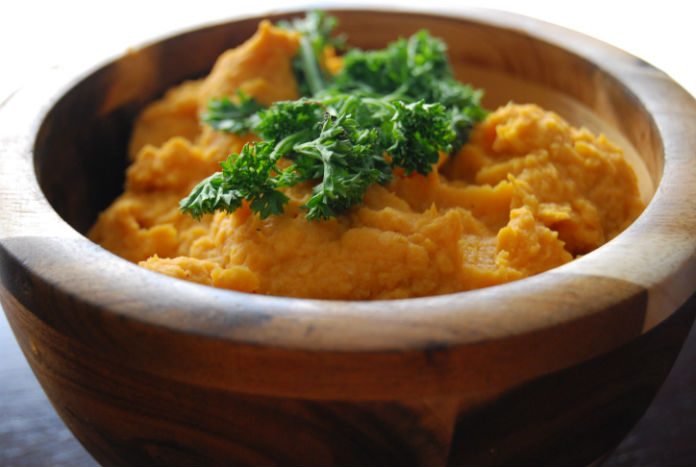 With football season almost over, McCall Farms is sharing their top at home "tailgating" recipes that are sure to make fans cheer.
Like the Sweet Potato Hummus recipe this appetizer is the perfect accompaniment to a Football Funday in Harlem or anywhere.
Sweet Potato Hummus
Ingredients:
1 cup Bruce's Yams Cut sweet Potatoes
1 (19 oz.) can garbanzo beans; rinsed and drained
2 tbs. lemon juice
1/4 cup Tahini (sesame paste)
5 garlic cloves; roasted or raw
1 tbs. extra virgin olive oil
1/2 tsp. cumin
1 tsp. salt
water
Directions
Transfer Bruce's Yams Cut Sweet Potatoes into a food processor. Add garbanzo beans, lemon juice, Tahini, garlic, olive oil, cumin, salt and about 2 tbs. of water to start with.
Pulse the mixture until smooth, scraping down the sides of bowl and adding water to thin mixture if it seems too thick.
Adjust seasoning and serve with a drizzle of olive oil. Top with a sprinkle of paprika if desired.
Yield: 6 servings
McCall Farms, one of America's leading producers of farm fresh canned vegetables and fruit, McCall Farms has been cultivating food for more than 177 years. The family-owned and operated company produces a wide variety of Southern-style products under the Margaret Holmes, Glory Foods, Peanut Patch Boiled Peanuts and Bruce's Yams, as well as private-label and foodservice products, all of which are sold nationwide. Based in Effingham, South Carolina, McCall Farms products are grown on 2,000 acres of family farmland with an additional 18,000 acres contracted throughout South Carolina, North Carolina, Georgia and Florida. www.mccallfarms.com
Related Articles
---