---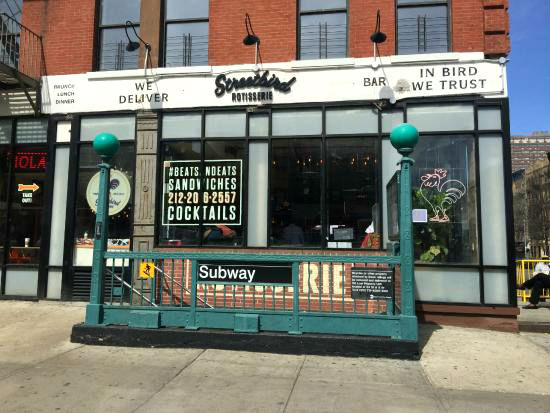 The Nasta Nivå project sounds pretty cool. The free concert series is happening at Streetbird in Harlem this and next week featuring top Swedish hip-hop artists.
As you may know Streetbird, a restaurant by acclaimed chef Marcus Samulesson in Harlem NYC, will be hosting live shows by some of Sweden's top hip-hop artists. Nasta Nivå, presented by Red Bull Sweden, is a project filmed for TV where renowned and established artists are paired with up and coming talent to be mentored and record new music.  During three extremely intense days they will live, eat, drink, laugh, get inspired and – hopefully – create some awesome sounding music together. The last day they will record the song in the Red Bull Studios and then head straight for Marcus Samuelsson latest Harlem restaurant Streetbird – in order to perform live on stage together.
Featured Artists 
Linda Pira Tuesday, April 12th 8PM
Queen of swedish hiphop! "Song of the year" and "Hip hop/soul of the year" during P3 Guld/Swedish Radio Award last year as well as "Newcomer of the year" during the Swedish Grammy 2014 – are just a few of the many awards that Linda has acquired over time. She has also stared in a SVT-documentary and is currently acting as a radio host in P3. Song sample: https://www.youtube.com/watch?v=W6TeCOUF2GY
Elliphant Thursday, April 21st 8PM
Having collaborated with key international artists such as Skrillex and Major Lazer –   Elliphant is (in addition to rocking the Swedish music scene and festival grounds) a highly relevant and interesting international player for the future. Elliphant Feat. Skrillex-https://www.youtube.com/watch?v=Q26b4AK9Hhk 
Chapee  Friday, April 15th 8PM
A prominent long-time player in the Swedish rap scene, where he has worked with artists such as Abidaz, Maskinen, Näääk & Nimo and Kartellen. Just released his EP "MODE7TY" – produced together with Tommy Black.
Sabina Ddumba Monday, April 18th 8PM
Sabina was just awarded "Newcomer of the year during both P3 Guld and Grammis and Elle Galan additionally named her "Best dressed female". "Not too Young" –https://www.youtube.com/watch?v=XkhFPIpYJf0 
Streetbird, 2149 Frederick Douglas Blvd, corner of 116th street and steps from the B,C train at 116th Street, Harlem, New York, streetbirdnyc.com
---