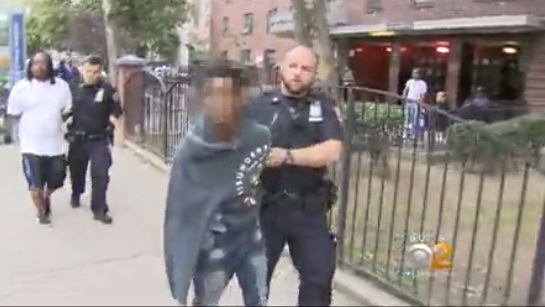 There were terrifying moments in East Harlem on Wednesday, when three people were hit in a pellet gun assault.
Inside of a clear bag held by a police officer was spent ammunition from what police described as a BB gun or air rifle.
The tiny pieces of evidence were recovered from the sidewalk of Madison Avenue in East Harlem.
Three people were struck by the metal projectiles walking along this busy block between East 109th Street and East 110th Street.
A shooter started taking aim at 11 a.m. from a perch witnesses said was a fourth floor window in a building in the Lehman Village Houses.
"It's horrible people got hurt," Eileen Hernandez said.
Hernandez said her son was walking to the supermarket.
"He came down, he said things are whizzing by. He didn't know they were pellets," she told CBS2's Dave Carlin.
Her son dodged getting hit, but victims include a 77-year-old man who was shot in the neck. He's at Harlem Hospital and expected to make a full recovery.
A 43-year-old woman suffered a graze wound to the top of her head. She told paramedics she was okay and left.
The third victim was a school crossing guard who also refused medical treatment, telling police the projectile didn't even pierce her uniform.
The pellets flew across Madison Avenue and three of them hit a laundromat.
---
---
"I'd like to walk around the neighborhood and feel safe," Leslie Spencer said.
Three people were in police custody, Wednesday. The first one to be brought out in handcuffs appeared to be a minor CBS2's Carlin reported.
Right behind him came an older suspect who offered a string of expletives.
Police said a woman was also being questioned.
"There are innocent people out here and they're getting hit and it's not fair, they should be safe walking in their neighborhood," Nisha said.
Another long time resident was simply happy they were firing BBs, not bullets.
Related Articles