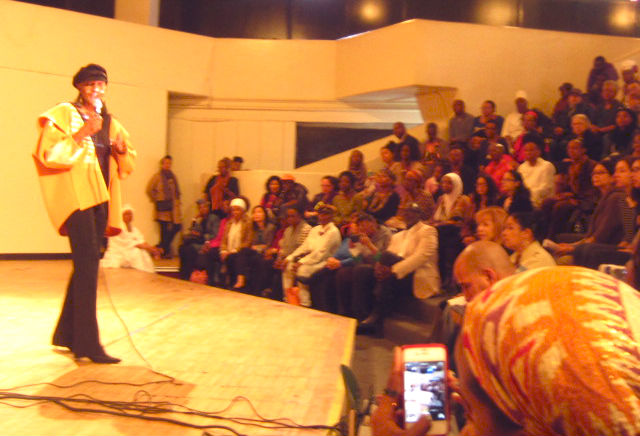 By Hadasah Ingrid
There is a movement of wellness in the air. That aura was no more potently felt than at the 2
nd
Annual Health and Wellness Expo: Transforming the Temple –The Bliss of Now! Taking place recently at the end of April during a blissful but fair weathered sunny day, many organically minded patrons converged to the Taino Towers in East Harlem to christen their day long journey.
As the Caribbean Cultural Center African Diaspora Institute (CCCADI) gave birth to this flowerbed of holistic healing they partnered
with Entering the Holy of Holies; An Institute of Learning and Healing, Inc
.,
Back to the Middle
, and
New York Acupuncture
to host a plethora of workshops, live demos, storytelling, vendors, and performances. The CCCADI which is founded by Dr. Marta Moreno Vega, managed by Desiree Gordon who is the Director of Education & Community Programs, along with hosting presenter Danett C. Bean (
Back to the Middle
acupuncturist and founder)who all ushered in the event with a plethora of other health presenters.
As a myriad of people gathered in the moderate auditorium to inaugurate the event, the atmosphere was permeated with earthy textures of natural hair, dress, and lifestyle. Particularly punctuated throughout the crowd were women in white ancestral garb of various styles, however all hearts and minds eagerly anticipated its keynote speaker.  As the icon enters the room there is a calm excitement – a sweltering motion of peace as she humbly takes her place in the audience.  But first, a commencement of greetings, introductions and libations yielding an honor call to all ancestors and a thought-provoking question "Transforming Into What?" – issued by the Reverend Nafisa Shariff, a collaborator with CCCADI from Entering the Holy of Holies, as she indeed ushered in a consciousness of inner focus and self-awareness.  The Reverend concluded her salutation with the announcement of Susan L. Taylor, former Editor-In-Chief of Essence Magazine.

Synonymous with the iconic publication being the staple for fashion and beauty to women of color for decades, Ms. Taylor emerged to the platform taking center stage amidst a standing ovation. As she quickly seated the crowd, she wasted no time qualifying herself as native Harlemite, growing up not far from the recent explosions in East Harlem a couple of months ago. Her epiphany to peace materialized out of chaos. One quickly realizes she wasn't always Susan Taylor – the "Essence" of
In The Spirit.
She was expediently candid about her early struggles having to tread through a failing marriage marred by infidelity leaving her a single parent.
Daily she had to navigate the mustered up strength to get through such painful times.
As lifting weights require pain to build muscle, Taylor had just enough mass only to be absorbed by worry and stress over how to pay the rent which could only infer the insurmountable weight of adequately taking care of her daughter.
Ironically, as she merely states that she was "working" at Essence at the time, this only indicates that the magazine was in its very early stages right after its founding. Taylor was not making ample revenue sufficient enough to supply her with financial stability. To the up and coming learned, it's merely information but astoundingly she avoids all the factual anointings of the publications global success.
Taylor simply built the Essence brand that is now indistinguishable from her very existence.
Her accomplishments in the publishing world are the stuff of legend. As a pioneer, she marks the usual African-American and female firsts of many accolades such as the Henry Johnson Fisher Award from the Magazine Publishers of America (
the industry's highest honor
) and the first to be inducted into the American Society of Magazine Editors Hall of Fame. Not to mention the NAACP President's Award for Visionary Leadership plus a host of honorary degrees from a dozen colleges and universities.
But her message was simplistic with wisdom as she sought to dispense it heeding the 15 minute speaking window she'd been given. Taylor drove home the importance of prioritizing health as a blueprint for living abundantly. She emphasized what a revelation she had recounting a simple bout with eating chicken. She went to the doctor where the cause of her abdominal pain was clear but left a degree of uncertainty as to the direction of treatment. As the doctor was clear that she needed to stop eating chicken – once she heeded the advice her pain ceased. So 30 years later and still meatless, Taylor realized the importance of listening to your body for directives of healing.
As she was on the journey of self-discovery, she often had moments of reckoning served with life's uncertainties even mentioning being at the end of her rope. Taylor revealed the importance of using quiet time to discover yourself and your voice. She talked about the solace she sought in church, even under the auspice of Reverend Ike, whom she cited as an unknown blast from the past to the current generation. In addition to Rev Ike's church, she frequented a few churches where she learned to trust her heart, listen to her spirit, and rely on God as her spiritual compass when it came to utilizing fortitude and wise decision-making to carve out her path. Then she encouraged the people to trust their own instincts and make decisions that strengthened their power to move forward.
As Taylor continued to struggle to make ends meet, in an instant, a turning point phone call changed her life, career, and financial security – driving home the point of maintaining endurance and faith in one's journey.
The blessing can appear from anywhere at any time.
"So trust the fabric of who you are, be true to your life's path and don't betray it with doubt, toxic thinking, people or scenarios that threaten your future.
When we attain our healing, we must go towards another destination of purpose;
down another road marked with discoveries of what we're born to do, who we can impact, and where to leave our indelible marks in this work with our service."
Finally she charged the audience to execute their life's purpose by finding a need and meeting it for someone else. Taylor cited this execution as essential for personal growth. She graced the crowd with a final but poignant statement! "Hands that serve are more powerful than lips that pray." But she didn't take her seat before presenting a set example of her passionate focus called the
National Cares Mentoring Movement,
founded in 2006 as Essence Cares. It is a call to action in the form of a massive campaign to move one million able adults to help children who are in peril and losing ground.
She presented a PSA featuring just a few friends to the likes of Terrance Howard, Rosie Perez, Oprah, Danny Glover, Spike Lee, Ciara, Mariah Carey, and Harry Belafonte who all chimed in to give a sobering message of responsibility to stand in the gap for our children. More information about Taylor's current mission can be obtained at
http://www.caresmentoring.org.
Related Articles
---