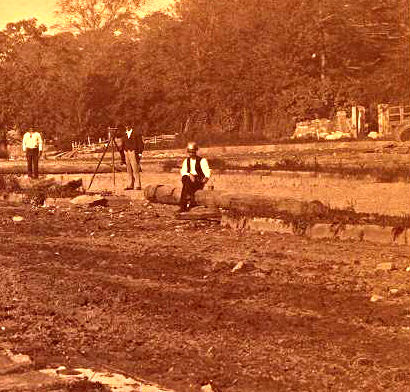 This is looking north from what is now 112th Street and Riverside Drive.  The gate in the background on the right of the man seated, on what appears to be a pipe, New York Tours By Gary suggest the gate to what was then probably a private home but eventually the Saint Christopher Home and later the Hudson Terrace Inn. Just to the left of the surveyor is the entrance to the Noakes property.This is 1879 and Riverside Avenue, as it was briefly called, was going to be the next millionaire's row rivaling Fifth Avenue.  It did not quite happen as hoped for.  The institutions in the area as well as the New York Central tracks along the Hudson did not help.  There were other factors as well, some having to do with wanting to remain where the Astors, Vanderbilts, Carnegie's and the like had established their homes.  Other factors were less obvious but anti – Semitic attitudes of the day prevailed.  The undeveloped west side was were wealthy Jews could buy, or have built for them, homes.  Again, another story but look at the names of the architects working on the West Side at the turn of the century and look at the names of those working on the east side at the same time. You rarely saw the Blum Brothers, Schwartz and Gross or even Gaetan Aijello working on the east side back then.
The construction and opening of this avenue was delayed by the numerous lawsuits involving land ownership and eminent domain laws.  Wealthy individual landowners along the what became the drive disputed with the city about where their land ended and where the city could build it's road.
Related Articles
---
VIDEO
---
"We re-imagine, recreate, and redeem cultural omissions and misrepresentations of Blackness, for the culture. ...." This post is made in partnership with British Pathé.