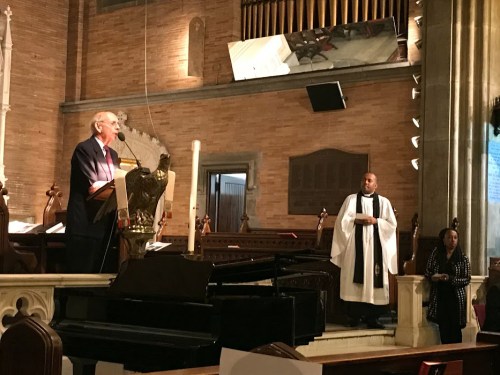 Supreme Court Justice Stephen Breyer made an appeal for the importance of courts and the rule of law at an event honoring the late Thurgood Marshall. Breyer spoke on May 13, 2017, at St. Philip's Church in New York, addressing a crowd of several hundred on the occasion of the 10th annual Thurgood Marshall Law Day, which honors the former Supreme Court justice who once served on the Harlem church's vestry.
Marshall, the first African-American to serve on the Supreme Court, lived in New York while serving as an attorney for the NAACP, and joined the historically black St. Philip's in 1938. The Episcopal feast day honoring his life and work, May 17, is the day he won his most famous Supreme Court argument, Brown v. Board of Education.
The program began at 4 p.m. with an Evensong service with readings from Amos and 1 Corinthians. The Rev. Patrick Williams, St. Philip's interim pastor, was the celebrant and the Bishop of New York Andrew M.L. Dietsche, offered a blessing to kick off the speaking program.
Breyer paid heartfelt tribute to Marshall, who retired from the high court in 1991 and died at age 84 in 1993.
Clutching a biography of Marshall stuffed with leaves of paper scrawled with handwritten notes, Breyer discussed the legacy of Brown v. Board of Education, the 1954 case in which the court found that state laws establishing separate schools for black and white students were unconstitutional.
Marshall, arguing before the court in that case, "didn't discover some part of the law that everybody didn't know full well, it's here it's in this constitution," said Breyer.
"Either you believe in this document or you don't you believe in that equality or you don't," he said.
"Of course it helped America by producing integration, but it helped America in other ways too that are just as important," Breyer said of the court's ruling in Brown.
Breyer went on to describe a recent visit he'd received from the chief justice of Ghana, who was curious about the power of law in American democracy and asked Breyer "why do people do what you say?"
"You want the rule of law in Ghana, you don't have to convince the judges. The people you have to convince are the people who are not judges or lawyers," Breyer said.
Breyer said that the 1954 case Brown v. Board of Education was the "most important" Supreme Court ruling, but that Cooper v. Aaron, a follow-up case that also dealt with school integration, was his "favorite." The court's ruling in Cooper held that states had to follow the orders of the Supreme Court and desegregate schools, even if they disagreed.
---
---
Related Articles
---