---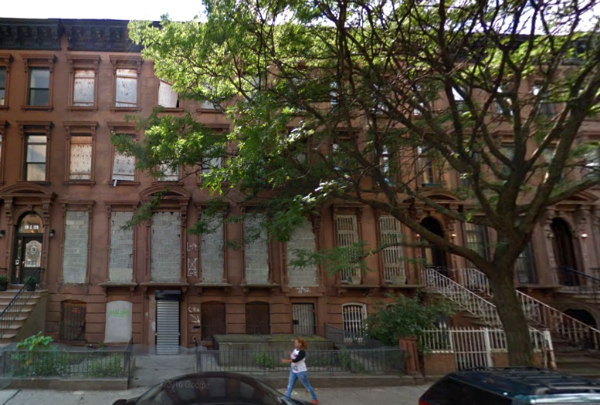 Fifteen years ago, complaints began rolling into the City Department of Buildings about the abandoned, double-wide brownstone at 52-54 East 126th Street in East Harlem. The building was vacant and in danger of collapsing, callers said. Squatters had taken up residence, and neighbors saw addicts and prostitutes coming and going. The block even banded together to seal the building.
It looks like the collapsing brownstone won't be around much longer. Nonprofit social services agencyOdyssey House has filed plans to develop five stories of supportive housing on the lot between Madison and Park avenues.
The building will have 21 units and 11,913 square feet of residential space, creating typically small supportive apartments averaging 567 square feet. The lobby and a single apartment would fill much of the ground floor, followed by five units on each of the upper floors.
Urban Architectural Initiatives is designing the project. The firm, led by David Hirsch and Tony Shitemi, has created some of the city's most innovative designs for supportive and affordable housing, like the beautiful Greenhope Kandake House on East 119th Street.
The Reverend William James Housing Fund Development Corporation has owned the property since 1990, and the filing indicates that Odyssey House is developing it on their behalf. Back in 2012, the 96-year-old reverend told the Times that he planned to convert the building to a senior center. Then two youth nonprofits stepped up to renovate the crumbling townhouse, but a year later, the Daily News reported that those plans had fallen through.
Demolition plans have not yet been filed for 52 East 126th.
Two doors over at no. 58, another brownstone also stood empty for twenty years. Ultimately, the city demolished the building, after the rear wall and roof collapsed.
Via New York Yimby
No related posts found...
---