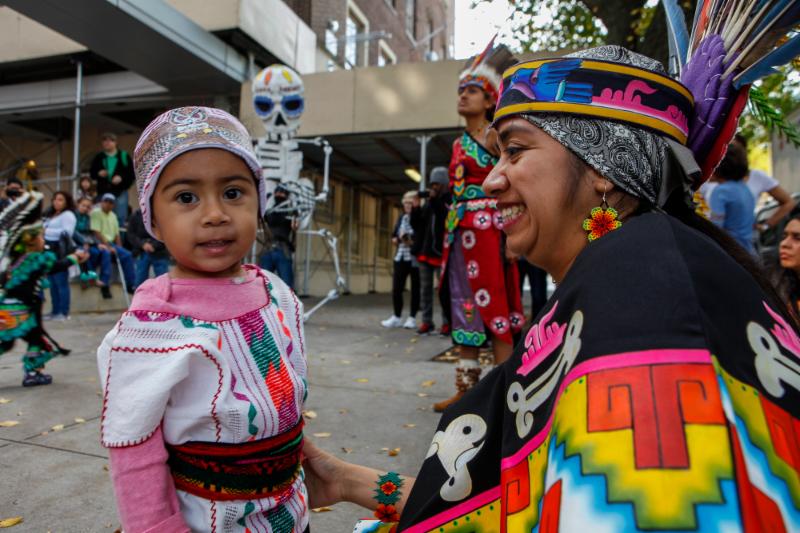 Celebrate Mexico's beloved 3,000 year-old tradition that commemorates friends and relatives who have passed away, with face painting, art making, performances and more.
Here's the full schedule:
Exhibitions | Exhibiciones
ANTONIO LOPEZ: Future Funk Fashion
12:00pm – 6:00pm, Las Galerias
ANTONIO LOPEZ: Future Funk Fashion, explores the life and legacy of the late, famed fashion illustrator and artist Antonio Lopez, and his creative partner Juan Ramos, who worked in New York and Paris throughout the late 1960s, 70s and early 80s.
ANTONIO LOPEZ: Future Funk Fashion, explora la vida y legado del famoso ilustrador de moda y artista Antonio Lopez y su compañero creativo Juan Ramos, quienes trabajaron en Nueva York y París durante los finales de 60s, 70s y comienzos de los 80s.
FIGURE AND FORM: Recent Acquisitions to the Permanent Collection
12:00pm – 6:00pm, Las Galerias
Explore El Museo's recent acquisitions to its permanent collection through this multi-media exhibition that highlights the iconic presence of the human form in various ways.
Explora las recientes adquisiciones a la colección permanente de El Museo a través de esta exhibición multimedia que subraya la presencia icónica de la forma humana de diferentes maneras.
Installation | Instalación
ALTAR
11:00am – 6:00pm, El Cafe
Enjoy our Día de los Muertos altar by artist collective Cetiliztli Nauhcampa.
Disfruta de nuestro altar del Día de los Muertos, creado por el colectivo de artistas Cetiliztli Nauhcampa.
Family Resources | Recursos para las Familias
ARTEXPLORERS FAMILY CORNER
12:00pm-3:00pm, Lobby
Familias, stop by and pick up an activity card and explore objects related to our current exhibition.
Familias, pasen a buscar tarjetas de actividades y exploren objetos relacionados con nuestra exhibición actual.
Procession | Procesión
CALAVERAS CALLEJERAS
11:00am – 12:00pm, Central Park
Join us on a musical procession from Central Park's Dana Discovery Center at 110th Street to El Museo featuring Cetiliztli Nauhcampa and Mazarte Dance Company!
Acompáñanos en una procesión musical desde el Dana Discovery Center en Central Park (Calle 110) hasta El Museo, liderado por bailarines de MaZarte, y músicos de Cetiliztli Nauhcampa.
Art Making Workshop | Taller de Arte
MANOS A LA OBRA
12:00pm – 3:00pm, El Taller
Create your own ofrenda (offering) dedicated to someone special using the traditional Mexican technique of repujado!
Crea tu propia ofrenda y dedícasela a alguien especial usando la tradicional técnica mexicana del repujado.
Face painting | Pintura de Caras
MI CARA CALACA
12:00pm – 3:00pm, Black Box Theater
¡Píntate! Stop by and have your face painted to match the fabulous calacas that surround you. Children ages 12 and under.
¡Píntate! Ven a pintarte la cara para parecerte a las fabulosas calacas que te rodean. Para niños menores de 12 años.
Storytelling | Lectura de Cuentos
COLORIN COLORADO…with ANDREA ARROYO
12:00pm & 2:00pm, El Café
Join artist Andrea Arroyo for stories about Día de los Muertos traditions.
Únete a la artista Andrea Arroyo para escuchar historias sobre la tradición de Día de los Muertos.
Concert | Concierto
MAZARTE DANCE COMPANY
4:00pm – 5:00pm, El Teatro
Enjoy a special performance by Mazarte Dance Company who combine dance and indigenous art to celebrate Mexican traditions and bring history to life!
Disfruta de la actuación especial de la compañía de danza Mazarte quienes combinan danza y arte indígena para celebrar las tradiciones Mexicanas y revivir la historia!
October 15 @ 11:00 am – 5:00 pm
---
El Museo del Barrio, 1230 Fifth Avenue, New York, NY 10029,  212.831.7272, www.elmuseo.org/
Related Articles