---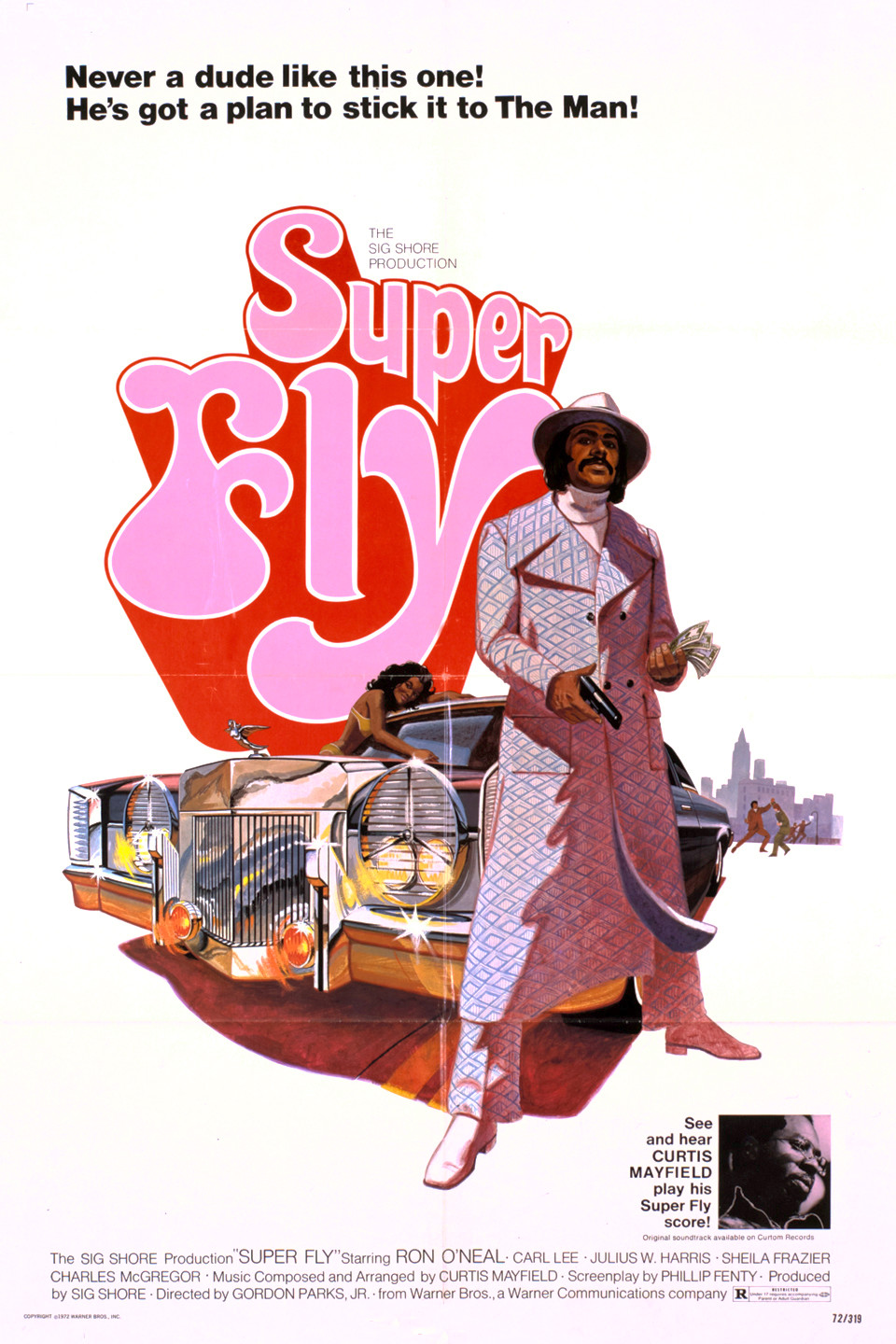 Super Fly is a 1972 American blaxploitation crime drama film directed by Gordon Parks, Jr. and starring Ron O'Neal as Youngblood Priest, an African American cocaine dealer who is trying to quit the underworld drug business. The film is best known for its soundtrack, written and produced by soul musician Curtis Mayfield. It was released on August 4, 1972.
O'Neal reprised his role as Youngblood Priest in the 1973 film Super Fly T.N.T., which he also directed. Producer Sig Shore directed a second sequel, The Return of Superfly, released in 1990, with Nathan Purdee as Priest. A remake was released in 2018.
Youngblood Priest, an African-American drug dealer who specializes in selling cocaine, enjoys a luxurious lifestyle in Harlem. Priest, so-called because the tip of the cross he wears is fashioned in the shape of a spoon, with which he frequently samples his wares, yearns to leave "the life" and go straight, despite the money he makes.
One day, Priest confronts Fat Freddie, one of his clients, about money that Freddie owes and threatens to force Freddie's wife into prostitution unless he robs a competitor. Although the timid Freddie abhors violence, he agrees and accompanies a member of Priest's "family" of lower-level dealers to commit the robbery. After the men leave, Priest finds his partner, Eddie, and asks him how much cash they currently have. When Eddie states that they have $300,000, Priest reveals his plan to buy thirty kilos of high-quality cocaine, which they can sell for $1,000,000 within four months. With such a big score, they will be able to retire comfortably and find other employment, although Eddie protests that crime is the only option left to them by "The Man".
Priest is determined, however, and that night, approaches Scatter, a retired dealer who started Priest in the business. Scatter, who now runs a popular restaurant, initially refuses to help Priest, but Priest plays on his emotions, claiming that he wants to get out while he is young and before he has to endure the extreme hardships faced by Scatter. The hot-tempered Eddie threatens Scatter, demanding that he reveal his source if he will not supply them, but Scatter disarms Eddie and holds him at gunpoint. Priest diffuses the situation and persuades Scatter to help them, although Scatter warns that it will be the last time. Soon after, Priest and Eddie are joined by one of their low-level dealers and Freddie, who turns over the money he stole and agrees that "the beef" between the men is settled.
That night, Priest enjoys a romantic bath with his girl friend Georgia, although she disapproves of his drug usage. When Priest reacts hostilely, Georgia explains that she loves him and wants to help him cope with the difficulties of street life. The next day, Freddie is picked up for fighting, and when he is beaten by the police, he reveals when and where Priest and Eddie are to pick up the first kilo of cocaine from Scatter. As he is escorted outside to be booked in another precinct, Freddie attempts to escape and is killed when he dashes in front of a car.
Meanwhile, Priest and Georgia are walking in a park, and Priest confesses that he has made a deal that will enable them to escape their current life. Georgia pleads with Priest to quit immediately, as she does not care if they are poor, but Priest maintains he must get the money, because his criminal record will make it difficult for him to find a job. That night, after picking up the kilo from Scatter, Priest and Eddie are apprehended by several policemen. The lieutenant in charge reveals that he is Scatter's supplier and that the two men can now go directly to him. The lieutenant tells them they can have as much "weight", or kilos of cocaine, as they want, and will be extended both credit and protection.
After the police leave, Eddie is elated by the new situation, claiming that they are set for life, although Priest is still determined to quit after selling the thirty kilos. Soon after, the drugs are cut and being sold by Priest and Eddie's family, with many buyers being attracted by the high quality. Priest's white mistress, Cynthia, also sells to her friends, although she is dismayed to learn that Priest does not return her love and is planning on quitting the business. Priest explains that as a child, he thought he wanted all the trappings of success and wealth, including a lover like her, but now wants a simpler life and will be ending their relationship. Their argument is interrupted by the sudden arrival of Scatter, who is being pursued by his supplier. Scatter reveals that the real head of the operation is Deputy Commissioner Reardon, who is trying to kill him for quitting.
Scatter gives Priest a packet of information on Reardon and his family, then arranges to meet him later, when Priest will give him money with which to flee New York. After leaving Cynthia's apartment, however, Scatter is captured by the corrupt policemen, who give him a fatal overdose of drugs and leave his body in Priest's car. Both enraged and scared, Priest conducts a meeting with two white men, then confronts Eddie. Priest demands his half of their profits, and when Eddie protests that they should keep selling, Priest asserts that Scatter was murdered by the police, and that they also are in danger. After Priest leaves with the cash, Eddie betrays him by phoning the lieutenant.
Priest has anticipated Eddie's duplicity, however, and gives the briefcase carrying the money to a disguised Georgia in exchange for one full of rags. Outside, Priest is held by two patrolmen, although he smiles to himself as Georgia makes good her escape. Priest is then picked up by the lieutenant and other policemen and taken to the waterfront, where he is confronted by Reardon in person. Reardon threatens Priest that he must continue selling drugs as long as he is ordered to, but when Priest replies defiantly, the policemen begin to beat him. Using his knowledge of karate, Priest overcomes his foes, then reveals that he knows who Reardon is. Priest further explains that the men with whom he met were contract killers, whom he hired to murder Reardon and his entire family should anything happen to him. The powerless Reardon then watches as Priest stalks off, giving the policemen one final glare before driving off to join Georgia.
The film was financed by two black directors and Gordon Parks, Sr., who had directed the 1971 film Shaft. Sig Shore, who produced Super Fly, plays Deputy Commissioner Riordan, or "The Man".
Nate Adams coordinated the fashion and wardrobe for the film. He had done several fashion shows prior to Super Fly. He still owns many of the suits, shoes and fedora hats.
Charles McGregor, who plays Fat Freddie, was released from prison before the film's production. The film was shot by director of photography James Signorelli, who would go on to become the film segment director for Saturday Night Live.
Of the people who acted in Super Fly, actor Carl Lee, who played Eddie, enjoyed great fame until he abused drugs – in particular, heroin. He died in 1986 of an overdose. The film's soundtrack by Curtis Mayfield was well enough received that he was sought for other soundtracks. The songs "Freddie's Dead" and the title song both shot up the Pop Top Ten chart in late 1972, with each single selling over a million copies.
Large white companies produced many of the blaxploitation films, and Super Fly is no exception. The film was acquired and distributed by Warner Bros., and had a white Harlem born producer, Sigissmund Shore. African-Americans were a part of the process as well, with Gordon Parks, Jr. as director and Phillip Fenty the screenwriter. The movie generated roughly $4 million in profits. Shore received the bulk of the profits, 40 percent, while the actors, directors, and scriptwriters split the remaining profits. The soundtrack alone generated about $5 million in profits – one of the first film soundtracks to earn such a sizable return – primarily from the biggest singles "Super Fly" and "Freddie's Dead". As the soundtrack's composer, Mayfield was the only other person in the production who earned revenue approaching Shore's.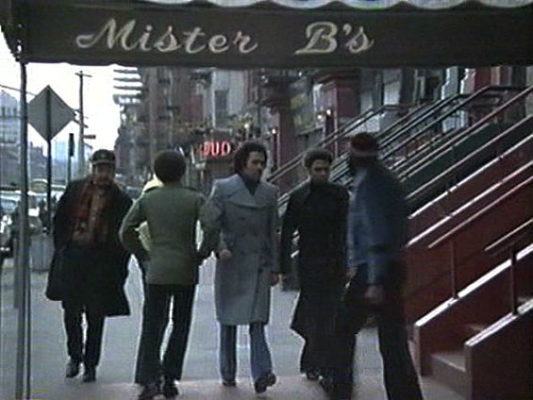 Despite the controversy surrounding Super Fly's drug use, the production of the film made significant advances for African-Americans. The Harlem community backed Super Fly financially, and a number of black businesses (like Mister B's, at 2297 7th Avenue and West 135th Street above) helped with the production costs. Another quality that distinguishes Super Fly from other blaxploitation films was the technical crew, the majority of which was non-white, constituting the largest non-white technical crew in its time. Altogether, such an independently financed film ultimately had unusually large financial backing.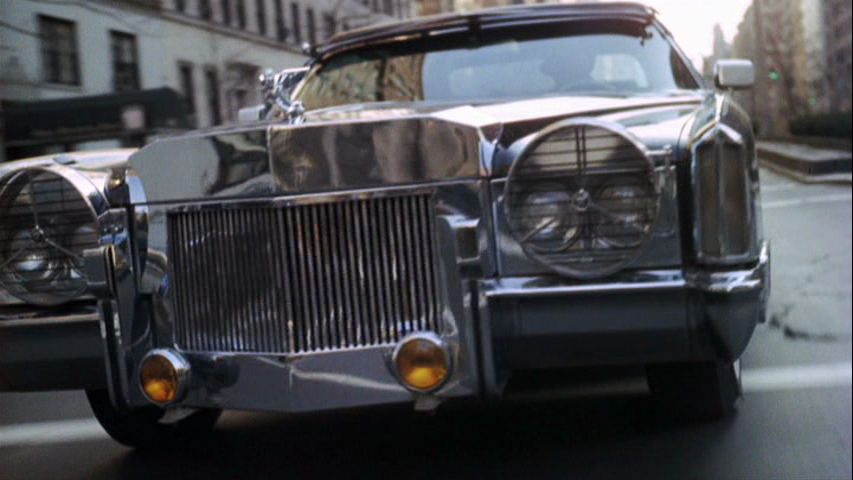 Priest's car is a 1971 customized Cadillac Eldorado. The car belonged to K.C., an actual hustler and pimp from Harlem who plays a pimp in the film. K.C. met Nate Adams in a hotel lobby and was asked if his car could be used in the film. K.C. agreed but later telephoned Nate Adams accusing him of lying, stating, "No niggers are making no movies."
The car was customized by Les Dunham Coachworks of New Jersey, who modified the headlight covers, goddess hood ornament (Rolls Royce/Bentley style), lake pipes and circular porthole windows.
The film helped start a trend for car customization in the United States known as the Pimpmobile. Many aspiring drug dealers, gangsters, and pimps modified their cars during the 1970s as a result of watching Super Fly.
At the time of its release, there were many African-Americans that were displeased with the images of themselves portrayed in films such as Super Fly, Sweet Sweetback's Baadassssss Song, and Shaft. African-Americans voiced their opinions on the matter. Junius Griffin, the head of the Hollywood branch of the NAACP stated, "we must insist that our children are not exposed to a steady diet of so-called black movies that glorify black males as pimps, dope pushers, gangsters, and super males."
Super Fly resonated with many of the post-Civil Rights Movement generation of African Americans, who saw Youngblood as a new example of how to rise in the American class system. Several California organized crime veterans, including drug trafficker "Freeway" Rick Ross, have cited the film as an influence in their decision to take up drug dealing and gang violence. The Congress for Racial Equality, the National Association for the Advancement of Colored People and other organizations attempted to block the film's distribution and pushed for more African-American involvement in Hollywood's creative process. The Student National Coordinating Committee also protested the film as a tool of white oppression.
Manthiahas Diawara suggested that the film's glorification of drug dealers served to subtly critique the civil rights movement's failure to provide better economic opportunities for black America and that the portrayal of a black community controlled by drug dealers serves to highlight that the initiatives of the civil rights movement were far from fully accomplished. The filmmakers maintain that it was their desire to show the negative and empty aspects of the drug subculture. This is evident in the movie from the beginning as Priest communicates his desire to leave the business. Nearly every character in the film, with the notable exception of his "main squeeze," tries to dissuade Priest from quitting; their chief argument being that dealing and snorting are the best he ever could achieve in life.
On review aggregation website Rotten Tomatoes, the film holds an approval rating of 91% based on 23 reviews, and an average rating of 7/10. After an initial gross of $24.8 million, the film was re-released in 1973 and earned $2 million in North American rentals.
A standard definition DVD was released by Warner Brothers on January 14, 2004—the day its star, Ron O'Neal, died after battling cancer. The original red and black Warner logo is replaced by the updated AOL/Warner logo used at the time of DVD release. Additionally, the end credits on the original film release and video cassette, differ from the DVD. On the original release and videocassette the film end credits roll with a shot of the top of the Empire State building and the title track ("Superfly") plays. After "The End" is displayed, the film fades to black but Mayfield's "Superfly" continues to play for a few minutes until the track ends. In the DVD release, Warner Bros. decided to fade out the track midway right as "The End" is shown, and again brings up the AOL/Warner logo.
Photo credit: 1) Photo and text via source.  2) Surperfly Caddy 1972. 
Related Articles
---