---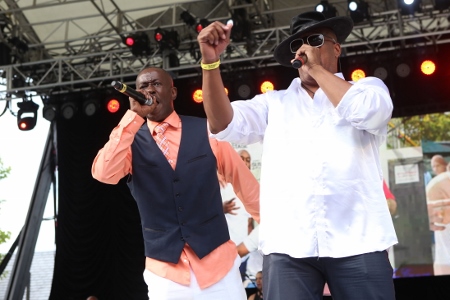 City Parks Foundation is proud to announce the 2016 season of SummerStage, New York City's largest free performing arts festival, bringing more than 115 free performances to Central Park and 15 neighborhood parks throughout the five boroughs. With performances ranging from American pop, Yiddish Soul, and Taiwanese music to dance, comedy and theater, SummerStage will feature more than 200 unique artists, filling a vital niche in New York City's summer arts landscape, ensuring that New Yorkers will have access to exceptional cultural experiences, free of charge. Since its inception 31 years ago, SummerStage has benefited more than six million people from New York City and around the world.
Having highlighted hip-hop music and culture in 2013 and salsa and Latin music in 2014, the festival is thrilled this year to honor another distinctly New York musical form: Jazz. The 2016 season of SummerStage will both showcase exceptional performing artists from around the globe, and will also feature more jazz performances than ever before, with nearly half a dozen planned for Central Park and many more in neighborhood parks across the city. The focus on jazz this season coincides with the upcoming centennial of the musical dawning of the term "jazz," as well as what would have been the 100th birthdays of late jazz greats including Dizzy Gillespie, Thelonious Monk, and Ella Fitzgerald.
SummerStage brings its highly anticipated performances uptown with music, dance, theater and circus performances!
For music lovers, highlights for this summer uptown include reggae singer Alpha Blondy and a night of powerful words and song with renowned poet and performer Saul Williams.
Theater lovers will get to enjoy three weeks of alfresco theater with Shakespeare's classic Macbeth, performed by the acclaimed Classical Theatre of Harlem.
For dance enthusiasts SummerStage presents ASE Dance Theatre Collective performing to the eclectic live music of Tamar-kali. Nathan Trice Rituals, known for its works that examine gender, identity and cultural dynamics will be accompanied by the HSA Dance Ensemble. In the sister world of circus, enjoy an evening of high-energy acrobatics featuring the Guinean/Canadian company Kalabantè Circus.
In keeping with this year's celebration of jazz, Randy Weston African Rhythms Sextet will play jazz infused with influences of African culture, while jazz pianist and gospel musician Cory Henry will wow audiences with his full band sound.
The SummerStage schedule for Upper Manhattan follows.  For the most up-to-date scheduling and line-up for all SummerStage programming, follow SummerStage via the below links and visit www.SummerStage.org  for festival information.
Photo credit: Salters Scene at Summerstage.
---