---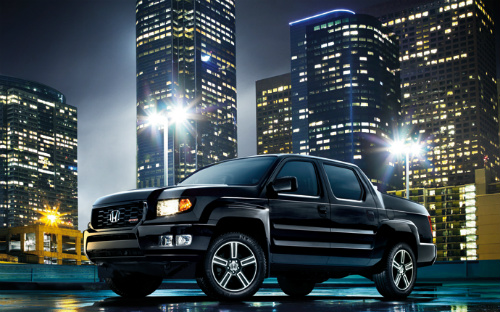 By Michael Andre Adams
Whether you're hitting the road with a friend or the entire family, or heading to the lake with watercraft in tow, Honda—a brand synonymous with reliability and customer satisfaction, has a solution for you.
Civic Hybrid Sedan
Base: $24,635
Loaded: $27,335: With leather and Honda Satellite-linked Navigation and Voice Recognition
Fuel Economy: 45 mpg combined, with 44 city / 47 highway
Annual Fuel: $1,250 (based on 15,000 miles annually)
By now you have to have taken notice of the changes made to the Civic for model year 2013, much of which has gone unchanged for 2014. And you've gotta love the fullness of the rear fascia, which gives Civic a much richer, vibrant look. Add to that 2014's convenience of a totally keyless experience that comes standard, along with the brand's exclusive, optional LaneWatch feature. With it, a camera affixed to the right side view mirror gives the driver a center monitor view of what's coming up on the right lane once the right turn signal has been activated. And with that, Civic sales are up nearly six percent for model year 2014, despite the SUV market shift.
Civic Hybrid comes with an array of features above and beyond those deemed basic. In fact, the base model features are more on par with Civic EX. The one engine includes a 1.5 liter, four cylinder, 110 horsepower engine, harnessed by a continuously variable transmission to help maximize fuel economy. Safety-wise, Civic Hybrid comes standard with the advantage of LED daytime running lights and what Honda calls Advanced Compatibility Engineering II. Designed to enhance occupant protection and crash compatibility in head on collisions, ACE II helps to distribute crash energy throughout the entire front of the vehicle, which can be a great advantage if something is aimed right at you!
Civic's interior layout has the visual appeal of that seems to target owners with a taste either for craft beer or a finer wine. While seated in the cockpit, a midlevel view offers straight ahead monitoring of RPM's, to the right of which lies the seven-inch monitor used for navigation and LaneWatch viewing. On the row above is where you'll find the digital speedometer. Slightly to the right is where EcoAssist monitoring helps drivers to remain mindful of the vehicle's performance as it relates to your driving habits. To the right of that is the five-inch, Intelligent Multi-Information or i-MID screen where fuel economy, outside temperature display, entertainment functions and many other vehicle systems are monitored.
Kudos to Honda's designers for the strategic positioning of all functions and controls, all of which remain conveniently focused and aimed at the driver. Even the touch of the controls, as well as the seating and the panels–they all feel nice. Seating for the front row and the two adults or three more petite passengers in the rear is also quite impressive for a car considered "compact."
Other Civic's for the environmentally concerned include the Civic HF, which scores a fuel economy rating of 41 mpg on the highway, along with Civic Natural Gas at 38 mpg combined. And for the bad boy – bad girl in you, there's the more performance based Civic SI Coupe and SI Sedan.
Pilot 4WD Touring
Base: $41,620
Fuel economy: 24 mpg combined (17 city / 20 highway)
Annual Fuel: $2,800
With passenger seating for eight on three rows, Pilot is safely suited to serve families in comfort on the road all summer long and into the holiday season.
Aesthetically speaking, Pilot is one of the only SUV's to retain its squared off look. And yet it remains a fashionably attractive head turner. But let's hope that it too will soon receive LED daytime running lights.
Under the hood there is but one engine for the entire Pilot lineup: A 250 horsepower V6, boasting 253 lb-ft of torque, harnessed by a five speed transmission to propel all 4,608 pounds. And you'll love the 100,000 +/- miles no scheduled tune-ups requirement!
In terms of interior spaces, compartments and power outlets–particularly on the first and second rows of seating, Pilot is perfect for maintaining order during long drives. Thanks to the Rear DVD Entertainment, second and third row passengers have video access to coast them asleep or keep their thoughts focused on questions other than, "Are we there yet?" Other interior highlights include an eight-inch monitor for navigation, rear camera display and Honda's i-MID. The conveniences of traffic monitoring, locating an iTunes song by name along with other voice recognition features, as well as hands-free Bluetooth functions make the thought of a road trip even nicer.
Similar to Civic Hybrid, Pilot's safety features include ACE (Advanced Compatibility Engineering) to help distribute the energy force of frontal impact, along with ABS, Stability Control and the other basics we take for granted in an SUV that keep it from rolling over.
Finally, the beauty of Honda's available VTM-4 system with the ability to automatically discern what each wheel needs is awesome. In addition, VTM-4 Lock gives you the advantage to manually lock the rear differential to help you through loose gravel, ice or other inclement weather conditions at speeds of up to 18-miles per hour.
Ridgeline SE
Base: $37,505
Fuel Economy: 17 mpg combined (15 city / 21 highway)
Annual Fuel: $3,250
Whether towing watercraft, carrying home and garden supplies, light hauling to add to or take away from, or moving or shipping someone off to school–having a truck can be a god-send, especially when it's a manageable truck, versus some behemoth of a truck that's a challenge to maneuver and won't fit into the garage.
Honda's Ridgeline comes with all of the features, advantages and benefits found in most trucks today including tons of compartmental space (for tool and other objects) in the interior cabin, four doors to provide access to both front passengers and all three on the second row, rear seats that lift for additional storage, a tailgate that both swings open and folds down, 8.5 cubic feet of lockable additional storage beneath the five-feet bed, and the ability to tow an additional 5,000 pounds are just a few favorites about this truck.
Across the board, all Ridgeline's trim levels come with a 3.5-liter 250 horsepower V6, boasting 247 lb-ft of torque. Four-wheel independent suspension makes for a tough driving truck that's comfortable for passengers inside.
Despite being such a cool truck, especially at the SE trim level, which comes with a nice set of 18-inch rims, it's year to date sales are down well over 11%. As such, Ridgeline is said to be going on hiatus after model year 2014, followed by a hopeful future return. With that said, now is the perfect time to take a look at a 2014 Ridgeline SE.
---