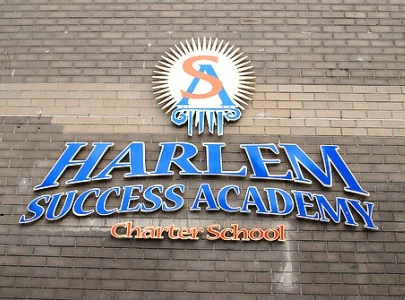 As parents, teachers and school leaders debate the merits of standardized testing, one mom from our area is taking a small but notable stand.
Kudeza Miah is having her child opt out of those exams, at a school where expectation is not just that students will take the tests, but that they'll excel at them.
"I feel a little bit like a whistleblower," said Miah, whose son Ivan attends Success Academy in East Harlem. "I guess because there's not as many parents stepping out and saying, 'I'm against this.'"
And that's because the state tests are part of the culture at Success Academy, the largest and highest performing public charter school network in New York City with 41 schools and 14,000 students.
They even hold pep rallies at Radio City Music Hall to psych themselves up to "slam the exam," and for many who would otherwise be attending a low-performing school in their neighborhood, it offers a real chance at success.
"Because at the end of the day, even though I'm in sixth grade, you're supposed to be smart," student Maylia Covington said. "You're also supposed to show a lot of grit and what you can do."
Covington, like many, views the tests as a chance to prove herself. But critics say Success Academy has become almost cult-like with its test prep. Miah and Ivan say vital parts of the curriculum disappear for weeks.
"They kept (English language arts) and math and science, but they took away history class," said Ivan, who added art and music classes are rare.
Miah chose to have Ivan opt out, but afterwards, she said she was treated like an outcast.
"I felt as though I was being bullied," she said. "I felt as though my parent choice was being disregarded."
An email from her school principal said, "Scholars at Success Academy cannot be opted out, and those who choose not to do the academic work will get a zero."
The opt-out movement is a rather large one in some public school districts, and parents are made aware of their right to have their children refuse state testing without penalty. But charter schools operate with greater independence, and in Miah's case, she said she was told to keep her son home on testing days. That would mean six days absent, but she brought him to school anyway.
"My principal told her to leave, and she brought security," Ivan said.
---
---
In the end, Ivan was not forced to take the test. But in a charter system, which parents say is supposed to be about choice, Miah said she found anything but.
"I felt like my son didn't have a choice," she said. "I didn't have a choice."
Success Academy founder Eva Moskowitz declined to comment on this story.
Via sources
Related Articles