---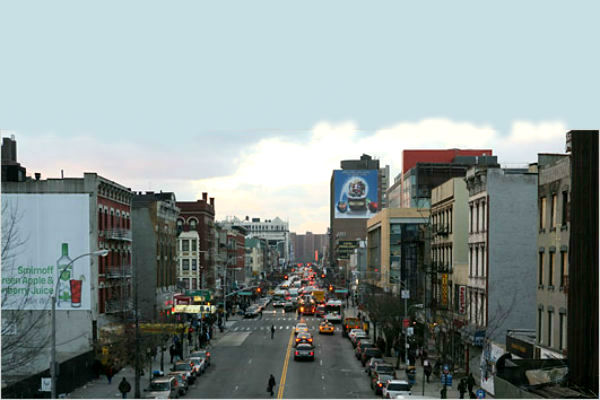 Harlem is a neighborhood bounded on nearly all sides by highways, which presents health risks for students at local schools, a new report says.
Twenty-one schools in Harlem are located within at least 500 feet of a highway, truck route or other major road, according to a Localize.city report released this week. The proximity puts kids at a higher risk of health problems linked to long-term exposure to traffic pollution, such as impaired lung development and cancer, the home-search platform's report says.
The at-risk schools include both public schools and charters. Most are located near the FDR Drife and Harlem River Drive, but some are on the West Side of Harlem near the Henry Hudson Parkway. Many of the schools on the report also share buildings, such as PS 138 and PS 30 Hernandez/Hughes and the schools co-located in the historic Benjamin Franklin High School building on East Harlem's Pleasant Avenue.
Here's a list of the Harlem schools included in Localize.city's report:
River East Elementary School: 2351 1st Avenue
Frederick Douglass Academy: 2581 Adam Clayton Powell Jr Blvd
Life Sciences Secondary School: 320 E 96th St
Success Academy Harlem 2: 144 E 128th St
Isaac Newton Middle School For Math & Science: 280 Pleasant Ave
New Design Middle School: 625 W 133rd St
PS 146 Anna M. Short School: 421 E 106th St
School of Cooperative Technical Education: 321 E 96th St
P.S. 50 Vito Marcantonio: 433 E 100th St
Public School 138: 144-176 E 128th St
P.S. 200 The James Mccune Smith School: 2589 Adam Clayton Powell Jr Blvd
Harlem Prep Elementary School: 240 E 123rd St # 1
P.S. 030 Hernandez/Hughes: 144-176 E 128th St
Public School 206: 508 E 120th St
M.S. 224 Manhattan East School For Arts Academics: 410 E 100th St
Success Academy Harlem 3 Lower: 410 E 100th St
Global Community Charter School: 2350 5th Ave
The Judith S. Kaye High School: 321 E 96th St
KIPP Infinity Charter School: 625 W 133rd St
Manhattan Center For Science and Mathematics: 280 Pleasant Ave
The Renaissance Charter High School for Innovation: 410 E 100th St
In total, there are 244 schools in New York City that are threatened by pollutants from cars on major roadways.
The U.S. Environmental Protection Agency has found health risks linked to vehicular pollution, which could have academic consequences. Students who move to a school with more pollution from traffic saw a drop in test scores, according to a National Bureau of Economic Research study that Localize.city cited.
"Kids attend city schools 180 days a year, often running around at recess every day, breathing in the air — and potentially toxic fine particulate matter," Localize.city urban planner Liat Halpern said in a statement.
Click here to view the map of public schools near polluting highways.
Read the entire article here.
---