---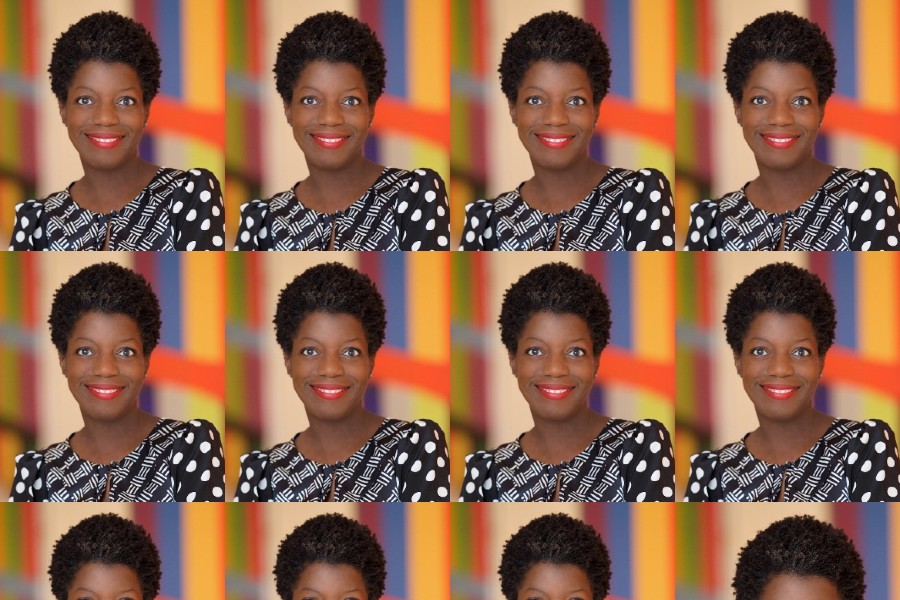 The Gish Prize Trust today announced that Thelma Golden, who as Director and Chief Curator of the Studio Museum in Harlem.
She is internationally renowned as an advocate for and collaborator with generations of Black artists and has been selected to receive the 30th annual Dorothy and Lillian Gish Prize in recognition of her continuing contributions to the arts. The Prize, established in 1994 through the will of legendary screen and stage actress Lillian Gish, known as the First Lady of Cinema, is one of the most prestigious honors given to artists and their supporters in the United States and bears one of the largest cash awards, currently valued at approximately $250,000.

The Gish Prize is given each year to a highly accomplished figure from any discipline of the arts who has pushed the boundaries of an art form, contributed to social change, and paved the way for the next generation—in the words of Lillian Gish, an artist or advocate "who has made an outstanding contribution to the beauty of the world and to [humankind's] understanding and enjoyment of life." The selection committee for the 2023 Gish Prize chose Thelma Golden from a field of distinguished finalists in the fields of visual and performing arts, literature, and arts administration. She now joins a three-decades-long list of honorees that in recent years has included Jawole Willa Jo Zollar, Sonia Sanchez, Ava DuVernay, Gustavo Dudamel, Suzan-Lori Parks, Meredith Monk, Spike Lee, Anna Deavere Smith, Maya Lin, Trisha Brown, Bill T. Jones, and Chinua Achebe.

"As a curator and museum director who has been privileged to work for and on behalf of artists for my entire career, I am humbled to receive this prize that was created by an artist and has been given to so many creative leaders I greatly admire," said Golden. "Working in service of artists in general, and very specifically Black artists, has allowed me to engage broadly in the world. I gratefully accept the Gish Prize and wholly acknowledge what an honor it has been to be able to provide space, alongside the many institutional colleagues, Board members, and supporters who are equally committed to advancing the work these artists do."
This year's Prize selection committee was chaired by Sade Lythcott, Chief Executive Officer, National Black Theater. The other members of the selection committee were Laura Aden, President & CEO, Howard Gilman Foundation; Anna Glass, Executive Director, Dance Theatre of Harlem; Terrance McKnight, host at WQXR, New York Public Radio; and Adam D. Weinberg, Director Emeritus, Whitney Museum of American Art.
"This year's selection committee unanimously and enthusiastically presents the Gish Prize to Thelma Golden, a recognition well deserved for her profound contributions to the world of contemporary art and her unwavering commitment to fostering inclusivity and diversity within the art community," said Lythcott. "Thelma's visionary leadership has ignited important dialogues and transformed institutions, inspiring artists and audiences alike. As chair of this year's prize committee, I am honored to celebrate her exceptional impact and look forward to the continued brilliance she will undoubtedly bring to the world of art and culture."
"For the past thirty years, with the help of our esteemed selection committees, we have supported Lillian Gish's vision of celebrating extraordinary individuals who have made an indelible impact through the arts," said Charlotte Eyerman, Managing Director and Global Head of the JPMorgan Chase Art Collection. "In choosing Thelma Golden, this year's committee recognizes a leader who has empowered hundreds of vital Black artists and advanced the careers of countless outstanding Black arts professionals. We congratulate Thelma Golden on receiving this high honor."
J.P. Morgan Chase Bank, N.A. is trustee of the Gish Prize Trust.
Thelma Golden
Born and raised in New York City, Thelma Golden began her career as an apprentice at the Metropolitan Museum of Art while in high school. Her work at the Studio Museum in Harlem, where she would eventually become Director and Chief Curator, began in her undergraduate program in art history and African American studies at Smith College—first as an intern and, after graduating, as a curatorial fellow. 
In 1988, she joined the Whitney Museum of American Art as a Curatorial Assistant. After a brief leave to work for art historian and curator Dr. Kellie Jones as the Visual Arts Director at the Jamaica Arts Center, she returned to the Whitney as Director of the Whitney Museum of American Art at Philip Morris and was appointed Associate Curator in 1993. In her curatorial positions there, she organized numerous innovative exhibitions, including the groundbreaking 1993 Whitney Biennial and her landmark exhibition Black Male: Representations of Masculinity in American Art in 1994.
In 2000, Thelma Golden returned to the Studio Museum as Deputy Director for Exhibitions and Programs and was named Director and Chief Curator in 2005, succeeding Dr. Lowery Stokes Sims. Under Thelma Golden's leadership, the Museum has gained increased renown as a global leader in contemporary art exhibitions, a center for innovative education, and a cultural anchor in the Harlem community. Golden's curation at the Studio Museum includes many exhibitions, including the inauguration in 2001 of the series of arrangements known as the F shows, highlighting emerging Black artists. Other exhibitions have included Chris Ofili: Afro Muses 1995–2005, Black Romantic: The Figurative in Contemporary African-American Art, and many more.
In 2019, Thelma Golden kickstarted a multi-year collaborative partnership between the Studio Museum in Harlem and the Museum of Modern Art to maintain presence and community engagement while the Studio Museum is closed for the construction of its new home on 125th Street. This monumental building project, which she spearheaded, reflects her commitment to advancing Studio Museum's global future and its firm place within the Harlem community. 
Thelma Golden holds a BA degree from Smith College. She has received honorary doctorates from the New School (2022), Columbia University (2018), Barnard College (2010), the City College of New York (2009), San Francisco Art Institute (2008), and Smith College (2004). In 2010, she received the Audrey Irmas Award for Curatorial Excellence from the Center for Curatorial Studies at Bard College. In 2018, she was the recipient of the J. Paul Getty Medal. Golden has also received various fellowships and was named a Henry Crown Fellow in 2008 and a Ford Foundation Fellow in 2015. President Obama appointed Golden to the Committee for the Preservation of the White House, on which she served from 2010 to 2016. She serves on the Board of Directors for the Barack Obama Foundation, the Los Angeles County Museum of Art, the Andrew W. Mellon Foundation, and the Crystal Bridges Museum of American Art. She is a member of the Advisory Committee for the Goldman Sachs "One Million Black Women" initiative and the Advisory Board for the Black Trustee Alliance for Art Museums. Recently, she served on the International Jury for the 2023 Venice Architecture Biennale. She is a recognized authority in Black art and an active lecturer and panelist who speaks about contemporary art and culture at national and international institutions.
Dorothy and Lillian Gish Prize
Established in 1994 through the will of Lillian Gish, the Dorothy and Lillian Gish Prize is given annually to an individual who has "made an outstanding contribution to the beauty of the world and to [humankind's] enjoyment and understanding of life." Past recipients are Jawole Willa Jo Zollar, Sonia Sanchez, Ava DuVernay, Walter Hood, Gustavo Dudamel, Meredith Monk, Elizabeth LeCompte, Suzan-Lori Parks, Maya Lin, Spike Lee, Anna Deavere Smith, Trisha Brown, Chinua Achebe, Pete Seeger, Robert Redford, Laurie Anderson, Shirin Neshat, Peter Sellars, Ornette Coleman, Bill T. Jones, Lloyd Richards, Jennifer Tipton, Merce Cunningham, Arthur Miller, Isabel Allende, Bob Dylan, Robert Wilson, Ingmar Bergman, and Frank Gehry. Prize recipients are nominated by the arts community and chosen by a distinguished committee of arts leaders for their groundbreaking work in their chosen fields. For further information, visit gishprize.org.

Dorothy and Lillian Gish
Dorothy and Lillian Gish followed their mother onto the stage at an early age. The older of the two sisters, Lillian took her first theatrical curtain call in 1902 at the age of eight in the play In Convict's Stripes. In 1912, the sisters' childhood friend Mary Pickford introduced them to D.W. Griffith, who launched their film careers. Lillian would become one of America's best-loved actresses. In her 85-year career, she appeared in more than 100 films—from Griffith's An Unseen Enemy (1912) to Lindsay Anderson's The Whales of August (1987)—and also took numerous roles in television and on stage. Dorothy began her stage career at four and also went on to make more than 100 films, many of them with Lillian. Dorothy's early work in film highlighted her keen sense of humor, bringing her acclaim as a star of comedy. At the end of the silent era, she turned her attention to the stage, where success in Young Love brought her accolades with New York audiences, on the road and subsequently in London. In 1939 Dorothy and Lillian each played Vinnie Day, wife of Clarence Day, Sr., in two extensive American road company productions of Life with Father. Dorothy returned to film and television in the 1950s. Upon her death in 1968, Dorothy left the bulk of her estate to the arts. Lillian died in 1993 and also left the bulk of her estate to the arts, including a trust for the formation of the Dorothy and Lillian Gish Prize.
Photo credit: HWM Factory.
---