---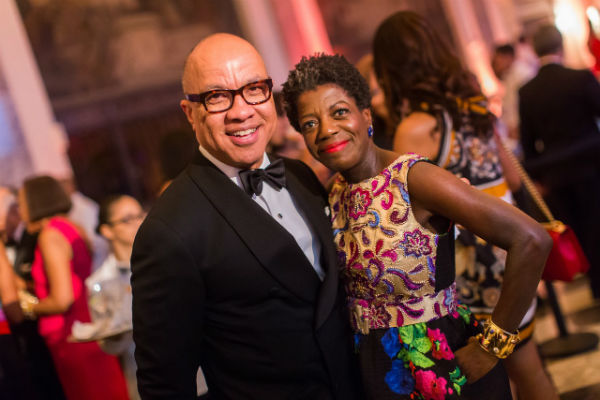 Yesterday, The Studio Museum in Harlem honored the Ford Foundation at their annual Gala. Held at Cipriani Wall Street, the event raised over $2 million for the Studio Museum's groundbreaking exhibitions and programs—a record-breaking amount. The program featured remarks by Gala co-chairs Kathryn C. Chenault, Carol Sutton Lewis, Dr. Amelia Ogunlesi, and Jaqueline Bradley; Studio Museum Director and Chief Curator Thelma Golden; and Studio Museum Chairman Raymond J. McGuire. Following a video tribute to the Ford Foundation, Foundation President Darren Walker gave a moving speech about art's power to address inequality and accepted a gift of art by 2015–16 Studio Museum artist in residence Jordan Casteel.
"The Ford Foundation's support of the Museum has been incredible because it has touched everything we have done," said Thelma Golden. "The Ford Foundation has helped us build our capacity; it's allowed us to engage deeply in important programs; and it has created the opportunity for us to think about the Museum in broad and different ways."
Thelma Golden also announced that Derrick Adams has been selected as the 2016 winner of the prestigious Joyce Alexander Wein Artist Prize. Established in 2006 by jazz impresario, musician and philanthropist George Wein in memory of his wife, the prize bears a cash award of $50,000 and is given annually by The Studio Museum in Harlem to an African-American artist of great innovation and promise. Distinguished past recipients have included Lorna Simpson, Leslie Hewitt, Leonardo Drew, Jennie C. Jones and Trenton Doyle Hancock.
Derrick Adams, is a multidisciplinary artist based in New York City and is the former Curatorial Director of Rush Arts Gallery in Chelsea. His work has been presented frequently at the Studio Museum, in exhibitions including Veni Vidi Video (2003), Harlem Postcards (2009), The Bearden Project (2011), Radical Presence: Black Performance in Contemporary Art (2012) and The Shadows Took Shape (2013). His work has also been seen nationally and internationally at institutions including MoMA PS1, the Brooklyn Museum of Art, the Brooklyn Academy of Music, the Contemporary Art Museum Houston, the Birmingham Museum of Art and the PERFORMA biennial. His work is in the permanent collections of institutions including The Studio Museum in Harlem, the Metropolitan Museum of Art, the Virginia Museum of Fine Arts and the Birmingham Museum of Art.
A recipient of the Louis Comfort Tiffany Award (2009), S.J. Weiler Award (2014) and an Agnes Martin Fellowship (2001-03), Derrick Adams received his BFA from Pratt Institute (1996) and his MFA from Columbia University (2003). He is also an alumnus of the Skowhegan School (2002) and the Sharpe-Walentas Studio Program (2003-04). He recently served as guest curator for the inaugural curated section of VOLTA NY 2016.
Related Articles
---