---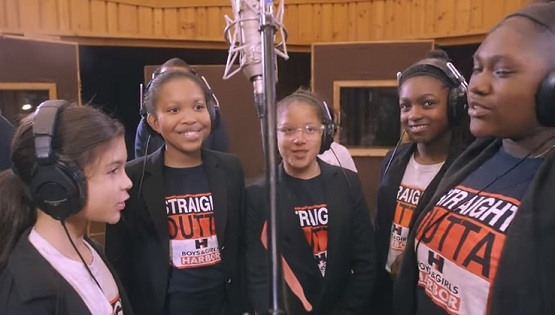 BerkleeNYC is Berklee College of Music's new New York home located in the famed Power Station studios. The college initiated upgrades to the studio's gear soon after acquiring the building last fall and establishing BerkleeNYC. The studio, now known as Power Station at BerkleeNYC, has re-opened and is hosting a variety of recording sessions, from solo artists and small groups to large Broadway cast album recordings.
A recent session featured 40 members of Harlem's Boys and Girls Harbor, an education-focused organization and member of the Berklee City Music Network. The group spent the day at the studio recording an update of jazz standard "A Night In Tunisia" that features rapping. The students came from 15 area high schools, including Harlem's Future Leader Institute, MS 171 Patrick Henry Middle School, The Young Leadership School, Harbor Science and Arts Charter School, Amber Charter, and Central Park East 1; Frank Sinatra School of the Arts, and Baccalaureate School for Global Education in Queens; and Manhattan's Ella Baker, The Spence School, Beacon High School, and Institute for Collaborative Education.
"We're setting out to reinvent what it means to capture live music in a studio environment," said Webber. "We're excited to be a catalyst for redefining and modulating the business model with HD and 360 video capture, professional lighting, and a video control room to support documenting, broadcasting and live streaming of recording sessions. The facility will be focused on serving the New York recording industry as well as having a robust educational mission."
The college recently hosted its first educational program at BerkleeNYC, a day-long intensive songwriting and production master classs conducted by Stephen Webber, executive director of BerkleeNYC, and Pat Pattison, Berklee professor of songwriting and poetry. The facility will remain open through the summer, hosting recording sessions and educational programs that BerkleeNYC envisions as a continuing and expanding series of forward-thinking experiences to collaborate with, inspire, and engage the community.
Upcoming events include a music video production workshop conducted by Nick Clark Productions; a modern songwriting camp led by Bonnie Hayes, Berklee chair of songwriting, and Kara DioGuardi, hit songwriter and former American Idol judge; a jazz workshop and recording session led by Joe Lovano, Gary Burton jazz chair in performance; and Music of the African Diaspora, led by Nedelka Prescod, associate professor of ensembles. The programs will be open to the public.
BerkleeNYC will close in August to undergo major renovations that are currently planned to take one year. In addition to the gear upgrades, renovations include building infrastructure such as adding an elevator and street level entrance. A black box theater, video control room, and virtual reality laboratory are planned for the lower level. The second floor will see ensemble rehearsal classrooms added, and the common areas throughout the building will be revamped to feature museum quality exhibits celebrating the history of New York's recorded music scene. BerkleeNYC plans to reopen permanently in the fall of 2019.
Find out more powerstation.nyc/
Find out more www.berklee.edu
Related Articles
---