---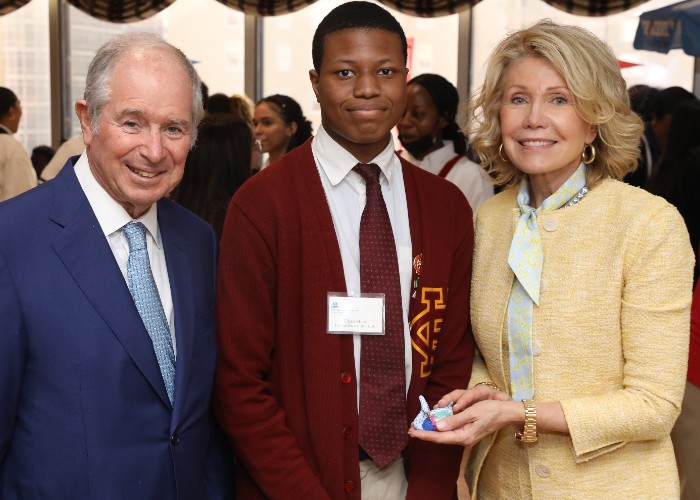 On Tuesday, May 17, 2022, Christine and Stephen A. Schwarzman, Chairman, CEO, and Co-Founder of Blackstone.
Hosted more than 90 Catholic high school seniors they have sponsored from Harlem to Hollis through the Inner-City Scholarship Fund for a celebration of their high school graduations on at the Archdiocese of New York in Manhattan.
Christine and Stephen Schwarzman personally congratulated the students and provided some advice for their futures, as well as presented the students with gifts and pins.
Outstanding students like Elijah Mike, from Cardinal Hayes High School, spoke about his positive experience with Catholic school education.
"The past four years have been memorable. So much has happened, and I am proud to say that I will be graduating in just a few short weeks," said Elijah Mike. "Being in the Catholic school system for the majority of my academic life has without a doubt shaped me into the person I am today. On behalf of all graduates, I would like to thank Mr. and Mrs. Schwarzman for their support and sponsorship throughout our high school education."
The Schwarzmans first began supporting Inner‐City Scholarship Fund in 2001 after meeting the late Archbishop of New York Edward Cardinal Egan.
They have contributed more than $50 million in support of the fund's mission to provide tuition assistance to students from low-income families who wish to attend inner-city Catholic schools within the Archdiocese of New York.
Inner-City Scholarship Fund
Inner-City Scholarship Fund was founded in 1971 by the late Terence Cardinal Cooke and a group of prominent executives of many religious beliefs.
Inner-City provides tuition assistance to over 9,000 students (90% minority and 37% non-Catholic).
An astonishing 99% percent of seniors attending inner-city Catholic high schools graduate and 98% are accepted to colleges and universities across the nation.
Photo credit: 1) Elijah with the Schwarzmans. 2) Inner-City Scholarship Fund group.
---