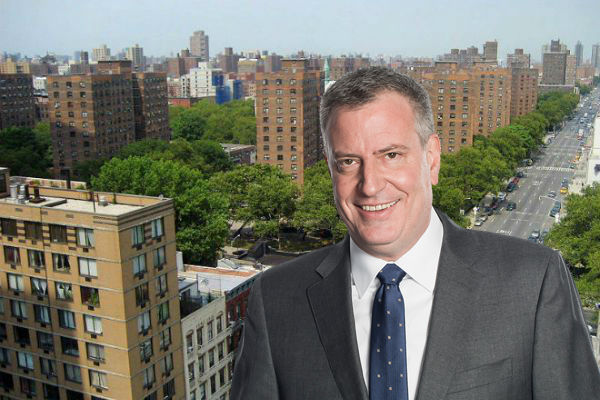 Patch reports that Mayor Bill de Blasio found a bunch of happy figures to throw around in his annual "Mayor's Management Report," a sort of mandatory in-house report card, for summer 2017. Murder and robbery rates both dropped 12 percent over the past fiscal year (July '16 to June '17), it shows. Traffic deaths were cut by 11 percent, and DUI deaths by a full quarter. Cops showed up to crime scenes around half a minute faster. Cases of kids with high levels of lead in their blood dropped 10 percent. The infant death rate dipped 5 percent. New HIV cases hit an all-time low. School kids scored a smidge higher on their standardized tests. City buildings farted out three times less greenhouse gas than they did the year prior.
Again keeping with tradition, though, the 2017 report largely sugar-coats the not-so-happy trends within the mayor's recent track record — or leaves them out altogether.
For instance: NYC's widening income disparity. A net loss in rent-controlled apartments. Record-high homelessness. A rise in traffic accidents and injuries (if not fatalities).
But among the most extreme of the wayward city stats missing from de Blasio's new report is a crazy surge in (non-HIV-related) sexually transmitted diseases — one that began during the mayor's first term and, records show, is still raging out of control in 2017.
How did we get here? It all started around 2014, when three of America's most common STDs — syphilis, gonorrhea and chlamydia — began to make a major comeback across the country. For the most part, health officials blamed the outbreak on dwindling budgets for STD treatment and prevention at the local, state and federal levels. Less scientifically, they also blamed a tech-fueled hookup renaissance of sorts among millennials who were using apps like Tinder, Bumble and Grindr (and not, apparently, condoms) to get laid.
The situation only got worse from there.
From 2015 to 2016, the syphilis rate in NYC shot up 27 percent, according to the Department of Health. During that same period, the gonorrhea rate rose by 13 percent, and the chlamydia rate by 6 percent.
The city hadn't seen an STD epidemic like this since the 1980s, the city's Independent Budget Office warned. A report issued by the officeshowed that between 2006 and 2015, as STD rates began to creep up in NYC, the city's annual budget for treatment and prevention stagnated between $10 million and $15 million.
All that changed circa summer 2016, when de Blasio bumped up his STD budget to a pudgy $25 million.
City health officials have since used this extra taxpayer cash to extend daily hours and hire more staffers at their eight "low- to no-cost" STD clinics, and — as you've probably noticed by now — launch a public awareness campaign targeting the freewheelin' youth of NYC. (One that has transformed the subway system into a racy art exhibit exploring the implications of the eggplant and peach emoji in modern communication.)
But alas — despite the emoji art, our local STD epidemic has only gotten worse in 2017.
City data shows that in the first three months of this year, chlamydia and gonorrhea rates surged far past 2016 levels to 18,079 cases and 5,754 cases, respectively.
---
---
If that trend continues, nearly 850 out of every 100,000 New Yorkers will have come down with chlamydia (up from 780 or so last year) by the end of the year, and around 270 out of every 100,000 will have come down with gonorrhea (up from 223 or so last year), the data shows.
The syphilis rate — which saw the most severe spike at the outset of the triple STD crisis — actually sank a little in the first quarter of 2017. However, "primary and secondary" syphilis are still on pace to infect about 20 out of every 100,000 city residents this year — twice the rate we were seeing five years back.
And other, less common types of syphilis are still very much on the rise, city data shows.
A spokesman for the Health Department argued these latest numbers are likely higher because more people are showing up to city clinics to get tested, and because the tests themselves have gotten more accurate. Plus the whole dating-app thing, he said.
(It's worth noting, however, that the city's clinic in Chelsea — the NYC neighborhood hardest-hit by male chlamydia and gonorrhea — has been shut down for the past two-and-a-half years for renovations. It was supposed to re-open in 2017, but last we checked, it was still all boarded up. City records also show that health officials passed out fewer free condoms in 2016 and 2017 than in years prior.)
If caught at an early stage, syphilis, gonorrhea and chlamydia can be easily treated with antibiotics — aside from that super-scary gonorrhea "superbug" going around, which is reportedly resisting the usual meds.
Leave an STD untreated too long, though, and it could lead to "chronic pain and severe reproductive health complications, such as infertility and ectopic pregnancy," according to federal health officials. Your baby could also pick up your infection during the birthing process, which can be fatal.
Now that you're thoroughly spooked: Below is a ranking of all of uptowns neighborhoods in order of their STD infection rate for 2016. (No. 1 having the highest rate and No. 42 having the lowest.)
Female Chlamydia
7. Harlem
8. East Harlem
12. Washington Hieghts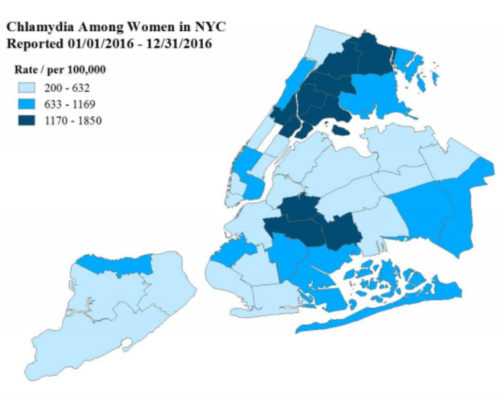 Male Chlamydia
2. Harlem
6. Washignton Hieghts/Inwood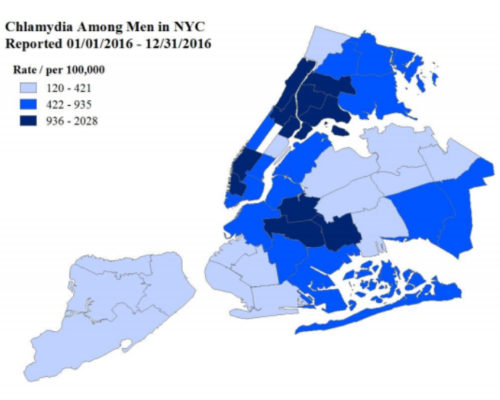 Female Gonorrhea
4. Harlem
22. Washington Heights/Inwood,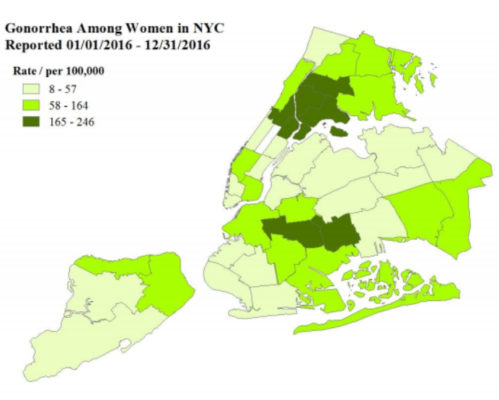 Male Gonorrhea
2. Harlem
7. East Harlem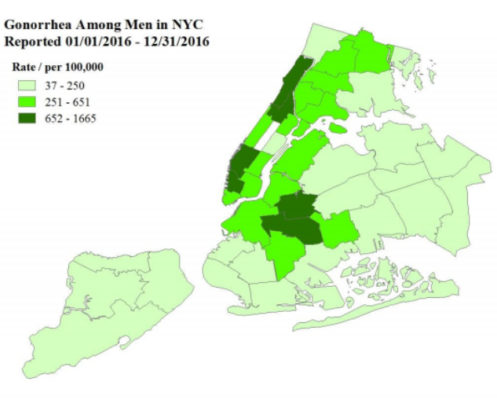 Male Syphilis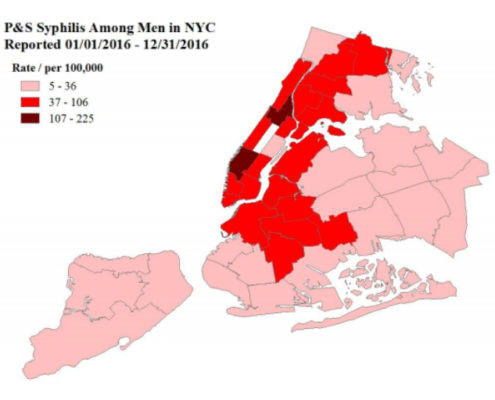 Check out the entire statistics report card here
Stay vigilant out there, kiddos. And for all our sakes: Go get tested.
Related Articles