---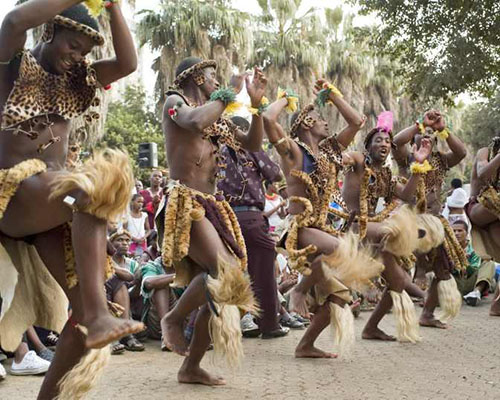 When you need a break from the Harlem Book Fair, head down to the first annual Go Africa Harlem 2016 Street Festival, with African food, dance, music, clothing and more from Harlem to Harare on Saturday, July 16, 2016, on 116th Street in "Little Africa" Harlem.
The Street Festival will  provide cultural programing and performances while also promoting the local and regional merchants that have African centric goods and services with allotted space on 116th street from the curb in allotted parameters as prescribed by the City of New York for this event. Preference has been given to African Merchants for space during the event on a first come, first served basis.
Manhattan Borough President Gale Brewer, a sponsor and supporter of the festival, will serve as the grand marshal for the event. Shaun King, senior justice writer for the New York Daily News and a prominent civil rights activist known for his use of social media to shed light on social causes, will serve as master of ceremonies. Some of the restaurants that will be participating in New York African Restaurant Week (NYARW) 2016, will be in attendance. A Taste of Africa, a community-based organization dedicated to promoting the best of African cuisine and culture that organizes the annual NYARW, is among the supporters of the event. Other sponsors and supporters include the Consulate General of Senegal in New York; Association Nationale des Senegalais d'Amérique; Manhattan Community Board 10 and the Honorable Professor Michael John Downie, chairman of the CB10's Arts and Culture Committee; the Delegate General of Côte d'Ivoire; the Permanent Mission of Guinea to the United Nations; New York State Assemblyman Keith Wright; Bronx Borough President Ruben Diaz, Jr. and his African Advisory Council; Souleimane Konaté, imam of the Masjid Aqsa Mosque in Harlem; New York City Civil Court Judge W. Franc Perry; New York State Senator Adriano Espaillat; Manhattan Borough President Brewer's Immigrant Task Force; and Halstead Property.
Check out the video:
The Festival will have the following:
Live Music & Dance
African Food and Beverages
African-American Food & Beverages
Clothing and Apparel
Health and Wellness Services (Medical, health, Mental, testing services)
Financial services (Banking, insurance, etc.)
City agency services (Immigration, housing, social services).
Taste tests, giveaways, etc. during the street festival.
The Street festival's main arts pavilion will be hosted by the incomparable  Sekouba Diakite, Senior Artistic Director, Go Africa Network Inc and his ensemble of Talented African Artists from throughout Africa.
Saturday, July 16th, 2016, 8:00 am – 7:00 pm
Go Africa Harlem, 116th street btw. 7th & 8th Avenues, Adam Clayton Powell & Fredrick Douglass Blvds, www.goafricaharlem.org/, 646-502-9778 Ext. 8001
Related Articles
---