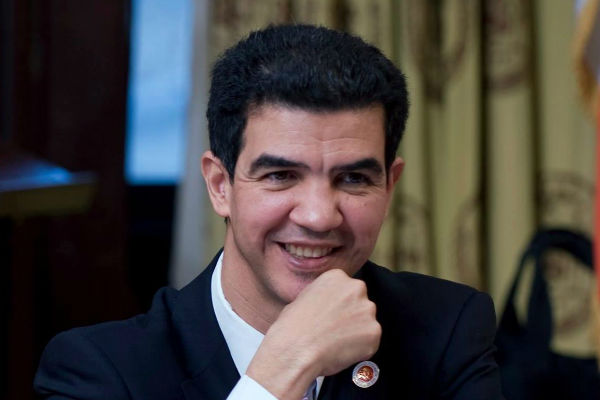 Here is the opening statement, as prepared for delivery, by Council Member Ydanis Rodriguez, Chair of the Council Committee on Transportation:
Good morning and welcome to today's hearing of the City Council Transportation Committee. I am Ydanis Rodriguez, the Chair of the Committee. First, let me recognize my colleagues who are already here.
Today we are conducting an oversight hearing on the plans the City and the MTA have to deal with the upcoming L train tunnel closure. Starting in April 2019, the tunnel used by the L train between Manhattan and Brooklyn will be closed for 15 months to allow the MTA to complete repairs necessary as a result of Hurricane Sandy.
It will affect over four-hundred-thousand New Yorkers every day.
Everyone knows that because the L train does not have nearby lines, this shutdown will be even more disruptive than some of the other similar shutdowns we have seen recently, such as the R train tunnel a couple of years ago. That is why the Council and riders expect that the City and the MTA present a comprehensive and detailed plan for getting people where they need to go during this disruption.
It will take a lot of work and well-planned coordination to get this done successfully: extra service on other subway lines, ferry service, space for bikes and pedestrians, and of course shuttle bus service across the Williamsburg Bridge with dedicated lanes to keep the buses moving, hopefully electric buses.
This shutdown will require for the MTA and the DOT to listen to passengers whose commute will be disrupted, especially those residents who live near the areas affected. I commend my colleagues who represent those areas and have been proactive organizing town hall meetings on this subject.
We are New Yorkers and we know how to adapt; we have done so many times. However, we need to make sure that the City and the MTA are doing everything they possibly can to help New Yorkers be prepared and to keep everyone both informed and moving. We know a lot of this work and collaboration has been on-going and we look forward to hearing more about it today.
Because of the impact this shutdown will have, it is also vitally important that this work get done on time. We look forward to hearing more from the MTA about how they plan to make sure that happens. We also know that this closure is a unique opportunity to make important improvements to the L line while the trains aren't running that will benefit L train riders once the line is fully back in service.
We know the MTA plans to complete important work such as installing some elevators and the subway system's first platform door system. We hope to hear more about these plans and what more can be done to make sure we are making the most of this unique opportunity to complete meaningful and beneficial enhancements to the L line.
And finally, we cannot forget the many small businesses that will be impacted during this closure and who we need to make sure are supported during what will be a very disruptive time for them.
Today we are also hearing Resolution 1443, which would call on the Governor and the MTA to commit to an expeditious transition to an electric bus fleet and to use electric buses as part of its replacement service during the L train shutdown.
Doing what we can to mitigate the impacts of the shutdown and the associated plans for travel alternatives on the environment is important, and I would like to invite the sponsor of Resolution 1443, Council Member Espinal, to deliver an opening statement.
---
---
Thank you, Council Member. Before we proceed, as this is the last full hearing of this Committee of this session, I would like to thank my fellow Committee Members for all their thoughtful collaboration over the past four years on so many important transportation issues.
We have accomplished a lot together. I am perhaps most proud of the robust series of hearings we have held and the many pieces of legislation we have passed related to Vision Zero. Making our streets safer for everyone, especially pedestrians and cyclists, is so critically important. Every crash and death prevented is meaningful, as we have heard the touching stories of family members who have lost loved ones in traffic crashes and who have been brave enough to share their experiences with us.
We have also passed important legislation related to Citi Bike, commuter vans, strengthening the taxi industry, commuter transit benefits, accessibility, car sharing, and the for-hire vehicle industry, among many other things, not to mention many valuable oversight hearings on many issues affecting DOT, TLC, the MTA, and even the Port Authority.
As always, I would like to thank Mayor de Blasio and Speaker Mark-Viverito for their support and the committee staff and my staff, past and present, for all of their hard work. There is of course a lot more to be done and I look forward to being a strong voice on all of the important transportation issues we continue to face in the upcoming session of the Council.
I would like to welcome Commissioner Trottenberg, Managing Director Hakim, and the other representatives of DOT and the MTA who are here with us today. Thank you for being here.
I now ask the Committee Counsel to administer the affirmation and then invite Managing Director Hakim and then Commissioner Trottenberg to deliver your statements.
Related Articles
VIDEO
---
Harlem Cultural Archives is a donor and foundation-supported Historical Society, Its mission is to create, maintain and grow a remotely accessible, online, interactive repository of audio-visual materials documenting Harlem's remarkable and varied multicultural legacies, including its storied past as well as its continuing contributions to the City and State of New York, the nation, and the world.
Support Harlem Cultural Archives
and
click here to get more Harlem History
, Thank you.