---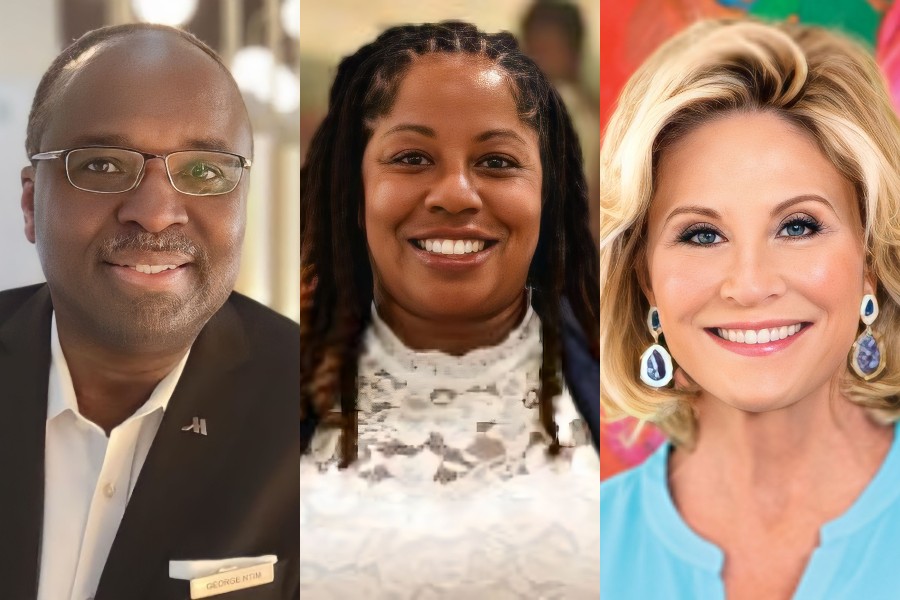 The Wendy Hilliard Gymnastics Foundation (WHGF) will host its Annual 'Going For The Gold' Benefit on Thursday, June 1, 2023.
WHGF will honor three significant contributors: Olympic swimming gold medalist Donna de Varona; Marriott Marquis's Market Director of Diplomatic and Community Relations George Ntim; Fisk University Athletics Director, Women's Gymnastics Coach and renowned gymnast Corrinne Wright Tarver; in addition, the event will launch the Alexis Page Gymnastics Scholarship Fund named after WHGF Alumni and former WHGF instructor and award-winning athlete Alexis Page.
"I'm so excited to honor these three individuals," said Wendy Hilliard, founder of WHGF. "Donna is a true legend in Women's Sports and has been a mentor and supporter of the WHGF for many years. Corrinne and I have known each other since we competed in gymnastics back in the day. The fact that one of our WHGF Alumni, Zenell Mangal is going to compete on the Fisk Gymnastics Team next season is very special. We welcome George to the Wendy Hilliard Gymnastics Foundation family, and he's already proven to be a great supporter. We look forward to our relationship with George as we continue to grow our foundation."
The event will take place from 6-8 p.m. at One Vanderbilt Avenue in New York, and for the second consecutive year, is being hosted by Greenberg Traurig and Co-Chairman Ed Wallace. The Going For The Gold Benefit Chairpersons are Founder and Chairman, Target, ALS Dan Doctoroff, Nicholas & Lence Communications CEO Cristyne Nicholas, and U.S. News & World Report's Senior Vice President of Community Development & Diversity, Equity and Inclusion (DEI) Marion Phillips III.
Billie Jean King, former No. 1 tennis player in the world and owner of 39 major titles, is an Honorary Chairman for this year's Going For The Gold Benefit.
The evening will feature performances by WHGF gymnasts, a Parade of Champion Athletes from various sports, a silent auction, and delicious food and drinks.
The Benefit will also be live-streamed for online guests.
As part of the fundraising efforts, the WHGF young athletes will conduct a "flip-a-thon," where they flip as many times as possible.
Wright Tarver, who will receive the WHGF Spirit of Sport Award, is revered for her many roles in women's gymnastics.
In 1989 while at the University of Georgia she became the first Black gymnast to win the NCAA Division I all-around competition. She later served as an assistant coach at the University of Pennsylvania and was involved in the athletics department at both Stockton University and Syracuse University.
Last year she made national headlines.
In early 2022 in Nashville, Wright Tarver was named Fisk University's first-ever women's head gymnastics coach of its Division I program, also marking the first at a Historical Black College & University (HBCU) institution. Later in July, she became the school's athletics director.
WHGF will recognize swimming legend de Varona with its annual Champion Award.
de Varona, who excelled in both the freestyle and individual medley, is renowned for coming onto the world swimming scene at the age of 13 when she made the 1960 United States Olympic squad. By the time she was 17 she recorded 18 world records, won two Olympic gold medals, and was chosen by both the Associated Press and United Press International as the Most Outstanding Female Athlete in the World.
She retired in 1965 with 37 national titles and was one of Sports Illustrated's Top 100 Greatest Female Athletes of the 20th Century. de Varona immediately went into sports broadcasting, becoming the first female broadcaster on network television. She became an inspiration to women everywhere with her swimming and broadcasting prowess.
de Varona also played a major role in the 1972 landmark Title 1X legislation, guaranteeing equal opportunity for women in any school or any other education program that receives funding from the federal government. And she served five terms on the President's Council on Physical Fitness and was the first President of the Women's Sports Foundation.
Ntim will be recognized with the benefit's Corporate Award.
Ntim's role as Director of Diplomatic and Community Relations at the New York Marriott Marquis oversees responsibilities that embrace bringing the community together. Ntim is recognized for cultivating relationships with dignitaries, celebrities and all other VIP hotel guests and working with local state and national government agencies to assist the hotel in its operations within New York City.
Through his career involvement, New York State and beyond have greatly benefited.
He founded the African Development Foundation (ADF) in 2003. This international non-profit organization seeks to promote goodwill and strengthen relationships between the United States and Africa through youth-oriented education, athletics, and health programs. ADF aims to shape Africa's youth for career and personal achievement in the global community.
In 2020, Ntim was selected Chairman of the Board for the New York State Hospitality and Tourism Association.
The Going for the Gold Benefit will also mark the launch of the Alexis Page Gymnastics Scholarship Fund.
Page started as a beginner at the WHGF in 2003 and moved to the WHGF Competitive Rhythmic Gymnastics Team. In 2009, Page (photo inset) became a USA Gymnastics Jr. National Team Member and in 2011 a Senior National Member. Page competed extensively around the world and won gold medals.
The WHGF sponsored Page throughout her career: training fees, travel expenses, uniforms, physical therapy, and more. She was its first National Team Member and returned after college to coach the WHGF rhythmic gymnastics team and eventually become Program Manager.
Page recently accepted a new job, using all the skills she learned at the WHGF to serve youth in lower Manhattan.
For her legacy, WHGF has set up this fund for the many deserving youth in the WHGF who want to pursue their gymnastics dreams. The WHGF has youth of all levels, from beginners to elite athletes, in artistic, tumbling, trampoline, and rhythmic gymnastics.
Here is a short VIDEO about Page and her time at WHGF.
Hilliard founded WHGF, which started in Harlem in 1996 and expanded to her hometown in Detroit in 2016. Since its inception, WHGF has provided FREE and low-cost gymnastics to underserved communities serving 25,000 urban youth. The two locations comprise over 25 instructors and staff members. WHGF elite athletes have won four national championships, competed in two World Championships, and has been a member of six USA Gymnastics National Teams.
Earlier this spring, WHGF welcomed more than 500 gymnasts from six states to compete in the three-day Harlem Gymnastics Invitational at the Harlem Armory.
This year Hilliard received the Dianne Durham Humanitarian Award during the NCAA Women's Gymnastics Championships and was selected to Crain's New York Business Notable Black Leaders.
To learn more about the Wendy Hilliard Foundation as well as this year's Going For The Gold Benefit, please visit www.wendyhilliard.org. Please click HERE to watch last year's gala, celebrating the 25th Anniversary of the WHGF.
For questions about the Going For The Gold Benefit, please contact Susan Fulwiler at 917-246-1330 or susan@wendyhilliardfoundation.org.
Wendy Hilliard And WHGF
Born and raised in Detroit, Michigan, Wendy started gymnastics at age 12. She trained through the Detroit Recreation Department with coaches from the former Soviet Union. She was the first Black athlete to represent the U.S. in international competition in rhythmic gymnastics and competed in three World Championships. In 2008 she was inducted into the USA Gymnastics Hall of Fame. Following her competitive and award-winning experience as a world-class athlete and coach, Wendy recognized the lack of gymnastic opportunities among urban youth, which inspired her to launch the Wendy Hilliard Gymnastics Foundation in 1996 in Harlem, New York, and expanded to Detroit in 2016.
Today, the Foundation serves urban youth between the ages of 3 to 17, helping to improve their physical and mental health and providing various programs focused on Health & Nutrition, Sports Safety to Career Path Internships, Public Speaking, and NYC Public School Admission Assistance. At WHGF, young gymnasts learn about time management, responsibility, teamwork, leadership, and sustainable health habits.
Last year WHGF in New York City celebrated its 25th anniversary. WHGF is headquartered in Harlem and has a location in Hilliard's hometown of Detroit, which opened in 2016. Since its inception, WHGF has provided FREE and low-cost gymnastics to underserved communities, serving 25,000 urban youth to date.
Throughout the years, WHGF has developed elite athletes and competitive gymnasts who have gone onto the national and international stage. BJ Mensah, from Harlem, competed in tumbling at the World Age Group Championships in Azerbaijan in 2021. Last November, Harlem's ZaQuae Carter advanced to the finals and finished seventh overall at the World Age Group Championships in Sofia Bulgaria. Last summer Carter finished runner-up in the junior division in tumbling during the USA Gymnastics Championships in Des Moines, Iowa. Both Mensah and Carter competed as members of the USA Gymnastics Junior National Team. In July 2022, rhythmic gymnast and Tenth grader Aries Wickham became the first Harlem athlete representing the United States in Israel at the Maccabiah Games, the renowned sporting event open to Jewish athletes from around the world. Former Gymnastics Manager and WHGF head coach Alexis Page was a three-time U.S. Rhythmic Gymnast National Team member and International Gold Medalist. Alexis Page joined the WHGF foundation in 2003, and by 2012, she started teaching to inspire young gymnasts to chase after their dreams, as she did. In addition, Niahlah Hope trained at WHGF from 2002 to 2010 and is now a professional Hollywood stunt double, including in the film Black Panther, while Olivia Boisson trained on the WHGF rhythmic gymnast team and is now a professional dancer at New York City Ballet.
For more information, please visit https://www.wendyhilliard.org/. Visit Wendy Hilliard Gymnastics Foundation on Facebook, Instagram, Twitter, and YouTube.
Photo credit: 1) George Ntim, Corrinne Wright Tarver and Donna de Varona.
Related Articles
---