---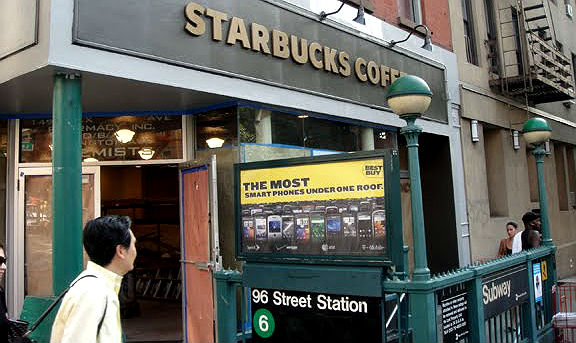 With a number of Starbucks in Harlem, Starbucks announced today that it has reached an agreement with the two black men arrested last month for sitting at a Philadelphia location without ordering. The agreement will include a financial settlement of only $1 each and a plan to set up a $200,000 program supporting young entrepreneurs.
After the video of the arrest of Rashon Nelson and Donte Robinson, who are entrepreneurs themselves, went viral last month, Starbucks found itself in a social media maelstrom with customers. CEO Kevin Johnson apologized (read the letter to customers and employees here) and also promised to handle the crisis with an internal racial bias education workshop that would close its U.S. stores for the afternoon of May 29.
Observers pointed out that Starbucks stores are often full of people tapping away on devices or waiting for others without a food or beverage purchase. The company acknowledged its manager was wrong to respond as she did (she is no longer employed at that store) and that her actions did not reflect company policy.
Johnson added that he hoped the situation could "become a vehicle for positive social change." (In 2015, the company attempted to spark a conversation around diversity, inclusion and racial bias in a campaignunder then-CEO Howard Schultz called "Race Together.")
The company's statement today:
After constructive conversations, Donte Robinson, Rashon Nelson and Kevin Johnson, CEO of Starbucks Coffee Company, reached an agreement earlier this week. The agreement between the parties stemming from the events in Philadelphia on April 12 will include a financial settlement as well as continued listening and dialogue between the parties and specific action and opportunity.

"I want to thank Donte and Rashon for their willingness to reconcile," said Johnson. "I welcome the opportunity to begin a relationship with them to share learnings and experiences. And Starbucks will continue to take actions that stem from this incident to repair and reaffirm our values and vision for the kind of company we want to be."

According to an additional statement, Robinson and Nelson "intend to focus the public reaction to their arrest toward providing opportunities for young people from underserved communities."
Jointly they stated, "We appreciate the opportunity to have meaningful discussions with Kevin Johnson and the group around the table to address hard issues. We all recognize the importance of communication about differences and solutions, and that we will be measured by our action not words."
As part of the agreement, Robinson and Nelson will have an opportunity to provide input based on their personal experience to former U.S. Attorney General Eric Holder as part of company's long-term diversity and equity efforts.
Robinson and Nelson have also been offered the opportunity to complete their undergraduate degrees through the Starbucks College Achievement Plan, a first of a kind partnership with Arizona State University otherwise exclusively available to Starbucks partners to earn their bachelor's degree with full tuition coverage.
Via source
---