---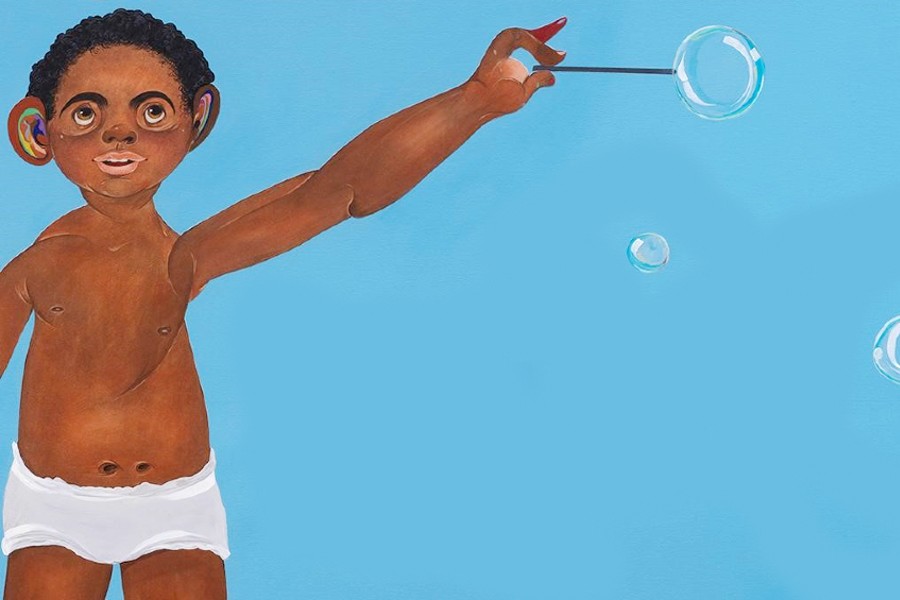 The Spring season at The Sugar Hill Children's Museum is underway with exhibits that feature sculptural and two-dimensional works by several of New York's most prolific artists of African and Caribbean descent.
The exhibits, Get That Old Thing Back (GTOTB), Bony Ramirez: CARIBABY, and MVP: A Selection of Sculptures From Melvin Van Peebles' "Blue Room" addresses the complexities of race and representation within museums, celebrate Dominican culture, and encourage us all to hold on to the creativity we are inherently born with as children.  
 
The Sugar Hill Children's Museum, located at 898 St. Nicholas Avenue at 155th Street, is dedicated to art and storytelling for children and their families in the historic Sugar Hill section of Harlem, NY. The Museum celebrates learning, creativity, and culture, and the current exhibitions exemplify all those aspects. Damien Davis, Guest Curator, says, "This spring offers us an opportunity to explore all that an uptown contemporary art museum for children has the potential to be. A space where kids in Harlem and Washington Heights can see themselves reflected in not just the art on the walls, but also in the artists producing that work and the stories they are telling."
 
Get That Old Thing Back, a group exhibition featuring LaKela Brown, Jen Dawson, Esteban Jefferson, Yashua Klos, and Nate Lewis, ponders and explores, What makes an art museum a REAL museum? As the discourse about cultural institutions' responsibilities to their communities contends with the numerous issues exposed by COVID-19 and the racial reckoning of 2020, the artists in GTOTB leverage various museological tropes to present history, artifacts, and memory in ways that challenge our understanding of museums as neutral spaces. Get That Old Thing Back will be on display from March 9th through May 28th, 2023.
 
Bony Ramirez: CARIBABY, the first institutional solo exhibition for Dominican-born artist Bony Ramirez, celebrates Dominican/Caribbean culture through the lens of portraiture and magical realism. Combining traditional painting, collage, drawings on bristol paper, and found materials, this self-taught artist utilizes memory from his childhood in the Dominican Republic to render fantastical, surrealist images. The exhibition consists of a selection of paintings from 2021 to the present, all featuring young children as the central subjects. The exhibition is also accompanied by a series of storytelling events, art explorations, and programs that explore Caribbean oral histories, and memory. CARIBABY will be on display from March 9th through May 7th, 2023.
 
MVP: A Selection of Sculptures From Melvin Van Peebles' "Blue Room" presents a selection of art objects, artifacts, and ephemeral materials, re-contextualizing the legacy of filmmaker, activist, and musician Melvin Van Peebles as a formidable sculptor.  As an extraordinary individual who kept a child-like sense of openness and curiosity about the world around him, the exhibition features a recreation of Melvin's living room (The Blue Room) with original sculptures from his home. The Blue Room served simultaneously as a source of Melvin's inspiration and an amalgamation of his childlike state of curiosity and creativity. Similar to Matisse's "The Red Studio," his blue-walled apartment was filled with a myriad of odd yet functional objects. From the back end of a Volkswagen that doubles as a filing cabinet to a giant sculpture of a hot dog, the artist's joie de youth saturated his life with whimsy and wonder. "He had this fanciful, wily sense of humor and a love of the everyday," shares Mario Van Peebles, filmmaker, actor, and son of the artist. "He would sit in the Blue Room and look out through the windows onto the wonderful view on the street and watch the light play across. He passed away in that apartment — he wanted to be back in a space he had created and enjoyed, in which he'd given birth to so many of his projects." The exhibition also includes a selection of photographs of the Blue Room, taken by artist Lyle Ashton Harris for The New York Times a short time after his death. MVP: A Selection of Sculptures From Melvin Van Peebles Blue Room opened on September 10, 2022 and runs through  August 19, 2023.
 
The Sugar Hill Children's Museum of Art & Storytelling hours are Thursday, 5:30 pm – 8:00 pm, Friday for school groups, and Saturday & Sunday, 10:00 am –  3:00 pm. Admission is free for children up to 8 years of age, $4.00 for children aged 9 – 17, students with ID and Seniors (65+), and $7.00 for adults.
 
The Sugar Hill Children's Museum of Art & Storytelling:
 
The Sugar Hill Children's Museum of Art & Storytelling is a contemporary art museum for children rooted in principles of social justice. We strive to strengthen our culturally rich neighborhood with a space where children and their families grow and learn about Sugar Hill, and the world at large, through dialogue with artists, art, and storytelling. Designed by internationally acclaimed architect David Adjaye, the Museum opened in October of 2015 as the cultural capstone of the Sugar Hill Project, a multi-use building developed by Broadway Housing Communities (BHC) which includes permanent affordable housing for individuals and families, and the Sugar Hill Museum Preschool.

Sugar Hill Children's Museum of Art & Storytelling, 898 St. Nicholas Avenue @ 155th Street, New York, NY 10032, 212.335.0004, info@sugarhillmuseum.org
---