---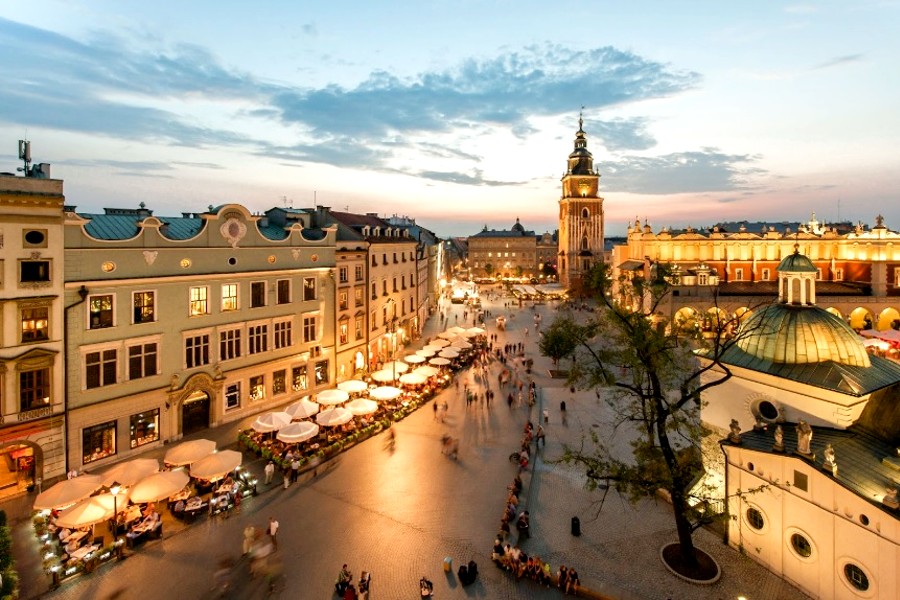 Krakow, the cultural capital of Poland, is a city with a rich history, stunning architecture, and a vibrant atmosphere that captivates visitors from around the world.
From its medieval old town to its impressive castles and cathedrals, Krakow offers a perfect blend of historical charm and modern amenities. If you're planning a trip to this enchanting city, here are some tips and tricks to ensure you have a fantastic holiday.
Explore the Old Town
Embark on a delightful journey in the heart of Krakow as you set foot in the UNESCO-listed Old Town, an area steeped in history and brimming with architectural wonders. Prepare to be captivated by the enchanting allure of Rynek Glowny, a grand and sprawling medieval square that stands as one of Europe's most impressive gems. Marvel at the grandeur of the iconic Cloth Hall and St. Mary's Basilica, an architectural masterpiece that has been a centerpiece of trade and commerce for centuries, bearing witness to Krakow's rich mercantile past.
As you meander through the picturesque streets of the Old Town, you'll find yourself immersed in a tapestry of colors and flavors. The townhouses, adorned with charming facades, tell stories of the city's past, each exuding a unique character that adds to the area's undeniable charm. This is also the favorite area to stay in when visiting the city, so make sure you start your search early for your rental using a website like Rentola. Not only will this help you save money as the listings can be filtered by budget, but it also means you will be in the middle of the action and walking distance to all attractions.
Visit Wawel Castle: 
Majestically perched on a hill that offers sweeping vistas of the serene Vistula River, Wawel Castle stands as an undeniable must-visit attraction in the captivating city of Krakow. Prepare to be transported back in time as you step into the grandeur of the royal chambers, where echoes of history resonate through intricately adorned halls and opulent living spaces fit for kings and queens. As you traverse the castle's storied corridors, each step unravels tales of a bygone era, a rich tapestry of dynasties and noble figures that have left an indelible mark on Poland's storied past.
Beyond the regal interiors, prepare to be spellbound by the castle's stunning architecture, a masterful blend of various styles spanning centuries of construction. From the graceful Gothic detailing to the imposing Renaissance elements, Wawel Castle serves as a living testament to the evolving architectural prowess of the ages.
Pay tribute at Auschwitz-Birkenau: 
A visit to Krakow presents a profound opportunity to delve into the tragic history of one of humanity's darkest chapters – the Holocaust. Situated just beyond the city's boundaries lies Auschwitz-Birkenau, a haunting reminder of the atrocities committed during World War II, serving as the largest Nazi concentration and extermination camp.
Though undoubtedly a somber experience, this pilgrimage to Auschwitz-Birkenau is of paramount importance, for it offers an invaluable chance to comprehend the depths of human suffering and the unfathomable horrors that unfolded within these bleak confines. As you step onto the hallowed grounds, a sense of reverence and solemnity envelops you, as if the very air bears witness to the countless lives that were unjustly taken.
Experience the nightlife: 
Experience the vibrant and electrifying nightlife of Krakow, a city that truly comes alive after the sun sets. With a myriad of options to suit every taste, you'll find yourself immersed in a pulsating atmosphere filled with excitement and energy.
Venture into the bustling Kazimierz district, a hub for those seeking a dynamic and trendy nightlife experience. Here, you'll discover a diverse range of bars and clubs that cater to a variety of music preferences and party vibes. Dance the night away to the beats of live DJs or revel in the rhythm of live music performances that will keep you enthralled until the early hours.
For those seeking a more laid-back ambiance, the enchanting Old Town has an array of charming wine bars and jazz clubs that offer the perfect setting for an intimate and relaxing evening. Sip on exquisite wines from local vineyards or indulge in craft cocktails carefully crafted by skilled mixologists. Allow the soothing melodies of jazz music to envelop you, creating an atmosphere of serenity amidst the vibrant city.
And what better way to immerse yourself fully in the Krakow nightlife than by sampling the local drink of choice? Be sure not to miss the opportunity to savor the legendary Polish vodka, renowned for its smoothness and rich flavors. Dive into the local culture by trying a traditional mix of vodka with apple juice, known as Szarlotka, a delightful concoction that perfectly encapsulates the spirit of Poland.
Enjoy Krakow's festivals.
Krakow is renowned for its lively and diverse festival scene. Throughout the year, the city hosts a plethora of festivals that attract visitors from around the world, celebrating everything from music and film to literature and tradition. One of the most prominent events is the Krakow Film Festival, held annually in May. It showcases a wide array of both national and international films, including documentaries, shorts, and feature-length productions. With its rich program, the festival provides a platform for emerging filmmakers and promotes cinematic artistry, making it a must-visit for film enthusiasts and industry professionals alike.
Another significant festival in Krakow is the Jewish Culture Festival, which takes place in June and has gained global recognition. This week-long celebration aims to honor and explore the Jewish heritage and history deeply embedded in the city's roots. The festival encompasses various artistic forms, such as music, dance, theater, and exhibitions, along with thought-provoking discussions and lectures. It serves as a bridge between different cultures and fosters understanding and tolerance. Visitors have the opportunity to engage in Jewish traditions, sample authentic cuisine, and witness performances by renowned artists, making the Jewish Culture Festival an enlightening and enriching experience for all who attend.
So, Krakow, Poland's cultural capital, offers a perfect blend of history and modernity for a fun holiday. Explore the UNESCO-listed Old Town with its captivating medieval square and iconic buildings. Visit Wawel Castle for majestic views and regal interiors. Pay tribute at Auschwitz-Birkenau to understand the Holocaust's tragic history. Experience Krakow's vibrant nightlife with diverse bars and clubs or enjoy a relaxing evening in charming wine bars and jazz clubs. Enjoy an enchanting holiday in Krakow!
---