---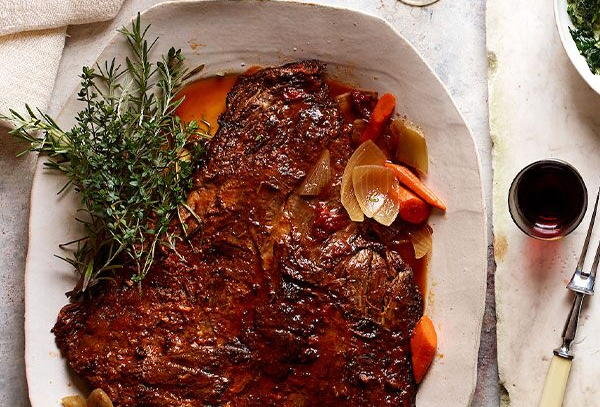 This year, Passover will be celebrated from the evening of March 27th – the evening of April 4th, 2021.
In preparation, FreshDirect is helping you keep things simple (and simply delicious) this year by offering fully-prepped and ready-to-eat meals.
Celebrating Passover with FreshDirect!

Starting today, shop Passover meals for delivery – whether your seder is big or small! A full menu of FreshDirect's Passover catering can be found here.
Small (4–6 serving) and medium (6–8 serving) meals each come with your choice of two vegetable and two starch sides; large (10–12 serving) meals come with your choice of three vegetable and three starch sides. All meals come with matzo ball soup. Please note that FreshDirect's chef-prepared food is not certified kosher. Visit FreshDirect's Kosher for Passover Store for all your kosher needs.
Shop Meal Hacks for the Entire Family at FreshDirect.com!

Some FreshDirect food and drink ideas for Passover are detailed below. Visit the "Passover" tab on the FreshDirect homepage for even more ideas (including dessert and wine):

FreshDirect Nunu's Charoset: Based on Grandma Nunu's tasty blend of both red and green apples, chopped almonds, dates, red wine, a dash of earthy ground cinnamon and a touch of tangy lemon juice, this traditional Passover mix is a seder plate essential, and a delightful dish all on its own. A kid-favorite, we love to pile it high on matzo crackers. When properly stored, we guarantee 3 days shelf life from the date of arrival for this item.
FreshDirect Latkes: FreshDirect's latkes are crisp on the outside, soft and moist on the inside, and rich with the flavors of potato and onion. Fully cooked — just heat and serve with sweet apple sauce or tangy sour cream.
FreshDirect Rosemary-Garlic Roasted New Potatoes: Perfectly roasted, crisp on the outside and almost creamy on the inside. Quartered red bliss potatoes are tossed with rosemary, sea salt, spices, and garlic oil, then popped in the oven, and finally sprinkled with fresh parsley. This spud is perfectly suited to any meal, from egg breakfasts to five-course dinners.
FreshDirect Matzo Ball Soup: FreshDirect's matzo balls do not hide shyly in the soup — these tender, fluffy spheres dominate their bowl. Simmered to perfection in rich chicken broth with diced carrots, parsnips and celery. This soup can be heated either on a stovetop with a saucepan or directly in the microwave.
FreshDirect Creamed Spinach: FreshDirect's delicious creamed spinach deserves a spot in the side-dish hall of heroes. Filled with lots of tasty spinach cooked down with butter, whole milk and sour cream (pure decadence, really), this savory side is topped with a sprinkle of parmesan and a hint of lemon zest to really push it over the top. Absolutely versatile and almost universally loved, this dish is sure to get a warm welcome alongside your holiday bird.
To prep for Passover and to make the holiday simpler for you and your loved ones, consider ordering these chef-prepared meals directly from FreshDirect starting today!
FreshDirect has teamed up with NY Common Pantry to fight hunger insecurity. Donate with your next FreshDirect order, or donate directly at http://nyco
Check out FreshDirect's March affiliate monthly offer: $25 off Your first order of $99 or more with code FDWINTER! Offer valid through 3/31. You can also donate to New York Common Pantry to help fight food insecurity for families across the city with your next FreshDirect order. Visit http://nycommonpantry.org/ to donate directly.
Get 60 Days of Unlimited Free Deliveries with DeliveryPass at FreshDirect! Start Your Two-Month Free Trial, Sign-Up Today!
PLUS: Need something last minute? Just click on the Express toggle at the top of FreshDirect.com (or on the app) and get whatever you need within 2 hours (not available in all areas)!
Contact us regarding Sponsored Love content.
---