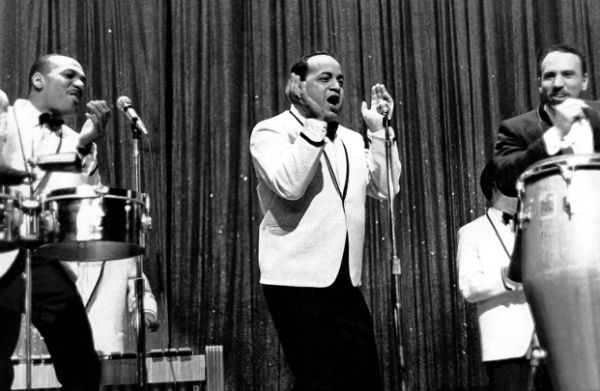 The Wall Street Journal reports that in 1966, at the height of rock and soul's invasion of the pop charts, Latin music in New York underwent its own cultural revolution. Rebelling against years of domination by Cuban rhythms and rigid dance forms like the mambo, young Puerto Rican musicians in East Harlem embarked on a Latin-soul style that would leave its mark on pop before disappearing in the early 1970s.
Known as the Latin boogaloo, the genre featured a loose, eclectic blend of funky polyrhythms, Latin percussion, jazzy horns, bluesy piano lines, soulful vocals, English lyrics and hand clapping, which gave recordings an exciting, club feel. The music fed off the freestyle moves of African-American and Latin dancers as they personalized the twist in the early '60s.
The Latin boogaloo's history, impact and short-lived popularity are explored in "We Like It Like That," a documentary available beginning March 15 as a video-on-demand at iTunes and Amazon along with a soundtrack from Fania Records. Directed by Mathew Ramirez Warren, the film makes spectacular use of archival film as well as recent interviews with Latin boogaloo pioneers.
What comes through in the film is the struggle that Puerto Rican musicians endured to create their own sound and to achieve acceptance and success in the mainstream popular culture of the 1960s. Under pressure to remain true to their heritage, musicians had to walk a fine line between modernizing Latin music and adhering to tradition.
The boogaloo's roots can be traced back to jazz—specifically pianist Horace Silver's funky gospel-bop recordings of "Ecaroh" (1952) and "Opus de Funk" (1953). During the mambo and cha-cha-cha crazes of the 1950s, jazz and Latin musicians and arrangers routinely intermingled in the bands of Tito Puente, Machito, Tito Rodríguez and Chico O'Farrill, helping to give Latin music a swing feel.
In 1961, Latin-jazz percussionist Ray Barretto released "El Watusi," a Latin-soul dance single with a lurching pachanga rhythm that reached No. 17 on Billboard's pop chart. A year later, pianist Herbie Hancock recorded "Watermelon Man," an original based on a funky blues piano riff. When Mongo Santamaría covered the song in late 1962, he combined a Latin rhythm with an R&B backbeat and wound up with a No. 10 pop hit. In early '63, Willie Bobo expanded the Latin-soul fusion on "Do That Thing."
Jazz artists picked up on the feel, and over the next two years they recorded a string of funky soul instrumentals that became the basis for the boogaloo, a point the film overlooks. These included Lee Morgan's "The Sidewinder" (1964), Mr. Hancock's "Cantaloupe Island" (1964), Hank Mobley's "The Turnaround!" (1965) and Silver's "Song for My Father" (1965).
By 1965, a freestyle dance called the boogaloo took hold at urban discotheques and go-go clubs in New York, Chicago and Washington. Tom & Jerrio's "Boo-Ga-Loo," a hard-driving soul single, parlayed the trend and reached No. 47 on Billboard's pop chart.
In East Harlem, bands leveraged the jazz-soul dance feel, and Latin-boogaloo hits in 1966 and '67 followed, including Joe Cuba's "Bang! Bang!," Ricardo Ray's "Lookie, Lookie," Pete Rodriguez's "I Like It Like That," Johnny Colon's "Boogaloo Blues" and Joe Bataan's "Gypsy Woman."
The music's slinky feel and throbbing percussion soon turned up in several mainstream pop hits, including Hugh Masekela's "Grazing in the Grass" (1968) and Eric Burdon and War's "Spill the Wine" (1970). But by the early 1970s, the Latin boogaloo had run its course. As noted in the film, the music gave young Puerto Rican residents of East Harlem a finer sense of cultural self.
"There was a shift in consciousness happening where we went from rejecting who we were in our identity and trying to assimilate to then accepting who we are and embracing all the various elements of our identity," says poet Sandra María Esteves in the documentary.
The boogaloo's demise wasn't messy. The music simply faded away in the early '70s, eclipsed by a hotter, more traditional Latin form that became known as "salsa," which for couples at the dawn of the disco era also meant the return of touch dancing.
---
---
Here's tease from the film:
No related posts found...
---