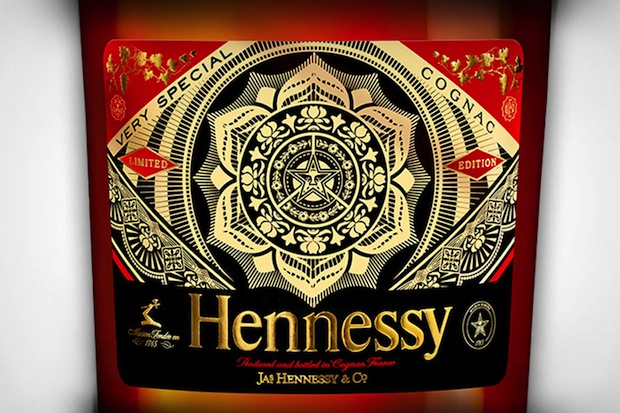 One look at the new Hennessy V.S. limited edition label design (available in July) and you could accuse its creator, Shepard Fairey of becoming a softy. But he'll gladly drink to that since his use of floral motifs represent a new perspective on life. After building his name through an aggressive and bold political style with intense masculine overtones, Fairey is happily exploring the feminine side of his aesthetic. It's all due to fatherhood and raising two young girls with his wife/business partner, Amanda Fairey.
"Being a parent and having a helpless infant to care for made me reconsider a lot of things and how important the maternal side is and being nurtured. As a guy—not intentionally—I had not given as much respect or importance to that," he reflected. "But I saw this analogy between Hennessy which is distilled multiple times and making something that reflected that elegant nurturing side of things. So the peaceful and decorative elements in the label is the direction things took."
Fairey, whose poster of President Barack Obama and imagery addressing themes of war and environmentalism leads him to identify as an "artist and activist," still managed to get somewhat political with his Hennessy commission. You may miss it at first glance but he has included a subtle peace symbol on the bottle. "There is a little bit of a peace sign there. How could I not be political?"
It is that liberty to not compromise his philosophy that attracted Fairey to become the latest in a series of artists (Os Gemeos, Futura, and KAWS) to partner with the corporate brand as the worlds of art and commerce become ever more transparently interdependent.
"The cool thing about this project is that when I am traveling promoting Hennessy I am able to DJ at a club and I can do murals outside and it is free art for everybody. Hennessy allowed me to indulge several different aspects of what I do under their umbrella when they didn't have to. I am grateful for that as they support what's important for me."
Apparently all that matters to Fairey these days—as he maintains his position in the stratosphere of living artists—is family, balancing art and commerce, reaching the people and don't forget, a good drink every now and then.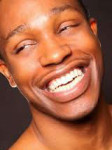 The weekly column, On the "A" w/Souleo, covers the intersection of the arts, culture entertainment and philanthropy in Harlem and beyond and is written by Souleo, founder and president of event/media content production company, Souleo Enterprises, LLC.
Related Articles
---