---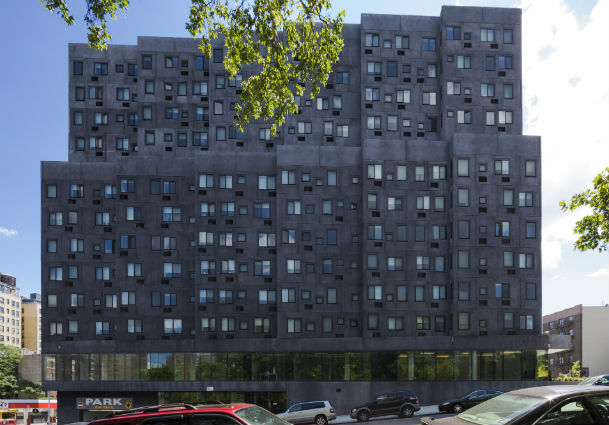 By Souleo
Visual artist, David Shrobe wishes that during his childhood in Harlem he had his own local children's museum. As a fourth generation Harlemite he is finally seeing that dream manifested with the opening of Sugar Hill Children's Museum of Art & Storytelling.
And proving that the cliché 'beyond my wildest dreams' is sometimes appropriate, Shrobe is the museum's first artist in residence through a partnership with the Laundromat Project.
The museum is within the Sugar Hill Development, a mixed-use site that also includes affordable housing units and a preschool. Developed by Broadway Housing Communities and designed by esteemed architect David Adjaye, the $80.2 million building is located within the historic neighborhood of Sugar Hill.
The area once was home to the likes of W.E.B. Du Bois, Zora Neale Hurston and Langston Hughes. However, the neighborhood has since faced high poverty rates and increasing housing costs as gentrification spreads throughout Harlem. It is a paradox familiar in many U.S. cities. For Shrobe—who generally opposes gentrification—the museum's presence represents positive neighborhood change.
"A lot of gentrification I don't agree with but this is the real change Harlem truly needed," he said. "It is an amazing cultural resource and this residency has given me the opportunity to give back to Harlem."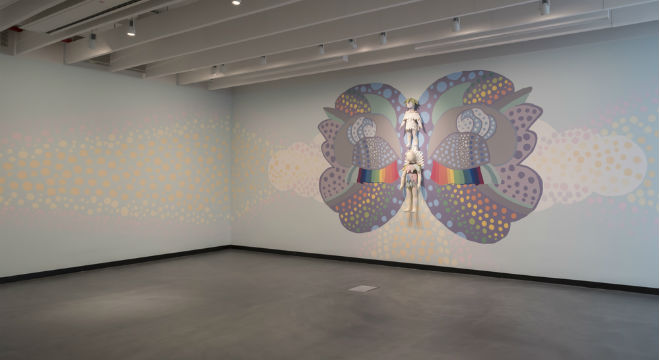 During Saturday's opening, Shrobe displayed several of his pop culture inspired mixed media works and studies. Also on display was a dreamscape mural by artist Saya Woolfalk and daughter Aya Mitchell, selections from the Studio Museum in Harlem organized by Lauren Haynes and a text themed exhibition co-curated by the museum's associate director of curatorial programs, Lauren Kelley and El Museo del Barrio's Rocio Aranda-Alvarado. For Kelley, the sophisticated concepts offer an alternative to what may normally be found at a children's museum.
"We really want to make this a place where product placement is not the big draw as much as engagement with art and storytelling," she said. "We are excited about all children's museums but toys are an easy sell. We won't depend on toys or cartoons from movies and TV. Fine artists have so much stimulating imagination and that should be enough."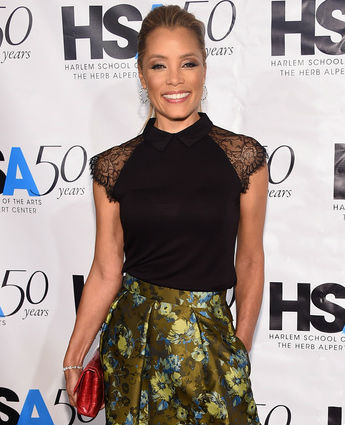 Harlem School of the Arts raises over $1 million
The children of Harlem School of the Arts (HSA) also have much to celebrate this year. The organization welcomed a new director, Eric G. Pryor. His predecessor, Yvette L. Campbell helped the organization thrive after a period of financial struggle. And it looks like Pryor is off to a great start in securing the school's future as he helped secure over $1 million during HSA's 50th Anniversary Gala Kickoff this past Monday. The funds support HSA's mission of delivering arts education to underserved children.
Related: Eric Pryor and Danny Tisdale Talks about the Harlem Sschool for the Arts On Harlem World Radio
"It is critical we make certain we give our children a voice to express themselves," Pryor told the crowd. "It's not just about talented ones who want to be artists and dancers, but also children in our public schools where we serve over 3,000 annually."
The list of honorees at the Grand Ballroom at The Plaza included Alicia Keys and her mother/actress, Terria Joseph and painter Kehinde Wiley. Guests included actress Michael Michele who shared details on her debut production project. The actress is currently working behind the camera on an untitled project documenting the lives of six black men (including cowboys) who defy stereotypes.
Related: Listen to Yvette Campbell, past-president of the Harlem School for the Arts in Harlem talks to Danny Tisdale on Harlem World Radio >>>
"I began to move into the producing arena to change media narrative about black men," she shared. "What we see in the media when it pertains to black men is the negative or only focusing on them in sports or entertainment. But there is a vast plethora of black men doing extraordinary and simple things."
Apollo Comedy Club launches with induction of icons
Comedy legends Jackie "Moms" Mabley, Richard Pryor and Redd Foxx are getting the last laugh as the inaugural non-musical inductees into the Apollo Theater's Walk of Fame. On October 1, the Apollo honored the legacy of these comedians who each had enduing relationships with the venue. To ensure their legacy is not forgotten the theater also launched the Apollo Comedy Club.
The kick-off included sets by the club's host, Smokey Suarez, Del Harrison, Davian Velez and Marshall Brandon. Bob Sumner, co-creator of HBO's 'Russell Simmons' Def Comedy Jam' serves as the curator of the club. With more than 20 years of experience, Sumner has been instrumental in helping to launch the careers of Bernie Mac, Dave Chappelle, Bill Bellamy, Mo'Nique and a multitude of others. He sees the club as an extension of nurturing talent and paying homage to unsung comedians.
"My vision is to give the next generation of comedians the same platform I was able to give comedians of the early '90s to become stars," he said. "The Apollo Comedy Club will provide opportunity. It means a lot to carry on that legacy of great standup performances here from people whose names you don't hear often like Pigmeat Markham, Nipsey Russell and Slappy White."
The weekly column, On the "A" w/Souleo, covers the intersection of the arts, culture entertainment and philanthropy in Harlem and beyond and is written by Souleo, founder and president of event/media content production company, Souleo Enterprises, LLC.
Related Articles
---