---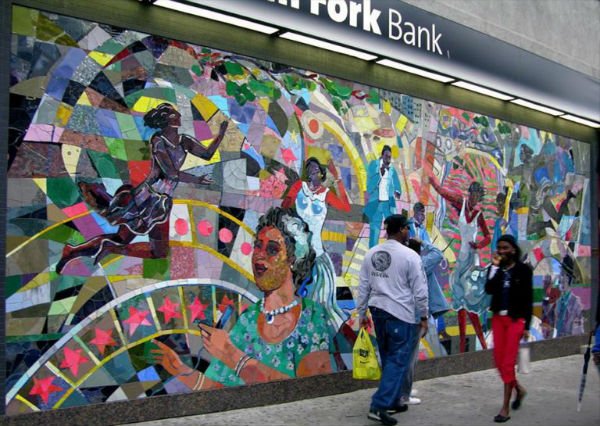 National Coalition Against Censorship reports that Footaction, a sneaker and apparel company owned by mega-retailer Foot Locker, has covered an iconic Harlem mural with a wall of black bricks and signage bearing their logo as they re-brand the exterior of their new store.
The monumental glass mosaic mural, 'Spirit of Harlem' by Brooklyn-born artist Louis Delsarte, has stood at the corner at West 125th Street and Frederick Douglass Boulevard since 2006. Commissioned by North Fork Bank in 2005, the mural remained on view under the next tenant, Capital One Bank, until Footaction took possession of the space. According to one report, the mosaic remains intact beneath the bricks. An iconic tribute to the Harlem Renaissance and the the artists living and working in Harlem today, many in the community see bricking over the beloved mural as more evidence of the continued erasure of culture and history in this storied neighborhood.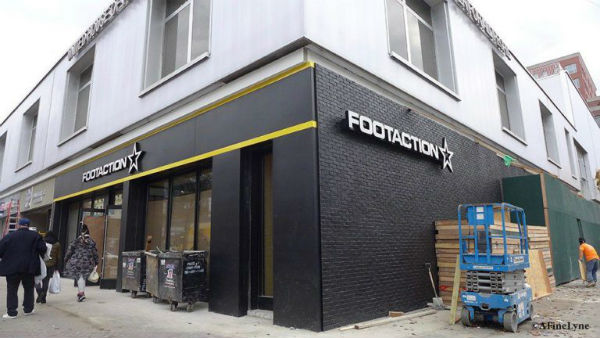 Delsarte, a professor of Fine Arts at Morehouse College in Atlanta, Georgia, is a painter and muralist, printmaker and illustrator, who has produced many public and private commissions. Notable works include the 125-foot-long Martin Luther King Jr. Memorial Mural at Peace Plaza in Atlanta, Georgia, and the monumental public mural 'Transitions', commissioned by New York's Metropolitan Transit Authority for the Brooklyn IRT subway line's Church and Nostrand Avenue station.
Questions are circulating about the ethical and legal ramifications of covering up or destroying such a work of art, especially one viewed by many to be important to the identity and integrity of the neighborhood. High-profile cases involving the removal or mutilation of artworks in the public sphere include Los Angeles artist Kent Twitchell, who settled a $1.1 million lawsuit against the US government and 11 other defendants for painting over his six-story mural painted on the side of a federal government-owned building. More recently, New York's Trinity Church prevailed in a suit brought by sculptor Steve Tobin over relocating his site-specific, three-ton sculpture to another church-owned site a decade after they had commissioned it.
NCAC is monitoring this developing situation. Please check back for updates.
What do you think?
Related Articles
---