---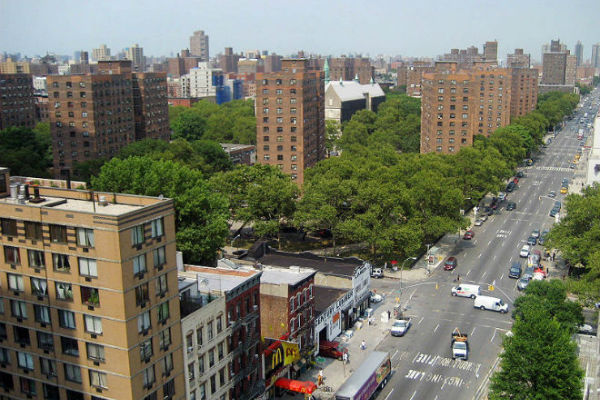 Following the headline, record rent prices and robust growth from Harlem to Hollis that dominated the retail market in 2015, the impact of 2016's slowing global economy, year to date, triggered a natural adjustment in the Manhattan retail real estate market in Spring 2016.
With this adjustment asking rents for ground floor retail spaces tempering in a number of corridors and less overall leasing velocity, according to the Real Estate Board of New York's (REBNY) newest report.
This adjustment in asking rents, which began in the Fall of 2015, occurred in 10 of the 17 top Manhattan retail corridors analyzed in the Spring 2016 Retail Report and was attributed to a confluence of factors, most notably the state of global retail sales performance, rising supply of available ground floor retail spaces, and resulting retailer caution.
Related: Brian Phillips of Douglas Elliman Real Estate and Charlie Lewis of Warburg Realty Real Estate about the REBNY hosting the Uptown Open House Expo in Harlem on The Danny Tisdale Show on Harlem World Radio.
"Our report shows that demand for retail real estate in New York City remains fundamentally strong, but is starting to feel the effects from the recent slowdown in the national and global retail marketplace," said John H. Banks, III, REBNY President. "The changing economic landscape has not been immediately felt across all Manhattan corridors, but our Manhattan Retail Advisory Group suggests that the next twelve months will be a decisive period in which we may see more asking rent price adjustments with the movement of this market cycle."
Asking rents for ground floor retail spaces continue to show healthy price growth in certain pockets of Manhattan that are benefitting from large capital improvements and new developments, according to the Manhattan Retail Advisory Group. They added that other corridors with adjusting asking rents are feeling the impact of more space options being offered at various price levels. In light of this, some retailers are proceeding with more caution in making long-term decisions for relocation and expansion.
Highlights from the Spring 2016 Manhattan Retail Report:
In the booming Financial District corridor on Broadway between Battery Park and Chambers Street, asking rents for ground floor retail space increased 39 percent from $234 per square foot last Spring to $326 per square foot in Spring 2016.  This growth is largely the result of transportation improvements with the completion of the Fulton Center and World Trade Center Transportation Hub, in addition to new residential development in this area and in nearby Downtown Brooklyn and South Brooklyn.
The Eastside average asking rent for ground floor retail space along Madison Avenue between 57th and 72nd Streets was $1,644 per square foot this Spring, a decrease of three percent from $1,700 per square foot in Spring 2015. Madison Avenue has continued to struggle with supply issues as the luxury retail market has slowed and exclusive brands have delayed leasing new space until they can determine how this sector of the market will play out.  This has brought onto the market more prestigious, higher-priced spaces in addition to spaces at the lower end of the price spectrum, the combination of which resulted in this slightly lower average asking rent for the corridor.
The average asking rent adjustments seen Downtown in SoHo on Broadway between Houston and Broome Streets, which declined 16 percent from $977 to $824 per square foot, and in Midtown South's Herald Square on West 34th Street between 5th and 7th Avenues, which declined 11 percent from $1,000 to $890 per square foot, can also be attributed to the increased supply of the corridors' spaces on the lower end of the price spectrum, which were previously unavailable.
Conversely, Downtown in the West Village on Bleecker Street between 7th Avenue South and Hudson Street, the average asking rent for ground floor retail space increased seven percent to $513 per square foot from $481 per square foot in the Spring of 2015. Here, the soft luxury market opened up previously unavailable, higher-priced retail spaces causing the average asking rent along this corridor to skew higher. 
REBNY's Manhattan Retail Report compiles data about asking rents for available space provided by a broad cross-section of the city's leading retail brokers. The report is compiled twice per year in the Spring and Fall, and analyzes the average, median and range in asking rents for ground floor space in Manhattan's premier retail corridors.
Data for the Manhattan Retail Report was provided by REBNY brokers from the Retail Committee and comprised of asking rent prices for their current, available ground floor retail listings. REBNY's Manhattan Retail Advisory Group includes: Robin Abrams of The Lansco Corporation, Karen Bellantoni of RKF, Benjamin Fox of SCG Retail, Andrew Goldberg of CBRE, David Green of Cushman & Wakefield, Andrew Mandell of Ripco Real Estate Corp., Joanne Podell of Cushman & Wakefield, Fred Posniak of Empire State Realty Trust, Jeffrey Roseman of Newmark Grubb Knight Frank, Craig Slosberg of Jones Lang LaSalle, and Alan Victor of The Lansco Corporation.
Click here to download a full copy of this report.
Please visit us online at www.REBNY.com.
---