---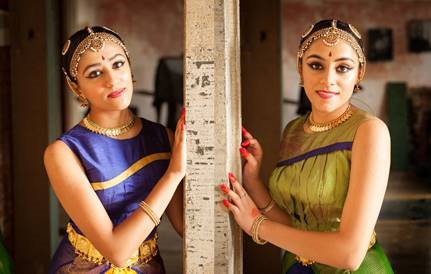 In a true meaning of a Harlem World philosophy, Michael Jackson once wrote, "There comes a time when we heed a certain call – when the world must come together as one." Twins Riya and Sara Kapoor, age 17, answered the call in their innovative show at Newport Jazz Festival's Bridgefest this past summer. The sisters believe their show is a small contribution to the ever-growing, ever-changing field of the performing arts, and a humble reminder that humans are tied together by one common passion for music and dance.
They believe humanity stems from the shared roots of musical traditions and are connected back to them by the most primitive, most universally stirring of human creations. Through their intensive training in the Bharatanatyam dance form — a dance over 2,000 years old that requires mastery of dance, music, theater, mime, iconography, geometry and mathematics — Riya and Sara aim to communicate across cultural boundaries with their performances. The combination of the right chords, rhythms, and gorgeous choreography creates a beautifully woven fabric of jazz, African, and Indian traditions that can be appreciated by all. When omitting the individual intricacies and obvious differences between the classical Carnatic music of the east, ancient African rhythms, and the iconic Jazz music of the west, audiences experience a combination of genres that combine to form a new magical whole.
They hope that the fusion of Western music with Eastern dance will serve not only as a bridge between our distinct cultures, but also as a reminder that we are not so different after all.
In addition to performing, they take their passion for the arts through dance and storytelling, to teach young children from diverse backgrounds, as they believe all ethnicities are more alike than they are different. They are currently preparing for more shows that will spread their message of commonality through the universality of art and music.
Check out Sara and Riya Kapoor performing "A Bridge Together" at the Newport Jazz Festival's Bridgefest below:
A Common Ground from AnEn Productions on Vimeo.
Photo: Riya Kapoor and Sara Kapoor.
Related Articles
---