---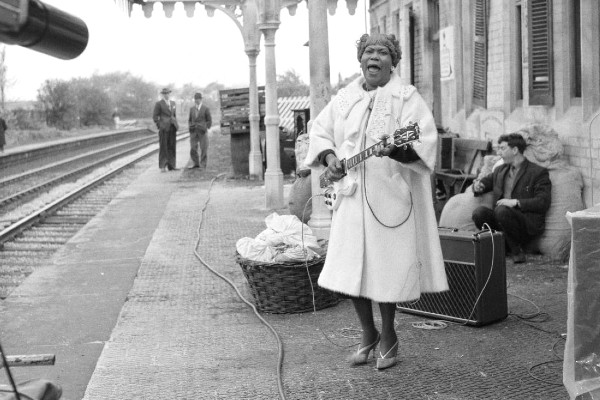 Before there was MTV, before there was arena rock, before distortion became standard fare for guitar players, there was Sister Rosetta Tharpe.
An audacious performer from Cotton Plant, Arkansas who became a gospel superstar.
Sister Rosetta's immense talent and confidence arrived during an era when women, and especially women of color, had no voice.
An era where no woman dared play guitar at the front of the stage, let alone front a solo act. No woman except Sister Rosetta Tharpe.
Sister Rosetta Tharpe is an artist that rarely comes up in debates about who the true founding father of rock 'n' roll was, but it turns out the founding father of rock 'n' roll wasn't a father at all, that distinction belongs to the incomparable SRT.
One of the first women to front her own band, Sister Rosetta Tharpe is renowned for marrying traditional styles with modern rock 'n' roll and predating the work of like-minded guitar legends including Chuck Berry, Muddy Waters, and Elvis.
A gospel-trained force of nature that broke barriers, stereotypes, and norms with astonishing regularity, Sister Rosetta Tharpe has and continues to influence scores of music icons and remains unequivocally the textbook definition of an iconoclast.
Sister Rosetta Tharpe.
One of the first artists of note to play the iconic 1961 Les Paul Gibson SG Custom electric guitar, Sister Rosetta Tharpe was a headlining black female artist who toured through the segregated Jim Crow south and has been largely overlooked as a seminal figure in the creation of rock music.
Gibson is proud to partner with the Sister Rosetta Tharpe estate and celebrates her music and cultural influence with a limited-edition lifestyle and accessories collection, aligned with the 61st anniversary of her well-known, No. 1 instrument, the 1961 Les Paul SG, available as both a Gibson here, and an Epiphone, here.
Sister Rosetta Tharpe.
Sister Rosetta Tharpe–her music, and her beloved '61 Les Paul SG, are as iconic and relevant today as 61 years ago, evidenced by the artists who to this day honor Rosetta as the original force of nature that ignited the invention of rock music.
Take a deep dive into Sister Rosetta's life and her classic songs that made history with Gibson artists Celisse–who also served as creative director of the SRT campaign–and Amythyst Kiah, here.
Explore the entire Sister Rosetta Tharpe Collection on Gibson.com.
Gibson
Gibson, the leading iconic guitar brand, has shaped the sounds of generations of musicians and music lovers across genres for 128 years.
Founded in 1894 and headquartered in Nashville, Gibson Brands has a legacy of world-class craftsmanship, legendary music partnerships, and progressive product evolution that is unrivaled among musical instrument companies.
The Gibson Brands portfolio includes Gibson, the leading guitar brand, as well as many of the most beloved and recognizable music brands, including Epiphone, which has been on every stage since 1873, Kramer, the original MADE TO ROCK HARD guitar brand, MESA/Boogie, the home of tone, and KRK, behind great music for over 30 years, and Maestro, the founder of effect pedals.
Gibson Brands is dedicated to quality, innovation, and sound excellence so that music lovers for generations to come will continue to experience music shaped by Gibson Brands.
Learn more at Gibson.com and follow us on Twitter, Facebook, Gibson TV, and Instagram.
Photo credit: Sister Rosetta Tharpe at Whalley Railway Station-Manchester, England. Credit: Getty.


---