---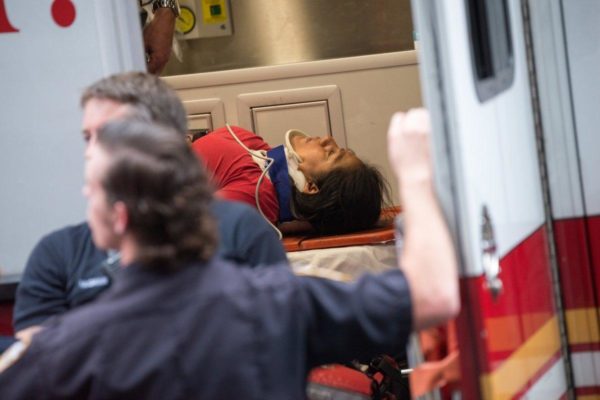 NY Daily News reports that a sidewalk collapsed beneath a woman in Washington Heights on Saturday, leaving her seriously injured after a terrifying 6-foot plunge.
Mariana Fuentes, 47, a mother of two, parked her flower cart on W. 158th St. near Broadway when the sidewalk suddenly crumbled about 7:40 a.m., witnesses said. The flower peddler fell into a long abandoned underground vault next door to the building where she lives.
"We were all sleeping and all of a sudden we heard a bang, like thunder," said a neighbor who declined to give his name. "We came out and she was inside the hole."
Fuentes' husband, who was standing near her, watched in horror as the sidewalk gave way.
A good Samaritan ran into the building in front of the scene of the freak accident and emerged from the basement with a ladder. He lowered it into the hole, climbed down and stayed with Fuentes until firefighters arrived, witnesses said.
"She was just lying inside and she had a big concrete slab on her leg," said a neighbor. "She was crying out for help because she was sore."
Firefighters raised Fuentes up to street level on a backboard, surveillance video shows.
Medics rushed her to Harlem Hospital for treatment of a broken leg and other injuries. She was listed in stable condition.
Fuentes' husband, Juan Trujillo, was still reliving the nightmare of seeing his wife's fall.
"For me, it's terrible. She's standing there and a hole opens up," he said at the hospital while his wife slept.
Related Articles
---