---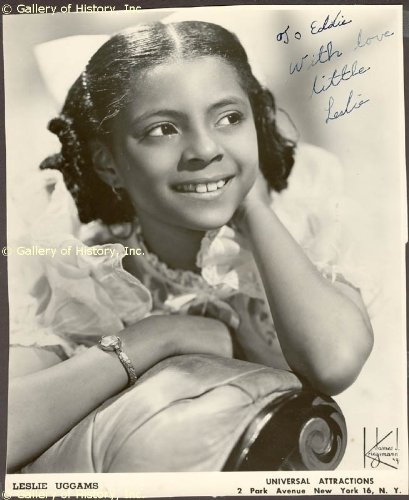 Leslie Uggams An early photograph of the actress, signed as "little Leslie".
The photograph is inscribed and signed:
"To Eddie

With love

little

Leslie"
Early photograph of the singer/actress, who began singing at the Apollo Theatre in Harlem at the age of six. Singer and actress Leslie Uggams (born in Harlem, NY, 1943) won the Tony Award for Best Actress – Musical in 1968 for Hallelujah, Baby!, and she was nominated for a Tony Award in 2001 for King Hedley II. A talented singer, she had begun her career singing at the Apollo Theatre in Harlem at the age of six, and she found national popularity with her stint on TV's Sing Along With Mitch (1961-1966). In 1969, she hosted her own TV series, The Leslie Uggams Show, and she has also appeared in several TV movies and miniseries, including Roots (1977) and Backstairs at the White House (1979), on a number of TV variety shows and guest starred a number of series and soap operas (including All My Children, 1996). Her film credits include Two Weeks in Another Town (1962), Skyjacked (1972) and Sugar Hill (1994). In addition to performing, Uggams serves on the board of the Alvin Ailey American Dance Theatre and TADA, a children's musical theater group and she was the founding member of BRAVO Chapter/City of Hope, a charitable organization that is involved in research and treatment of blood-related diseases. Ink smudged at the second "d" of Eddie. Minor surface creases and striations (most not evident head on). Margins trimmed away. Otherwise, fine condition.
For more information contact HistoryForSale.176546, B/w, 7½x9¼. Universal. Attractions publicity photograph by James J. Kriegsmann, N.Y. Name imprinted at lower margin.
Related Articles
---