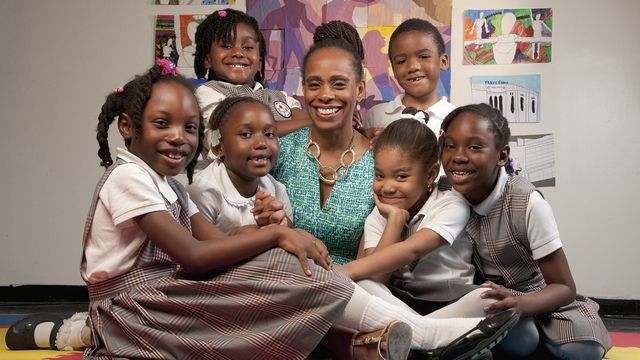 Harlem Children's Zone wants the children it serves to dream big. To inspire them, the organization hung portraits of Barack Obama and Oprah Winfrey over the stage at a recent preschool graduation.
HCZ is no stranger to lofty ambitions. Its mission is to end poverty in Harlem, and the president and Ms. Winfrey are among its fans. Trailblazer Geoffrey Canada spent 24 years building HCZ into an internationally recognized institution with a powerful board that provides cradle-to-college services. This year, Fortune named him one of the world's 50 best leaders, along with Pope Francis and Warren Buffet.
But on July 1, Mr. Canada passed the baton to Anne Williams-Isom, a 49-year-old Harlem resident, who like 59% of the children HCZ serves, was raised by a single mother. She is undaunted by the high expectations.
"I don't need to walk in his shoes. I have my own pumps to walk in," said Ms. Williams-Isom, who had been HCZ's chief operating officer since 2009. "I feel confident and ready."
Stepping out of Mr. Canada's shadow isn't Ms. Williams-Isom's only task. She must verify the concept to those who say HCZ's multilayered approach is expensive and unproven. HCZ's preschool program, for example, runs from 8 a.m. to 6 p.m., with one adult for every four children, and at $23,000 per child is its most costly. A study by Harvard economists released in 2010 said students at HCZ's two Promise Academy charter schools improved academically but saw no added benefit from the community services HCZ provided.
That didn't dissuade supporters of HCZ, which is in the middle of its own 10-year test to assess its programs' effectiveness.
"I don't know if there is any other place that deals with the kind of kids we deal with," said Stanley Druckenmiller, a billionaire hedge fund manager who has chaired HCZ's board since 2001. Mr. Druckenmiller's involvement with HCZ started around 1994 after meeting Mr. Canada, and he's attracted Home Depot co-founder Kenneth Langone and Goldman Sachs President Gary Cohn to its board.
He thinks Ms. Williams-Isom will impress donors.
"She is smart and energetic," said Mr. Druckenmiller. "She has an intangible quality like Geoff. The kids just look at them with love and respect."
Prior to joining HCZ, Ms. Williams-Isom served as director of the office of community planning and development at the New York City Administration for Children's Services. The Queens native worked as an attorney after graduating from Columbia Law School.
Raising $500 million
"Anne's job is to take Geoff's vision to the next level, and that requires a focus on execution," said Nancy Roob, chief executive of the Edna McConnell Clark Foundation, one of HCZ's funders. "It's not an easy job—it's a life commitment."
HCZ provides 28 different programs to about 25,000 people in a 97-block area in Harlem. Sixty-three percent of the children in the zone are born into poverty, and 48% of households receive food assistance.
---
---
At the preschool graduation at HCZ's East 125th Street headquarters, Ms. Williams-Isom, a mother of three, told the crowd she understood their challenges.
"We are all in this together, and we will be in your children's lives until they go to college," Ms. Williams-Isom said.
The organization has worked steadily to build an endowment that can follow through on that promise. HCZ has raised around $300 million, for what Mr. Druckenmiller hopes will be a $500 million endowment. Ideally, it will generate enough returns to use $30 million annually for operating expenses.
In the fiscal year ended June 30 2013, donations and grants to HCZ plunged 56% to $58 million. However, a HCZ spokesman noted that followed two years of banner fundraising for the endowment, which included some multiyear gifts. Still, it was the lowest amount in at least six years.
Mr. Druckenmiller said HCZ's results will continue to attract support. For example, a test measuring academic readiness found that 12% of the children entering HCZ's preschool programs were delayed but that by the spring all were average or above. Meanwhile, 95% of high-school seniors in its programs are accepted into college. Last year, they received $20 million in scholarships and grants.
Room to experiment
Ms. Williams-Isom plans to largely follow the course charted by Mr. Canada. "As a new CEO, I want to keep everyone focused," she said.
Still, with a 7% increase in its $114 million budget in 2015, she will have room for a few new initiatives. This summer, the organization is piloting a program with around 40 college-bound students that will delay their enrollments so they can better prepare for school and be less likely to drop out.
Last year, HCZ moved one of its charter schools into a new building in the St. Nicholas Houses. Residents use the school for meetings and the gym. But Ms. Williams-Isom eventually wants the school to become a center for addressing issues, like violence, in the low-income development.
More charter schools aren't in HCZ's near future. Ms. Williams-Isom said that Mr. Canada's role in Waiting for Superman, a documentary about the failures of public education, has led to the misconception that HCZ is overly focused on its charter schools, rather than, as she put it, being a lab for new ideas to end poverty.
"Like any new CEO, she needs to experiment and make her own decisions," said Mr. Canada, who has no immediate plans and retains the title of HCZ's president. "Anne will fail if she doesn't operate according to her own opinions."
Mr. Canada said he realized that she could succeed him about two years ago, when she went—unprompted and without him—to the site of a shooting that locked down HCZ. "That's when I knew that she loves these kids as much as I do," Mr. Canada said.
Related Articles
VIDEO
---
Harlem Cultural Archives is a donor and foundation-supported Historical Society, Its mission is to create, maintain and grow a remotely accessible, online, interactive repository of audio-visual materials documenting Harlem's remarkable and varied multicultural legacies, including its storied past as well as its continuing contributions to the City and State of New York, the nation, and the world.
Support Harlem Cultural Archives
and
click here to get more Harlem History
, Thank you.