---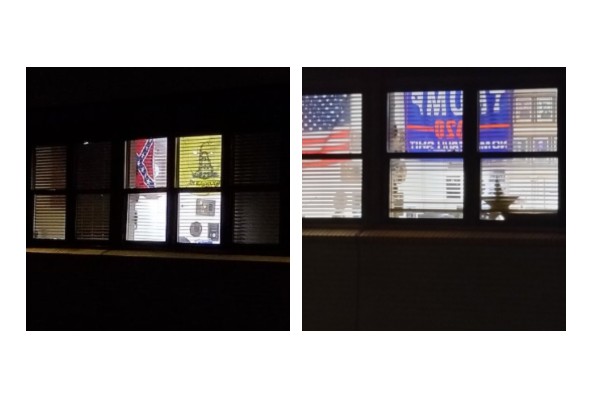 State Senator Anna M. Kaplan (D-Great Neck) and State Senator Alessandra Biaggi (D-Bronx/Westchester) announced the introduction of legislation in the New York State Senate.
The legislation that ensure symbols of hate and political advertisements are prohibited from being displayed on public property and taxpayer-funded equipment throughout the state of New York.
The legislation comes following a widely reported incident last year involving the display of a confederate flag on a fire truck in a parade in Suffolk County, and following the revelation of a confederate flag and political flag being displayed in a window at a fire department in Nassau County.
"In the past year, we have seen hatred, anti-Semitism, and hate fueled violence explode across the country, and it takes us all working together, speaking with one voice, to say that hate has no place in our community, and we will fight back against it every step of the way" said bill sponsor Senator Anna M. Kaplan. "We took steps last year to make sure that state property would be free from symbols of hate, but we need to take further action to ensure that all public property and taxpayer-owned equipment are entirely free from hate."
"Last year I was proud to introduce and pass legislation to ban the sale and display of symbols of hate on state property and limit their display at the State fair – but our work is not done. I am proud to join Senator Kaplan in introducing legislation to build on that progress, and ensure all of our government property – including our municipal and local government buildings – are welcoming spaces free from hate. Additionally, the display of political advertisement on public property is highly inappropriate, and a misuse of government resources to advance a partisan agenda. It is critical that we also move to bar municipal employees from displaying any political advertising on government property, regardless of what party you affiliate yourself with. I appreciate Senator Kaplan's partnership on these bills, and look forward to working together to move them forward," said State Senator Alessandra Biaggi (D-Bronx/Westchester)
The legislation, introduced by Senator Anna M. Kaplan and co-prime sponsored by Senator Alessandra Biaggi will:
Prohibit the selling or displaying of symbols of hate on public property: Expanding on legislation enacted last year (S.8298B), the bill will prohibit municipal corporations, towns, cities, villages, fire districts, volunteer fire companies, or police departments from selling or displaying symbols of hate, except when the display is for educational or historical purposes.
Prohibit the display of political advertisements on public property: The bill will prohibit any municipal officer or employee, paid or unpaid, from displaying a political advertisement of any kind on a public building, flag pole, monument sign, vehicle, uniform, or other permanent structure except when the display is for educational or historical purposes.
Senator Kaplanadded "Government and politics should never mix, and any property owned by the taxpayers should never be used to promote a political candidate, no matter who they are or what party they belong to. It's time we strengthened our laws to protect our public spaces from these kinds of abuses. "
The bills have been filed and are awaiting bill numbers. The bill drafts can be downloaded here along with photographs of flags being flown at the Levittown Fire Department on North Wantagh Avenue, Bethpage.
Photo credit: Confederate and political flags on display at the Levittown Fire Department Station 3, located at 284 N. Wantagh Avenue, Bethpage.
---