---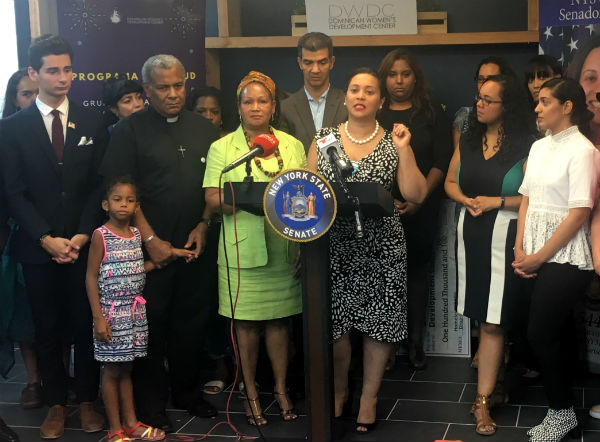 State Senator Marisol Alcántara, together with the Dominican Women's Development Center, announced $100,000 in state funding today for [easyazon_link identifier="B00BLRAUGA" locale="US" tag="harlemworld-20″]Washington Heights[/easyazon_link]' first drop-in center for homeless LGBTQ youth at Holyrood Episcopal Church which will provide space for the center.
This center, the first of its kind in Washington Heights, will serve the need of homeless LGBTQ youth for a safe place to shower, receive services such as HIV testing, use computers, and take classes. Since many of these youth have been kicked out by their parents, this center will provide a space for them to get the services they need to stay in school and find employment.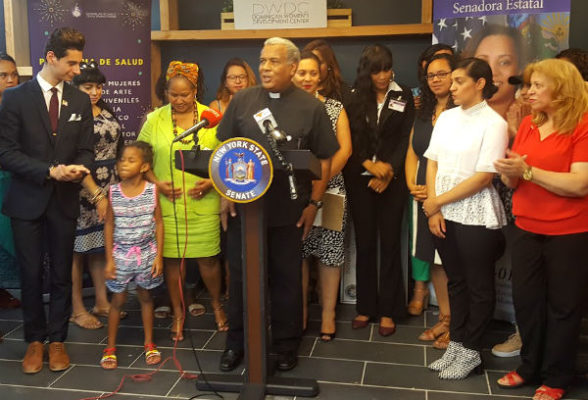 The Dominican Women's Development Center has more than two decades of experience providing social services in the Washington Heights community, including prenatal health programming, English as a Second Language instruction, legal services, and childcare. With this expanded funding, the center will be able to enhance its current programming as well as provide new services for homeless youth.
"It is important that our society send the message that everyone is welcome and valued. Many LGBTQ+ teens are rejected by their families when they find the courage to come out. Spaces like this new Drop-In Center are vital for helping homeless youth access information, medical treatment, and employment resources that can keep them in school and on track for a meaningful career and a healthy, happy life. Something as simple as a shower can give a sense of dignity to our homeless population that can be very hard to find, and we must do better as a society to treat everyone with such dignity," said State Senator Marisol Alcántara.
"First, congratulations to DWDC for being resilient to provide this much needed service that aims to deliver to the most vulnerable LGBTQ community. Homelessness presents itself in many ways and this center will definitely be a safe haven for the LGBTQ youth that desperately need support and assistance. I am glad that we are working together to create an avenue of hope and extending a helping hand for these individuals right here in Washington Heights." said Assemblywoman Carmen De La Rosa. Due to this project, members of the community will be uplifted with career development tools and technology that will surely improve their quality of life." said Assemblywoman Carmen De La Rosa.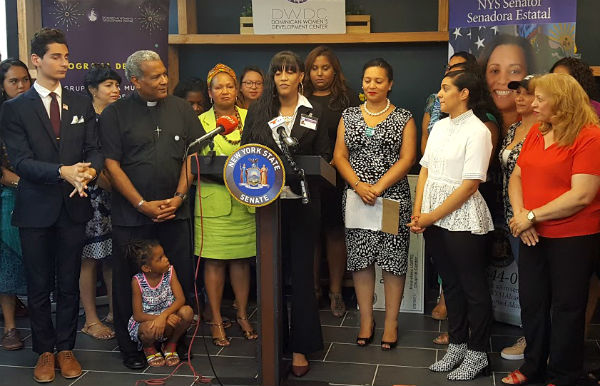 "We are very grateful for Senator Marisol Alcántara's grant. This will be the first Homeless LGTBQ+ Drop In Center in Washington Heights/Inwood and we are very proud to be able to address the multiple needs of this population at our new youth friendly facility at Holyrood Church/Iglesia Santa Cruz," said Rosita Romero, Executive Director of the Dominican Women's Development Center.
"We're thrilled to be able to expand our programming and to declare a safe, dignified, and deserving space for our LGBTQIA+ community members offering not only basic needs to survive, but the support and resources to thrive," said Katherine Diaz, Program Director.
"I'm really excited that we not only moved to a new 3,000 square foot location that can host innovative activities but to a church that is accepting of the LGBTQ+ homeless community and will be an important collaborator," said Melissa Sandel, Outreach Manager.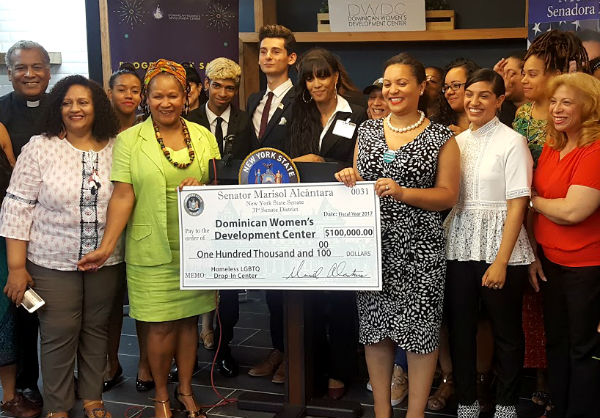 "It is not a secret that LGBTQ (Lesbian, Gay, Bisexual, Trans, and Queer) sisters and brothers encounter in this homophobic and heterosexist society a particular set of challenges, and it get worst in our Latin@ community. The challenges of sexual orientation, gender identity, and homelessness in our Washington Height Community are factual and we need to look at them from a human rights perspective. The creation of the Homeless LGTBQ+ Drop In Center is like creating a radical liberating zone of fellowship, love respect, and compassion where we demonstrate that in the context of human rights and dignity, in our relationship with God we are all equals. I look at this space as a way to contest moral, spiritual, and sexual isolation by combating apathy and indifference. It's a way to state that the only cure for homophobia and heterosexism is human rights and dignity. In other words, this is a space for empowerment with sympathy, compassion love, and respect for those who suffer isolation and oppression in our unjust society. I really appreciate and give thanks to God for the vision of the Dominican Women's Development Center, more specific, the director, Rosita Romero and our Senator Marisol Alcántara for the their human rights activism." said Reverend Luis Barrios, Ph. D.
---