---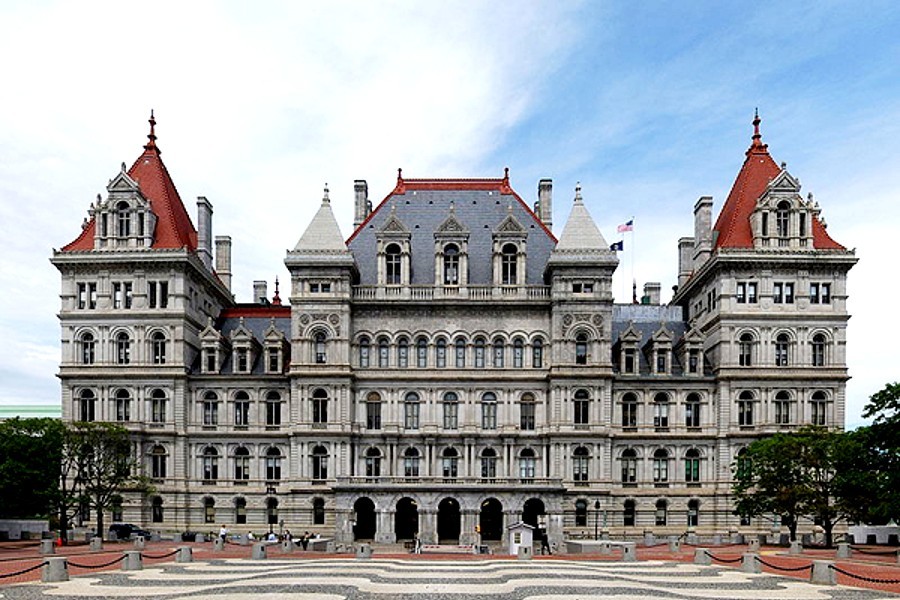 In a resolute display of commitment to upholding justice and fortifying public trust.
The Senate Democratic Majority proudly announces the passage of groundbreaking legislation aimed at bolstering accountability and transparency within New York's esteemed judicial system. Building upon the Majority Conference's unwavering dedication to fortify ethical standards in state governance, this sweeping suite of reforms promises to usher in a new era of openness, ensuring that the halls of justice are flooded with radiant transparency.
At the heart of this transformative legislative package lies a profound commitment to unearthing the truth, shedding light on the inner workings of our judiciary. Introducing lobbying disclosure requirements for nominations to state office, the legislation casts aside the shadows of clandestine influence, ushering in an era where transparency reigns supreme. By mandating the public posting of judges' annual financial disclosures, ethical standards ascend to new heights, intertwining the values of integrity and accountability.
Embracing a steadfast dedication to fairness, the legislation empowers the Commission on Judicial Conduct (CJC) to reclaim its authority with renewed vigor. Not only will proceedings be thrust into the public eye when a judge is charged with misconduct, but the CJC's jurisdiction will extend to judges who choose to retire or resign, ensuring that those who veer from the path of rectitude face rightful consequences.
In an age where technology blazes forward, the legislation recognizes the power of audio-visual recordings, affording the public a front-row seat to the workings of justice. By capturing judicial proceedings on tape, a portal to truth is opened, fostering a deeper understanding and connection between the court and the community it serves.
Senate Democratic Majority Leader Andrea Stewart-Cousins, a champion of righteousness, emphasizes the significance of these sweeping reforms, stating, "The Judiciary wields immense influence over the lives of all New Yorkers, and its moral compass must remain unwavering, guided by the highest ethical standards. With this legislative package, we take momentous strides towards strengthening judicial accountability, elevating the ethical standards of our esteemed judges, and instilling unwavering confidence in our judicial system. I extend my deepest gratitude to the bill's sponsors and to Senator Hoylman-Sigal, Chairman of the Senate Judiciary Committee, for their tireless efforts in propelling this package forward. This legislation represents our unwavering commitment to fostering trust in this esteemed institution."
Senate Deputy Leader Michael Gianaris underscores the significance of transparency, proclaiming, "The judiciary must shine as a beacon of transparency and accountability, matching the standards we hold for the rest of our state government. These reforms ensure that our judicial branch embraces transparency, instilling greater public confidence in its operations."
Chair of the Senate Judiciary Committee, Senator Brad Hoylman-Sigal, recognizes the imperative of a judiciary free from secrecy, asserting, "The administration of justice relies upon a public perception of impartiality, unassailable competence, and unwavering integrity. Regrettably, New York's court system and accountability proceedings have been shrouded in a cloak of secrecy, perpetuating perceptions of corruption, incompetence, and unaccountability. These bills will restore faith in our judiciary, ensure proper training for our judges, and publicly identify and discipline any outliers who tarnish the reputation of our esteemed courts. I extend my gratitude to Majority Leader Andrea Stewart-Cousins for championing this package and to Senators Gianaris and Bailey for their invaluable partnership in crafting this transformative legislation."
Senator Bailey, a distinguished bill sponsor, emphasizes the importance of combating bias and ensuring fairness within the justice system, declaring, "Recognizing and eradicating all forms of bias is pivotal to upholding the principles of fairness and impartiality within our justice system.
Commission on Judicial Conduct's authority to utilize OCA-DCJS data, enabling it to fulfill its constitutional duty. By harnessing data on pretrial release and detention decisions, the Commission can effectively identify and address potential bias, fostering a judiciary that holds itself to the highest standards. Alongside my esteemed colleagues, this legislative package propels us towards a future of enhanced judicial accountability, fortified ethical standards, and unwavering public trust. I extend my gratitude to Majority Leader Andrea Stewart-Cousins, Judiciary Chair Hoylman-Sigal, and my fellow senators for championing these vital reforms and embracing evidence-informed approaches to safeguard justice."
As the Senate Democratic Majority triumphantly passes this transformative legislative agenda, the pillars of justice grow stronger, radiating the brilliance of transparency and accountability. Through the enhanced authority of the Commission on Judicial Conduct, the advent of audio-visual recordings in court proceedings, and a host of other critical reforms, the landscape of New York's judicial system undergoes a remarkable metamorphosis. It is a testament to the unwavering commitment of the Senate Democratic Majority to build a future where justice truly prevails, basking in the radiance of transparency and integrity.
Related Articles
---