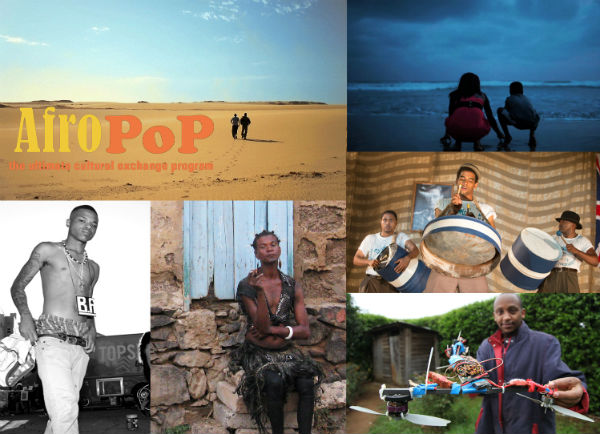 Season eight of AfroPoP: The Ultimate Cultural Exchange—the nation's only documentary series about life, art and culture across the African Diaspora—concludes with two stories of hope, hope inspired by youth. My Africa Is by Nosarieme Garrick and Native Sun by Terence Nance and Blitz the Ambassador are short films that comprise the final episode. The series is hosted by FOX hit Empire star Jussie Smollett, produced by the Harlem-based National Black Programming Consortium (NBPC) and co-presented by American Public Television (APT). The films premiere on Monday, January 25, at 8 p.m. ET/5 p.m. PT on WORLD Channel.
Garrick's My Africa Is travels to Nairobi, where dynamic youth are embracing the entrepreneurial spirit—as gamers, engineers and rock musicians. Viewers will meet inventors and designers working to build a better Kenya. Originally a popular Web series designed to challenge the prevailing media narrative about Africa, My Africa Is was tapped for broadcast when Garrick won $100,000 from NBPC's 360 Incubator and Fund last year. The My Africa Is: Alternative Nairobi is the pilot for what will become a new public television series exploring a variety of African nations and capturing an insider's view of a continent on the verge of a new era of prosperity and growth being driven by its youth.
Terence Nance and Blitz the Ambassador's Native Sun is a vibrant, narrative short that follows an eight-year-old on an odyssey through Ghana in search of his father after the early death of his mother.
"We opened the season with African youth looking to Europe for opportunity and closing with youth who are creating opportunities in their own communities and new vision of Africa," said NBPC Director of Programs and Acquisitions and AfroPoP Executive Producer Kay Shaw. "My Africa Is and Native Sun both show the promise of Africa through the drive and vision of its youth."
AfroPoP premiered on January 18 with Days of Hope, director Ditte Haarløv Johnsen's insightful film on West African migrants in a search for opportunity and safety in Europe. The weekly series continued with Jérôme Guiot and Thierry Teston's Pan! Our Music Odyssey, a joyful celebration of the melodious steel drum invented in Trinidad and Tobago. AfroPoP journeyed to São Vicente in Cape Verde with Pablo García Pérez de Lara and Marc Serena's Tchindas, about a transgender woman so cherished that her name has become synonymous with LGBT people in the area. The show then headed to Oakland, California, with N'Jeri Eaton and Mario Furloni's First Friday, which showcases a popular monthly street festival whose existence is thrown into question after the death of a young Black man.
---
Become a Harlem insider - Sign-Up for our Newsletter!
---
AfroPoP: The Ultimate Cultural Exchange is produced by Angela Tucker and directed by Duana Butler. The series is produced with the generous support of the Corporation for Public Broadcasting and National Endowment for the Arts.
For details on AfroPoP, visit www.blackpublicmedia.org. APT distributes the series to the full public television system in February 2016. Viewers may find out when and where to watch, including additional air dates for each of the episodes, by checking local listings or online at www.APTonline.org.
No related posts found...
---
VIDEO
---
"Dr. Harry Delany is a renowned Harlem born and raised surgeon, the son of the great jurist and civil rights leader, Hubert Delany...." This monthly post is made in partnership with Harlem Cultural Archives.