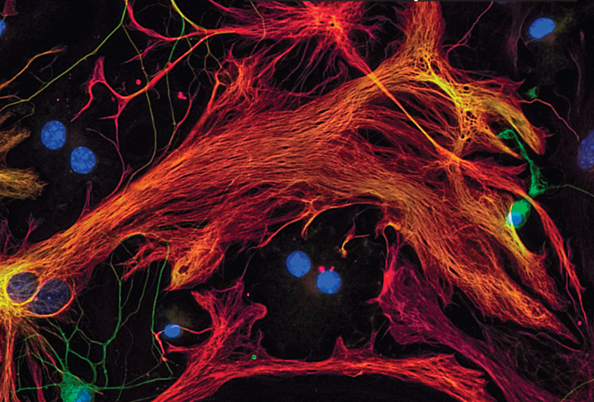 In honor of this year's Brain Awareness Week March 12-18, 2018, Mount Sinai's Friedman Brain Institute joins the Dana Foundation in its global efforts to increase public awareness of the progress and benefits of brain research via several initiatives, including the FREE art exhibit outlined below. Would you be so kind as to share details about this unique exhibition on your site? If someone from your team would like to attend the opening reception that's being held on Monday, March 12, 2018, from 6-8pm at The Alexis Grady Gallery, where each researcher/"artist" will speak about their image (specifically) and the work they do in their lab (more generally).
The Art of the Brain is an exhibition of photographs, medical illustrations and sculptures that celebrates the beauty of the brain as seen through the eyes of some of the world's leading researchers. With the aid of the latest technological advances, as symbolized by these images, scientists are better able to understand how the brain works and to accelerate the development of new treatments for many brain disorders including Alzheimer's disease, autism, drug addiction, schizophrenia and Parkinson's disease, among many others.
To learn more about The Friedman Brain Institute and the work it does to promote brain health, please visit: www.mountsinai.org/fbi
March 12- April 20, 2018
Opening Reception: March 12, 2018, 6-8pm
The Grady Alexis Gallery, 215 East 99th Street, New York, NY
Related Articles
---
VIDEO
---
"Dr. Harry Delany is a renowned Harlem born and raised surgeon, the son of the great jurist and civil rights leader, Hubert Delany...." This monthly post is made in partnership with Harlem Cultural Archives.