---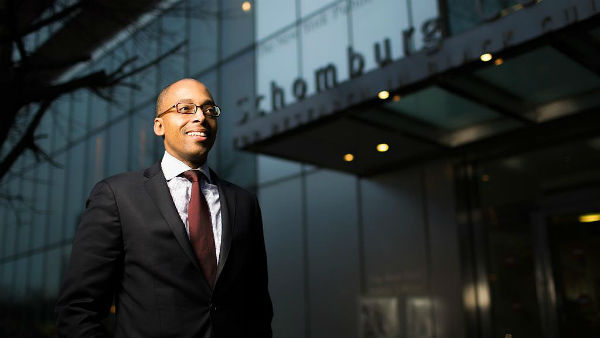 Celebrating the 20th anniversary of its Minority Post-Doctoral Fellowship program, Teachers College will host Dr. Khalil Gibran Muhammad, director of the Schomburg Center for Research in Black Culture for a keynote address.
The address Power Gap: An Historian's Take on Leadership Challenges in Post‐Obama America, on Friday, March 4, 2:30-3:30 p.m. at Teachers College, Columbia University, 525 W. 120th St. (bet. Broadway & Amsterdam Ave.), Manhattan.
In a nation where people of color are vastly underrepresented in senior leadership positions across all sectors of society, Dr. Muhammad's keynote will explore the impact and challenges of overcoming this issue in a post-Obama America. The keynote will be preceded by a panel discussion at 10:30 a.m. (What is the Purpose of a Minority Post-Doctoral Program in 2016?) and immediately followed by a discussion on the keynote moderated by Teachers College Macy Professor of Education, Ernest Morrell with alumni of the fellowship program serving as panelists.

The Teachers College Minority Post-Doctoral Fellowship was created in 1996 to advance the careers of individuals from groups in U.S. society that have been historically underrepresented in the academic profession; advance scholarship on issues affecting these groups; and to increase the diversity of scholars and those who prepare them nationwide. Twenty years later, the 30-plus alumni of the program ysts, entrepreneurs and four current Teachers College faculty members.
The keynote is part of a daylong agenda celebrating the Teachers College fellowship program and is free for the public to attend.
To RSVP for the keynote or any of the other public events, please visit and register at http://www.tc.columbia.edu/minority-post-doctoral-fellows/20th-anniversary-event/.
FRIDAY, MARCH 4,
10:30 A.M.-NOON (PANEL DISCUSSION)
2:30-5:00 P.M. (KEYNOTE FOLLOWED BY PANEL DISCUSSION)
Teachers College, Columbia University, 525 West 120TH Street (Bet. Broadway & Amsterdam Avenue, Harlem, New York.
Related Articles
---