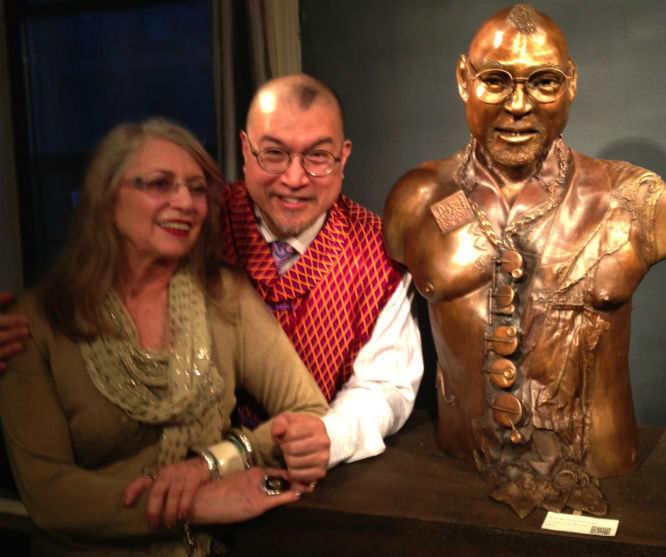 Harlem sculptor Leah Poller first heard Fred Ho in his performance of the Cal Massey Opus Magnus symphony "The Black Liberation Movement Suite," presented in its entirety for the first time in jazz history at the 2012 inauguration of Marcus Samuelsson's Red Rooster Supper Club 'Ginny's'. Now, 15 months later, Ho's music returns to the Red Rooster with a memorial concert by Ho's Eco-Music Big Band, conducted by Maria Incontrera and featuring lead saxophonist Ben Barson, Ho's prodigy and heir to his lifetime instrument. Poller's bronze, immortalizing Ho, will be exhibited at the event.
Poller and Ho's encounter began the conversation that was to become "Double Dare – a tribute to Fred Ho", a bronze portrait immortalizing the legendary musician, whose 8-year battle with cancer ended April 12. Ho was 56. "As someone self conscious about my legacy due to the reality of stage 4b metastatic cancer, I have been thrilled with Leah's imagination and desire to imbue and radiate my spirit and energy as the subject of her sculpture," declared Ho.
"I knew I had to sculpt Ho as a fellow artist seeking to break barriers of preconception of what something should be. Ho pushed the envelope, something I could relate to in my own work," declares Poller.
"I thought Fred would dig Leah because of her zealous allegiance to all things creative, funky and transgressive," stated Barson. "Poller is a woman who has mastered herself as well as her own craft; I knew Fred would dig those qualities and trust her hands and heart to be a vessel for his Apollonian incarnation. And I thought Leah would love Fred because of his passion, his commitment to justice, his love of life (even in the face of death) and his insurgent genius that leaves no soul untouched," added Barson.
Poller sculpted Ho in an accelerated, intense period involving heart to heart conversations, work sessions, and culinary breaks that resulted in an artistic collaboration of the highest order. Poller captures Ho's likeness and personality, embellished with saxophone keys, memorabilia and references to Ho's sartorial passion. Artnews contributing editor Anne Landi offers "Double Dare … is arguably her finest work to date. It's also an exemplary demonstration of Poller's methods and magic."
Related Articles