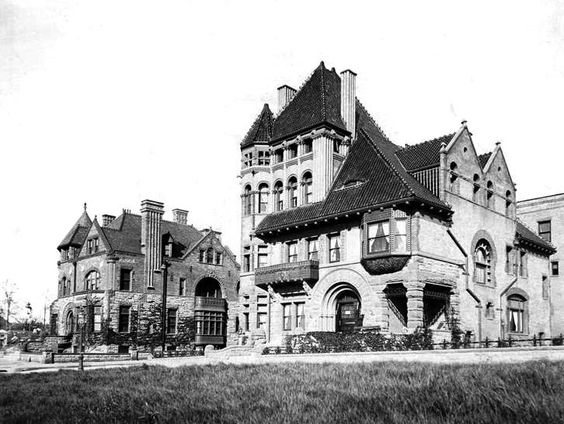 Two magnificent Harlem homes (left, 360 Riverside Drive, right, 355 Riverside Drive corner of 108th to 110th Streets). Both designed by architect Frank Freeman, both, one-time homes of financier Samuel Gamble Bayne in West Harlem, New York 1894.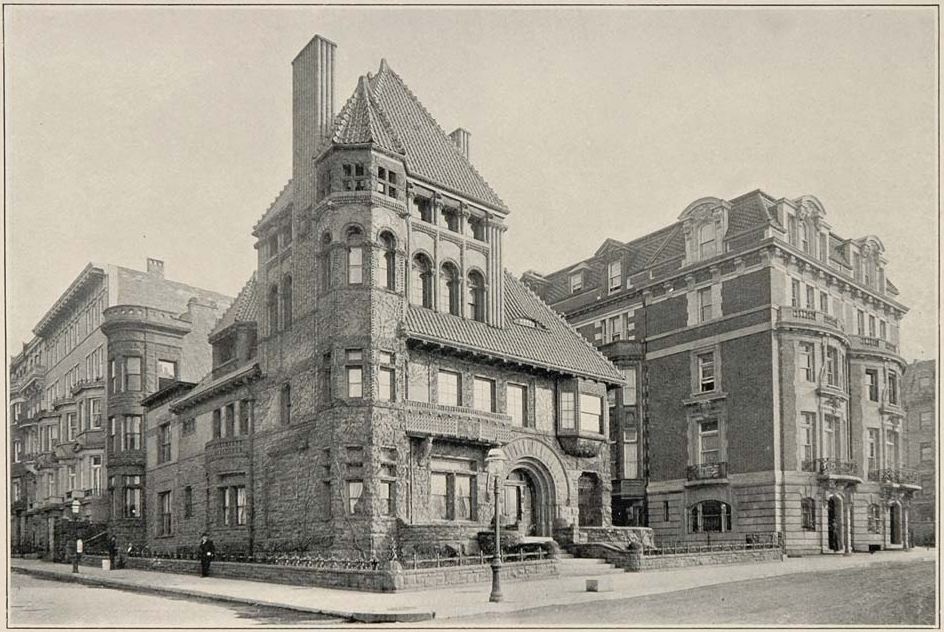 Looking east on the south corner of Riverside Drive and 108th Street, the imposing house on the right in the foreground is the formidable residence of Samuel Gamble Bayne, an oil industry pioneer, financier, world traveler, author who wrote 'Derricks of Destiny', is an extraordinary tale of an industrious Irishman living the 'American Dream', he had a fascinating life and President of The Seaboard National Bank.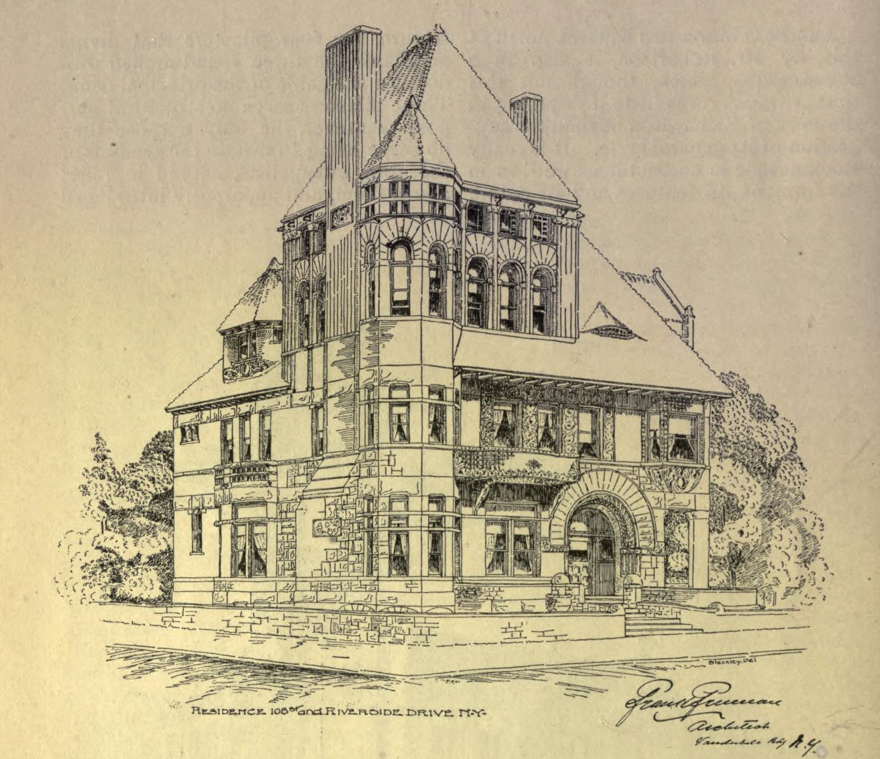 The large Romanesque Revival villa residence located at 355 Riverside Drive was built from 1890-1891 by architect Frank Freeman who happily called the style "architecture at rest," because of its massiveness and immobility.
Also built by Frank Freeman is the building to the left of Bayne's large villa, which was Bayne's original home at 360 Riverside Drive on the north corner of 108th Street. It was built in 1887 and Bayne lived here for a little over two years. When Bayne desired more space for his growing family, he moved with his wife Emily and their five children to the south side of 108th street to his new villa, selling his original home March 11, 1891 to the Pullman family for $105,000.
Samuel Gamble Bayne later repurchased the home from Minnie M. Palmer (formerly Pullman) in April, 1893 for $50,000 with the intention of refitting and improving the property for resale. After some upgrades, Bayne again sold the handsome 3 story stone structure in April 1896 to Henry Spingler Fonerden Davis for $70,000.
Samuel Gamble Bayne was born November 11, 1844 in Ramelton, County Donegal, in Ireland. He was educated in Belfast and went into the linen business with his cousin and prospered. After Bayne emigrated to America in 1869 he made his first large fortune by investing in the second oil well ever drilled in America, the Sugar House well in Titusville, PA.
He later organized an oil well supply company which developed into the National Supply Company. He then organized his first bank, The First National Bank of Bradford, PA. He proceeded to successfully organize National Banks in many other states.
In 1883 Bayne came to New York and organized a bank that dealt primarily in oil certificates, The Seaboard National Bank. He was also one of the original director's at The Bankers' Trust Company and Columbia Trust Company.
As President of the Riverside Drive Property Association, Bayne was involved in keeping the area around his home as elegant as possible. Bayne's Atlas Improvement Company invested in real estate around New York City and bought many parcels of land on the west side including vacant lots on 107th Street and 108th Street near his Riverside Drive home.
When Bayne agreed to sell the Riverside Drive lots near his villa in 1899 to Adolphe Openhym and the builders, Smith & Stewart, Bayne had restrictions put into the sales agreement stipulating how the the lots would be developed. Bayne specified that "high class residences" with no more than two detached homes were to be built on the lots and that there be at least 30 feet between the houses in the middle of the block and those on either corner.
Bayne's wife Emily passed away at their home in 1911 and Bayne continued slowly selling off all his remaining property, until he was only left with his villa.
---
---
Bayne's 1887 original home at 360 Riverside Drive was bought in 1915 for $150,000 from Henry S.F. Davis' heirs Cora B. and John A. Rutherford by the Anthony A. Paterno Construction Corp. In 1916 Paterno completed a 13 story building on the site and resold the property and the fully rented building to John A. Rutherford for $425,000. The building, appropriately named the Rutherford Apartments remains there today and is now a co-op.
In December 1921, Bayne finally sold his long time home to Harris H. Uris who demolished the landmark house and in 1922 completed a 14 story apartment building which stands on the site today. The architect was Alfred C. Bossom, who was Samuel Bayne's son-in-law. Bayne announced that when the building was completed, he would occupy the entire 14th floor as his residence, as the views were the finest in New York.
Samuel Gamble Bayne died April 20, 1924, not at the site of his long time home, but at the Wyoming Apartments on 7th Avenue and 55th Street. Bayne left his estate of $2,297,019 to his four surviving children.
Photo credit: 1) Samuel Bayne's homes. 2) Architect's rendering 355 Riverside Drive- Samuel Bayne Villa. 3) Photo of Samuel Bayne.
Related Articles
VIDEO
---
Harlem Cultural Archives is a donor and foundation-supported Historical Society, Its mission is to create, maintain and grow a remotely accessible, online, interactive repository of audio-visual materials documenting Harlem's remarkable and varied multicultural legacies, including its storied past as well as its continuing contributions to the City and State of New York, the nation, and the world.
Support Harlem Cultural Archives
and
click here to get more Harlem History
, Thank you.