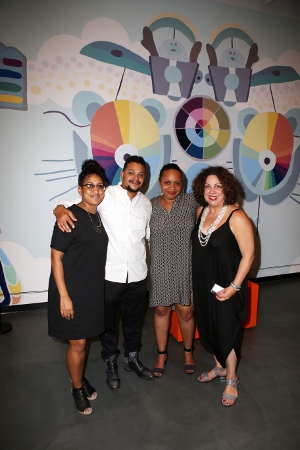 By Udo Salters
On Thursday July 14th, the Sugar Hill Children's Museum of Art & Storytelling celebrated two New Exhibitions by artists Shani Peters and David Shrobe.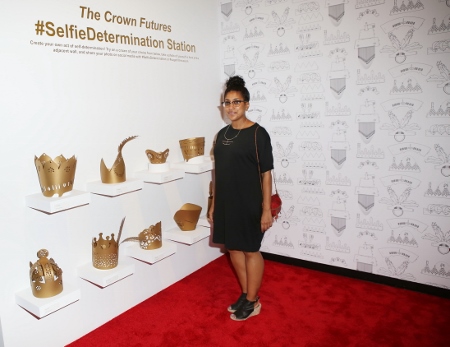 The Crown Futures: Shani Peters in Conversation with Sugar Hill Youth exhibition brings together crowns and the red carpet. In wanting to talk about self determination, crowns became the symbol. Shani looked to African Kings and Queens for a sense of pride, opposed to feeling like victims in a cruel and harsh world. The idea of a red carpet is well known to many people, so it is a great way to invite guests into the exhibit as "VIPs." Children were invited into the museum for a seven week period to work with Shani and create their own Self Determination Crowns. The crowns the children created gave them a sense of excitement and satisfaction.
Meta-Modes: David Shrobe's year long culmination of working as an Artist In Residence at the Sugar Hill Children's Museum of Art & Storytelling. Meta-Modes is about using the left overs, remnants of every day life to communicate fragmented narratives of inter-generational experiences. For the past 20 years David has worked out of his great-grandfather's apartment on 145th street, which has had a major influence on his work. David's piece Distance Relative is a great example of Meta-Modes. It combines history, future, culture, and different artistic techniques all tied together by a nautical frame making a striking visual experience.
These two exhibitions are open to the public until August 20, 2016.
Additionally, to these great exhibitions, the Sugar Hill Children's Museum of Art & Storytelling will host a Summer Program of light for children. The children will learn about the different aspects of light and will build a transparent sculpture for the building's courtyard.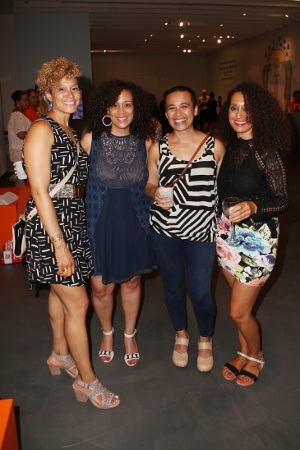 The team at the Sugar Hill Children's Museum of Art & Storytelling encourages the community to bring children into see the space, enjoy the exhibits, enjoy story-time, enjoy story-hour and enjoy the air condition as the space is cooling center.
Check out more Salters Scene HERE.
Related Articles
---
VIDEO
---
"Dr. Harry Delany is a renowned Harlem born and raised surgeon, the son of the great jurist and civil rights leader, Hubert Delany...." This monthly post is made in partnership with Harlem Cultural Archives.