---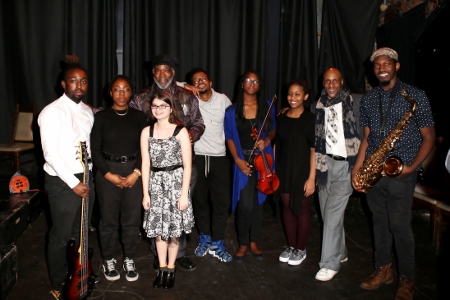 By Udo Salters
Banana Puddin' Jazz Jam's The Young and the Jazzy performance on February 6th, was a great display of talent coming through the pipeline. 
The Banana Puddin' Jazz Jam takes place the first Saturday of the month at the well known Nuyorican Poets Cafe on the Lower East Side of Manhattan. The producer of the recurring program is Rome Neal. The show starts with a selected band or group and ends with an open mic session. Just in case you are wondering about the name The Banana Puddin Jazz Jam, yes there is Banana Puddin available at each session made by Neal himself and administered by Neal himself.
The Young and the Jazzy consisted of Leonieke Scheuble on Piano, Rodney James on Saxophone, Ibzan Cummings base and his sister on Drums Khalia Cummings, Tara Abdullah Nri on Violin and Dyahnah Wilson on Vocals all under 21.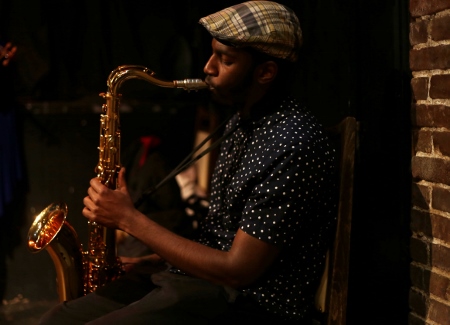 Don't be fooled by the youth of these musicians, because they were serious. They played two sets including songs like Cold Duck Time, Aint No Sunshine, Autumn Leaves and two original untitled pieces by Violinist Tara Abdullah Nri.
In the middle of second set The Young and the Jazzy got into the funky Herbie Hancock tune Chameleon. Abstractt provided some visual assistance as he slid up to the stage with the musicians and started dancing.
Rome Neal felt it was only right that he pay his respects to master performer Maurice White of Earth, Wind and Fire  due to his unfortunate passing, Neal hoped on the piano bench and played Earth, Wind and Fire's Keep Your Head To The Sky. The audience, The Young and The jazzy and Neal all came together at the end of the song singing the chorus that elevated the vibes in the room.
One thing that goes on at the Banana Puddin' Jazz Jam is a poem that is created by the audience during the show. This night was no different. Neal passed around a note book and people added lines to the poem.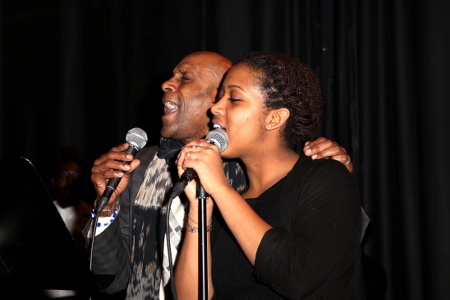 To bring the night to a close, Neal looked to an audience member to read the poem on stage. Inspired by the talented musicians Harlem teacher and artist Gary E. Vincent jumped at the opportunity but insisted that Dyahnah Wilson join him and take the lead. The band improvised a swing beat in the background and the fun was turned up! Wilson who normally sings Gospel music, used this night at the Banana Puddin Jazz Jam to have her Jazz singing debut. Wilson did a great job, based on the audience's applause and her ability to improvise and skat right along with E. Vincent, .
There is a good chance there will be a repeat performance of the Young and the Jazzy. Check out www.romeneal.com to get the scoop on which young musicians may be featured.
No related posts found...
---