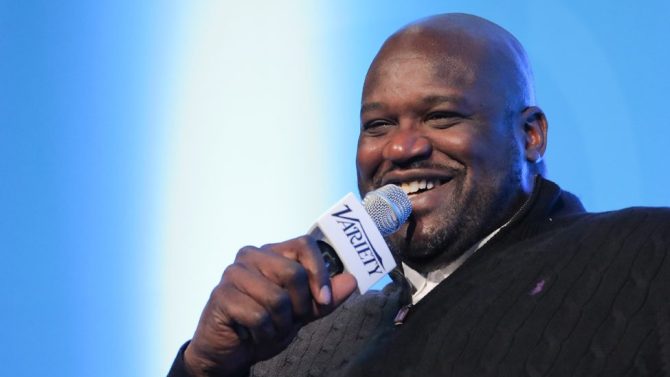 Variety reports that Shaquille O'Neal and  Lil Rel Howery are in talks to join NBA star Kyrie Irving in basketball drama "Uncle Drew."
Variety first reported on February 9, 2017 that the project had been set up with Temple Hill Entertainment acquiring the feature film rights to Irving's "Uncle Drew" Pepsi commercials. "Skiptrace" scribe Jay Longino was set to write the script and Irving was attached to reprise the role of Drew.
Temple Hill's Marty Bowen, Wyck Godfrey, and John Fischer will produce the film. The original Pepsi Max advertisements showed Irving playing 70-year-old Uncle Drew, who would show up to pick-up basketball games and dominate players half his age, while reminiscing about how the game used to be played.
The film will center on a squad of the best geriatric basketball players who team up to at the famed Rucker Court in Harlem. Howery will play a young man who loves basketball and seeks out Uncle Drew's help.
Charles Stone ("Drumline") is directing. Lionsgate has acquired distribution rights to "Uncle Drew."
Howery played a TSA agent and best friend of Daniel Kaluuya's character in Jordan Peele's " Get Out." He's repped by UTA and 3 Arts Entertainment.
---
Become a Harlem insider - Sign-Up for our Newsletter!
---
O'Neal spent 19 years in the NBA, winning three consecutive championships with the Los Angeles Lakers in 2001-03, and a fourth with the Miami Heat in 2006. He retired in 2011.
Related Articles
---
VIDEO
---
"Dr. Harry Delany is a renowned Harlem born and raised surgeon, the son of the great jurist and civil rights leader, Hubert Delany...." This monthly post is made in partnership with Harlem Cultural Archives.